About 627 results.
Filter By
faith in action
As we gear up for a new school year, our GBCS intern is doing her field education for a Master of Divinity from Claremont School of Theology. We asked Jackie to introduce herself and share her journey with you.
faith in action
Tune-in Tuesday, October 4, 2022 on Church and Society's YouTube Page and Facebook Live. The broadcast begins at 1:00 p.m. EST.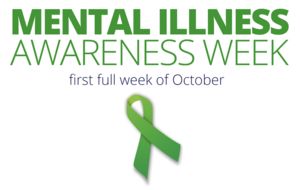 faith in action
September 21st is the International Day of Peace. The theme for this year's International Day of Peace from the United Nations is "End Racism. Build Peace."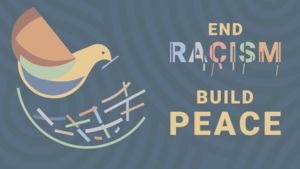 faith in action
Register now to hear from staff and ecumenical partners about the rise of Christian nationalism, why we should be concerned and what we can do to protect religious freedom for all.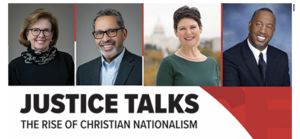 faith in action
Former GBCS intern delivers opening prayer at World Council of Churches 11th Assembly in Karlsruhe, Germany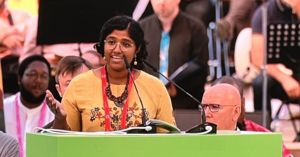 faith in action
World Council of Churches 11th Assembly (August 31 - September 8, 2022) welcomes churches, delegates, ecumenical partners and participants from around the world.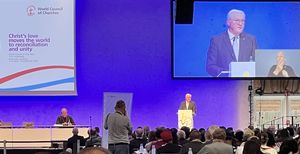 faith in action
Webinar focuses on how to prepare, educate and engage people of faith for the upcoming U.S. midterm elections.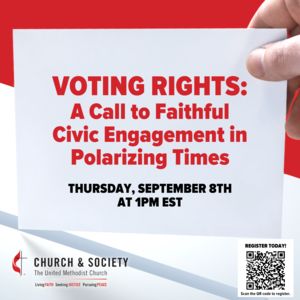 faith in action
United Methodists continue to play an active role in support of Indigenous peoples' recognition worldwide.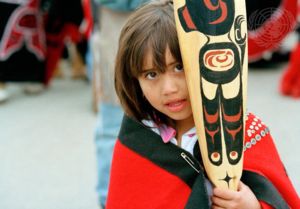 faith in action
GBCS continues the legacy of Christian witness and action that began over 250 years ago.
faith in action
The Reverend Sammy Kagwi, UMC Peace with Justice Coordinator for the Kenya-Ethiopia Annual Conference writes his perspective on the impact of election monitoring teams for the August 9, 2022 elections in Kenya.