faith_in_action
10 Great Kids' Books by Indigenous Creators
Celebrate indigenous voices in November by reading these stories with the kids in your life.
---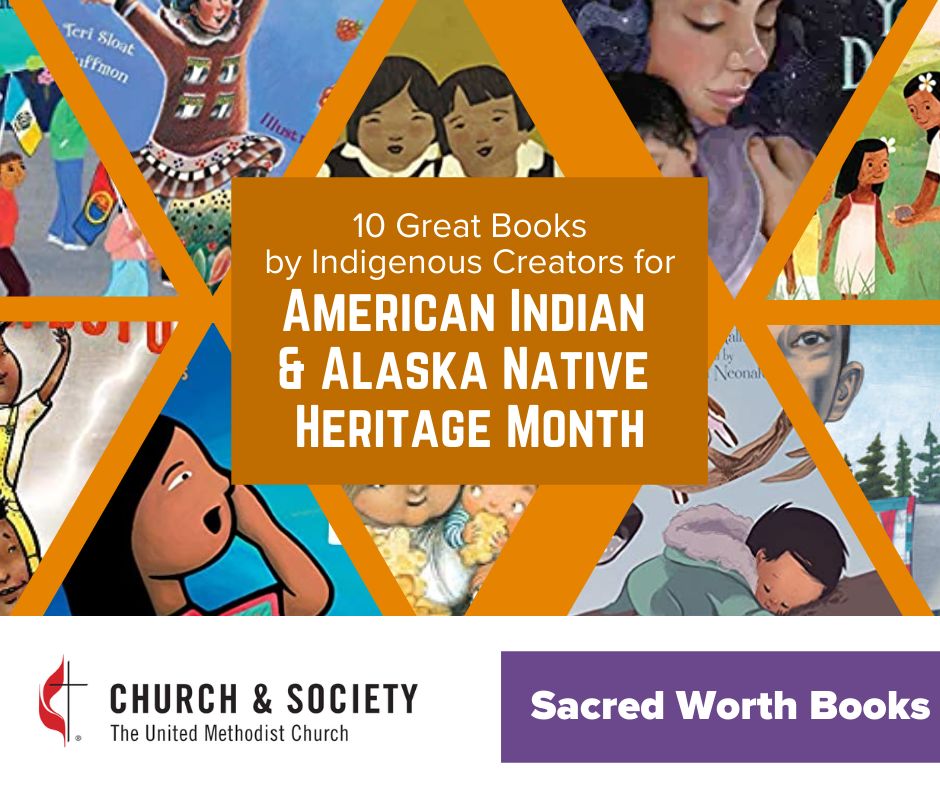 In November, the United States celebrates American Indian, Alaska Native, & Native Hawaiian Heritage month. We use this time to acknowledge and celebrate the contributions of indigenous peoples, as well as to lift up indigenous cultures and heritage in our country. We also spend this time acknowledging the history of the oppression of indigenous people in this nation and the present challenges as we work towards greater justice and equity.
In the Book of Resolutions of the United Methodist Church, it is stated, "The General Conference of The United Methodist Church affirms the sacredness of American Indian people, their languages, cultures, and gifts to the church and the world. We call upon the world, and the people of The United Methodist Church to receive the gifts of Native Americans, including American Indians, Alaska Natives, and Native Hawaiians, as people of God." (Book of Resolutions 2016) One way to affirm the sacred worth of our indigenous American siblings this month and to receive these gifts is to take some time to read some of the books below by indigenous authors and illustrators. These books tell stories of culture, family, and food, and histories of indigenous heroes and everyday people.
This list was curated using the Sacred Worth Books database, a resource of Church & Society that exists to give families and churches an access point to anti-bias books that help children recognize themselves and all the beautiful diverse people in this world as of sacred worth and value to God and to all of us. Check out our database of over 1000 books here, and you can even submit titles you love here!
Berry Magic by Teri Sloat and Betty Huffmon, Illustrated by Teri Sloat
An Alaskan Native folktale that tells the origin story of berry patches on the Arctic tundra. When the women of her village are only able to gather small, hard berries before the Fall Festival, a young girl named Anana uses a special magic to grow all kinds of colorful, flavorful berries on the tundra just in time to be used for agutak, a special treat at the festival.
This book, winner of multiple awards, shows the connection between food, culture, family, identity and community through a story of fry bread, a staple dish for many tribes all over the country.
This book highlights important modern and historic indigenous figures who have made an impact, from Sacagawea to John Herrington, all through a rap-verse style. The book also encourages the reader that they too, matter and can change the world.
A beautiful book about a mother preparing for and welcoming a new baby. She collects gifts for her child from nature that connect to pieces of their family, heritage, and cultural identity. The story combines Native cultural images with the universal theme of love between parent and child.
'Ohana Means Family by Ilima Loomis, Illustrated by Kenard Pak
A Native Hawaiian family works together to gather taro root to make the traditional dish poi for a luau. A celebration of Native Hawaiian culture and beautiful Hawai'i itself.
Sharice's Big Voice by Sharice Davids with Nancy K. Mays, Illustrated by Joshua Mangeshig Pawis-Steckley
The true inspiring story of Sharice Davids, one of the first Native American congresswomen, and the first LGBTQ congressperson to represent Kansas, told in her own voice. She tells her story in a fun, relatable way and encourages kids to use their own voices and to remember that every one of us deserves to be seen and heard!
Sweetest Kulu by Celina Kalluk, Illustrated by Alexandria Neonakis
An Inuit bedtime poem from a mother to her Kulu, a term of endearment for little ones. The poem tells of the gifts each arctic animal brings to a newborn baby, and weaves together the Inuit respect and deep love for nature with a mother's love for her child.
Thunder Boy Jr. by Sherman Alexie, Illustrated by Yuyi Morales
In this fun father-son story, Thunder Boy Jr. wants his own name instead of the one passed down from his dad. Throughout the book, he tries to figure out the best new name that shows who he is, and eventually his dad has the perfect answer.
In this important book, Traci Sorrell outlines the pieces of Native American history that we haven't always been taught in school, and includes the ongoing story of Native Nations today. Also included are a timeline, sources, and a glossary. The illustrations show various skin tones and represent different abilities as well as showing key historical moments.
When We Were Alone by David A. Robertson, Illustrated by Julie Flett
A young girl asks her grandmother why she does things like wear colorful clothes and a long braid in her hair. Her grandmother tells her about how these things that represent being a part of the Cree nation were not allowed at the boarding school she was required to attend as a child, and talks of the joy of being able now to fully express who she is and who her people are. A gentle and loving story about family and the importance of cultural expression.