faith_in_action
Celebrating Young People's Voices: 16 Books for International Youth Day
Stories of kids and youth speaking up for change in their communities are a great way to acknowledge International Youth Day this August.
---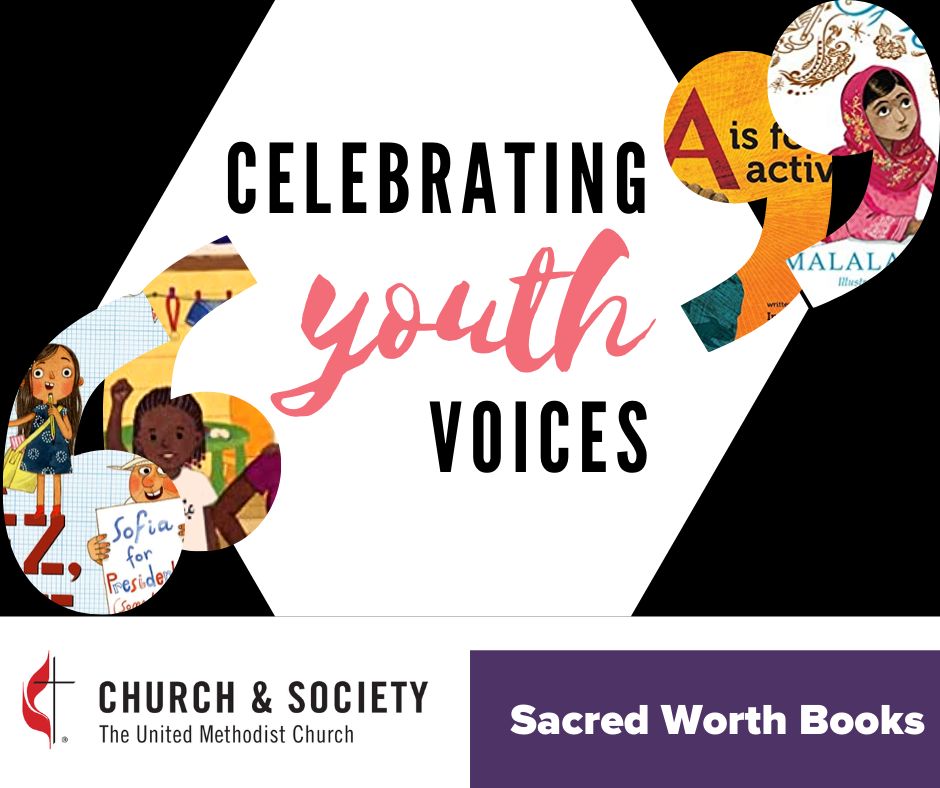 August 12 is International Youth Day, a United Nations observance day which invites us to celebrate and center the voices of young people, recognize their advocacy work, and to work towards more equitable engagement opportunities for all youth.
Celebrate this day by reading these children's books which tell the stories of young activists fighting for justice and empower kids to work towards justice in their own communities and in the world. Fictional stories and historical ones, poetry and beautiful artwork, can all be found in the pages of these books.
Advocacy for peace and justice is part of the identity of the United Methodist Church. In the preamble to the Social Principles, our commitment is stated "to become faithful witnesses to the gospel, not only to the ends of the earth, but also to the depths of our common life and work." This means we get involved in the public square to actively make change. Civic engagement and advocacy are part of our faithful witness. The books included here highlight the role of children in advocacy work and empower kids and teens to make change in their world by being faithful advocates for equity, justice, peace and abundant life for all.
Looking for some tools to engage faithfully in your own community? Check out our civic engagement toolkit, Creating Change Together.
True Stories of Kids Who Made Change
Kid Blink Beats the World Written and Illustrated by Don Brown. In 1899, the boys and girls who worked selling newspapers in New York City went on strike against unfair wages. This book tells the story of how they fought against the big newspaper barons of the day, and won!
Let the Children March Written by Monica Clarke-Robinson, Illustrated by Frank Morrison. The story of the one thousand young people who participated in the Children's Crusade civil rights march of 1963 in Birmingham, told from a young girl's perspective.
The Little Book of Little Activists Written and Illustrated by Penguin Young Readers, Introduction by Bob Bland. This book shows real pictures and quotations from kids who participated in the 2017 Women's March protesting racism, sexism, and xenophobia.
Malala's Magic Pencil Written by Malala Yousafzai, Illustrated by Kerascoët. Growing up in Pakistan, Malala dreamed of being able to make change with a magic pencil like a little boy she saw on a television show. As she grew up, she began to use her own pen to speak out publicly for girls' education.
Separate is Never Equal: Sylvia Mendez and Her Family's Fight for Desegregation Written and illustrated by Duncan Tonatiuh. The Mendez family fought tirelessly for the desegregation of schools in California. This book tells this compelling true story through the eyes of third grade daughter Sylvia.
Stories of Kids' Activism Inspired by True Events
Joelito's Big Decision/La Gran Decision de Joelito Written by Ann Berlak, Illustrated by Daniel Camacho. In this story inspired by the movement that began in 2013 to raise the minimum wage, Joelito must decide whether to join his friend in protesting outside of a local fast food restaurant when he learns about the injustice happening to workers there.
Sweet Clara and the Freedom Quilt Written by Deborah Hopkinson, Illustrated by James Ransome. In this historical fiction tale inspired by the real-life quilt codes of the Underground Railroad, Clara, an enslaved girl, uses her sewing skills to make a quilt into a map to help others escape to freedom.
We Are Water Protectors Written by Carole Lindstrom, Illustrated by Michaela Goade. A young Ojibwe girl joins with her community to fight to protect the land, water, and animals from the "Black Snake" of an oil pipeline. Check out our Sacred Worth Books Summer Read-Along video featuring this book!
Fictional Stories of Kids Making A Difference
Alejandria Fights Back!/¡La Lucha de Alejandria! Written by Leticia Hernández-Linares and the Rise-Home Stories Project, Illustrated by Robert Liu-Trujillo. When the rent prices go up in Alejandria's beloved neighborhood and friends, neighbors, and her own family are pushed out, she rallies the community to save their homes.
Destiny's Gift Written by Natasha Anastasia Tarpley, Illustrated by Adjoa J. Burrowes. Destiny loves her neighborhood bookstore! When it is in danger of having to close, she decides to bring the community together to keep this from happening.
Milo's Museum Written by Zetta Elliott, Illustrated by Purple Wong. Milo goes to a museum on a field trip with her class. At the museum, she doesn't see any art or artists that represent her own community. So, she creates her own museum and invites the neighborhood to join in so that this museum reflects them all!
Sofia Valdez, Future Prez Written by Andrea Beaty, Illustrated by David Roberts. A rhyming story about Sofia and her quest to replace the trash dump in her neighborhood with a brand new park.
Books That Educate and Inspire Activism
A is for Activist Written and illustrated by Innosanto Nagara. An alphabet of words to inspire all of us to work towards greater justice for our communities. A is for Activist… J is for Justice… Y is for You and Your future!
Antiracist Baby Written by Ibram X. Kendi, Illustrated by Ashley Lukashevsky. An introduction to antiracism that's really for all ages, written by Ibram X. Kendi, author of How to Be Antiracist and Stamped From the Beginning.
Say Something! Written and Illustrated by Peter H. Reynolds. A book that empowers kids to use their voice to speak up and speak out for who they are and what they believe in.
Something Happened in Our Town Written by Marianne Celano, Marietta Collins, and Ann Hazzard, Illustrated by Jennifer Zivoin. This book shows how two families, a Black family and a white family, discuss with their children the shooting of a Black man by police in their town. Because of their families' conversations, both kids are able to stick up for and include a new student in their school who is different.
This book list was curated from the Sacred Worth Books database, a Church and Society resource which exists to help kids, families, and congregations find books that represent all kinds of diverse main characters and stories, in order for all kinds of kids to see themselves represented as well as to help prevent harmful biases from being formed. Find more books here!
Have a favorite children's book you'd like to see added to our list? Submit titles and why you love them here!