update
COVID-19 Webinars: Pre-existing Disparities Exposed
Online seminars will be held Thursdays from May 21-June 18 at 2PM ET.
---
As of May, COVID-19 has taken more American lives in four months than lives in the two decades of the Vietnam War. Globally, we lost over 220,000 people, a number that is higher than most of us have ever seen. Our lives have been upended by abrupt changes to our everyday routines.
For the lucky ones, our commute is now finding a quiet corner or room in the house to work in. And for many parents, the new norm is finding the non-existent balance between working from home and homeschooling our children.
At the same time, COVID-19 revealed societal injustices that already existed. This pandemic has magnified familiar societal, political, and economic disparities—now with the added urgency of a public health crisis.
Here are just a few examples:
Racism and discrimination have greatly threatened the lives of individuals of color due to the systemic and institutional lack of access to healthcare, and due to threats of direct harm and violence.
The United States has the highest rate of incarceration in the world. And while the country has been under "harbor in place", ICE continues to detain undocumented immigrants. In both cases, individuals are at a higher risk for contracting COVID-19 because social distancing is nearly impossible, and preventative protection equipment is lacking.
Empty grocery shelves are what we see. What is often unseen are the farmworkers and grocery clerks whose wages and benefits fall short of the value ascribed to their "essential" work and service. As for the many families already familiar with limited food access and food insecurity, the loss of income means having to choose between paying rent and buying groceries.
International debt and sanctions stymie the resources needed to help control the pandemic and save lives.
Slowly, the world will re-open, and glimpses of a new normal are appearing. And though it may be tempting to return to life pre-COVID-19, the opportunity exists for people of faith to use this unprecedented moment to prophetically redress these historical and persisting wrongs. Now is an opportunity to commit to Thy kingdom come, Thy will be done, on earth as it is in heaven.
Church and Society invites you to participate in a new webinar series, "COVID-19: Pre-existing Disparities Exposed." We will hear from experts and learn how to take action for a long-lasting change towards a more just post-COVID-19 world.
"COVID-19: Pre-existing Disparities Exposed"
Schedule:
Thursdays at 2-3:15 PM (EST)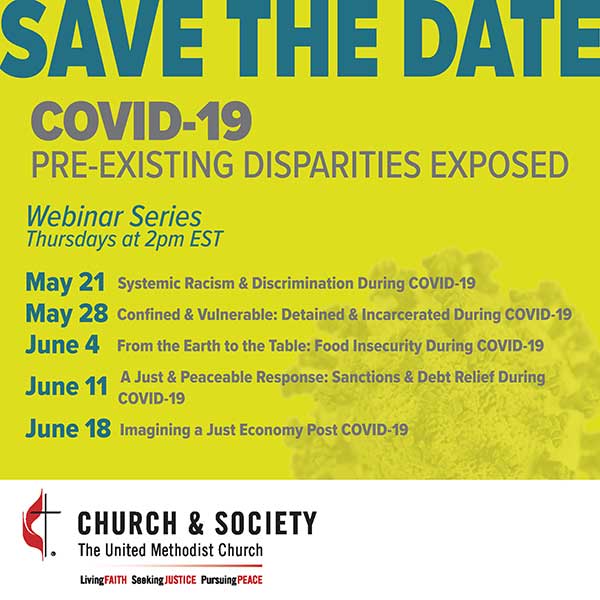 Questions?
Contact: Aimee Hong, Senior Executive Director of Education and Engagement