issue
Gun Violence Prevention
All forms of violence are detestable, but guns make violence more deadly and more frequent.
---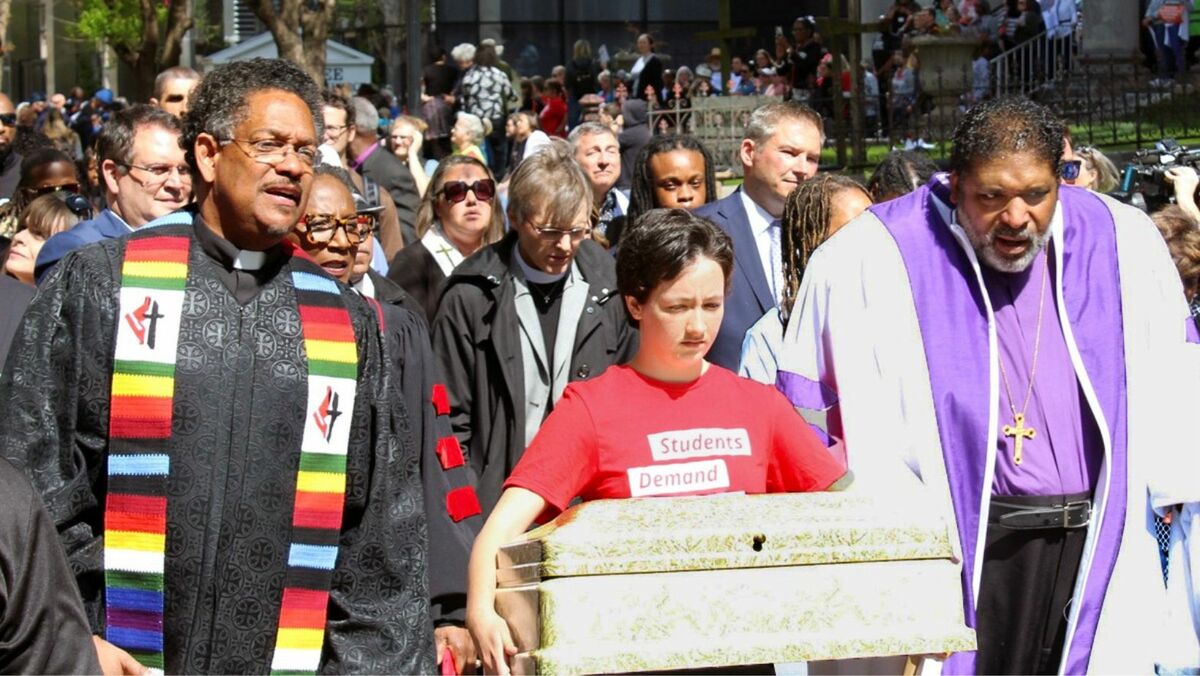 All forms of violence are detestable. God deplores violence. Jesus calls us to be peacemakers.
Guns make violence more deadly and more frequent. For example, domestic violence turns more deadly when guns are involved. Firearms are the most common method of suicide in countries where guns are prevalent in private households, according to data collected by the World Health Organization.
Blessed are the peacemakers, for they will be called the children of God.
Jesus
Data collected from the Small Arms Survey show armed violence contributes to crime, human trafficking, drug trafficking, gender-based violence, racial and ethnic conflicts, systemic economic inequities, persistent unemployment, and human rights abuses among other social problems.
According to the U.S. Government Accountability Office, 70 percent of the guns used in crimes in Mexico were illegally trafficked from the United States. Similarly, 90 percent of all illegal rifles seized in 2013 in the Philippines were from the United States according to the Small Arms Survey. The Arms Trade Treaty, passed by the United Nations in 2013, if ratified and enforced, would help prevent arms from being traded across international borders into dangerous areas.
If we hope to end the scourge of gun violence, we need to have a cultural shift as well as a policy shift.
What the Bible and The United Methodist Church Say:
The prophet Micah casts a hopeful vision of the future where nations will "beat their swords into iron plows, and their spears into pruning hooks." (Micah 4:3) Jesus says, "Blessed are the peacemakers, for they will be called children of God." (Matthew 5:9)
The United Methodist Church urges "congregations to advocate at the local and national level for laws that prevent or reduce gun violence." Some of those measures include:
Universal background checks on all gun purchases;
Ratification of the Arms Trade Treaty;
Ensuring all guns are sold through licensed gun retailers;
Prohibiting all individuals under restraining order due to threat of violence from purchasing a gun;
Prohibiting persons with serious mental illness, who pose a danger to themselves and their communities, from purchasing a gun;
Ensuring greater access to services for those who have mental illness;
Establishing a minimum age of 21 years for a gun purchase or possession;
Banning large capacity ammunition magazines and weapons designed to fire multiple rounds each time the trigger is pulled;
Promoting new technologies to aid law-enforcement agencies to trace crime guns and promote public safety. (Book of Resolutions, 3428)
Action Alerts
Three More Things You Can Do:
Host a viewing of The Armor of Light or The Interrupters at your church, and use it to introduce the "Kingdom Dreams, Violent Realities" Bible study. This study on Micah 4:1-4 offers an United Methodist theological reflection on the issue of gun violence. Conduct the study with your congregation or small group, and then have the small group or study leaders guide a church and community discussion.
Connect with and support those who are directly impacted by gun violence. Support gun violence prevention programs, de-escalation groups, safety trainings, and support groups for survivors of gun violence.
Advocate against laws that seek to increase the presence of guns in society, especially in public places such as schools, churches, airports, and elsewhere. Work with your congregation's leadership to display signs that prohibit carrying guns onto church property.
For more information on Gun Violence, visit: