issue
Ongoing War and Conflicts
The Church must work for peace in regions of the world experiencing war, violence or terror.
---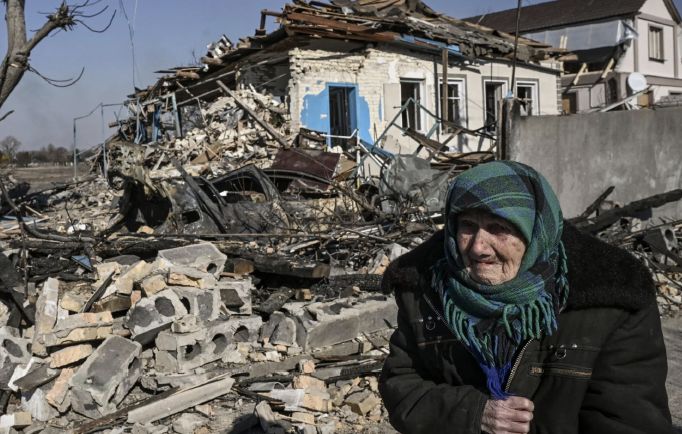 Ukraine
The full-scale Russian invasion in February 2022 marked a steep escalation of Russian aggression against Ukraine. The violence has sparked a massive refugee crisis, displacing more than 5.7 million people, mostly into neighboring countries in Europe. There are credible reports, including from Amnesty International, that suggest Russian targeting of civilians and extrajudicial executions may constitute war crimes, crimes against humanity, and aggression. There are also credible reports that both Ukrainian and Russian troops are using banned cluster munitions. Russian Foreign Minister Lavrov has suggested a real threat of nuclear war if the international community intervenes on behalf of Ukraine.
The United Methodist Church calls for a peaceful end to the violence in Ukraine. It is with deep concern that we plead with all parties to the conflict to dig deeper into diplomatic and multilateral options so even as the hostility rages, we can and must spare lives, livelihoods and precious resources from graver risk. We advocate for continued demilitarization worldwide, nuclear disarmament, and strengthening multilateral structures that help to deter armed conflict and promote stability. We continue to advocate for robust humanitarian aid programs, radical hospitality for refugees, and human rights and dignity for all people.
Resources
Faith and Facts Card – Peacebuilding
Korean Peninsula
The conflict on the Korean Peninsula did not end with the signing of the armistice on July 27, 1953 and the creation of the demilitarized zone. The Korean War continues 64 years later marked by tension and violence between the two Koreas and their allies.
Since 1986, United Methodists along with ecumenical partners have been active in calling for peace, reconciliation, end to human rights violations and the elimination of all nuclear weapons.
Resources
Israel and Palestine
The Israeli-Palestinian conflict has a long history of pain and terror perpetrated by many different actors. Since 1967, the Israeli government has been the occupying power of the Palestinian territories. Under Israel's continued military occupation, Palestinians have undergone gross injustices and human rights violations including the construction and expansion of Israeli settlements, restrictions of water rights, home demolitions, displacement of Palestinian civilians, transfer of Israeli settlers, and use of excessive force. While there are legitimate concerns for Israel's security, measures to promote security and peace cannot be built on the occupation of the Palestinian people.
The United Methodist Church calls for an end to the Israeli occupation; we affirm our commitment to nonviolent responses and the inclusion of all voices harmed by the conflict – including Muslim, Christian and Jewish - in seeking a just and durable peace.
Resources
Syria
The people of Syria have been fighting for their dignity and human rights through non-violent actions against the Bashar al-Assad regime since 2011. The regime turned violently against their unarmed citizens, and armed rebel groups were formed leading to a brutal civil war. Like the Assad regime, the rebels groups adopted cruel methods against civilians. As a result of the war, tens of thousands of Syrians have been killed. Millions have been displaced from their homes within Syria and have become refugees.
Church and Society has joined faith groups calling on governments to provide humanitarian assistance to the Syrian people and urging that no military assistance be given to the Assad regime and rebel groups. We call for diplomatic and political solutions that address the political and social grievances at the root of the conflict. We urge support for civil society groups and religious leaders working to building relationships of peace and reconciliation.
Resources
Nigeria
In the northeastern region of Nigeria – where the terrorist group Boko Haram is located – some 2.1 million people are displaced and approximately 4.5 million are in need of food assistance. Boko Haram abducted young girls, and the group continues its terrorist activities. The Nigerian military is simultaneously responsible for grave human rights violations in its operations against Boko Haram.
Resources
South Sudan and Somalia
Since its independence in 2011 South Sudan has become a tragedy. There is now a civil war leading to a collapsing economy and internal divisions. Millions are without adequate food. Despite fertile land, the conflict has made it impossible for farmers to produce crops.
Resources
The Philippines
In the course of President Rodrigo Duterte's war on drugs, human rights in the Philippines have all but disappeared. Extrajudicial killings and summary executions have accounted for over 5,000 officially reported deaths since 2016. Many news organizations and human rights watch groups estimate the body count is over 12,000. This is to say nothing of thousands of victims of government corruption, political detention, torture, and forced disappearances– all of which has taken place under the guise of fighting drug addiction and distribution.
The United Methodist Church calls on the governments of the United States, the European Union, the Association of Southeast Asian Nations, and significant trading partners to investigate these human rights violations and pressure the Philippine government to stop them.
Resources