faith in action
Scenes From the US-Mexico Border
UMC Photographer and Deaconess Try to Amplify the Voices of Migrants
---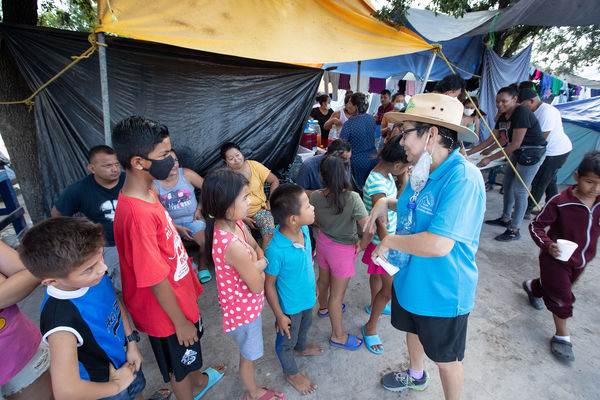 UM News Photographer Mike DuBose has visited the U.S.-Mexico border at least a half dozen times over the years.
Each time, his experience visiting with families and individuals hoping to come into the United States has been different. The numbers, he said, can change quickly, "based on policy or rumor or idea that a section of the border is allowing people to cross."
Cindy Andrade Johnson, a United Methodist deaconess in Brownsville, Texas, and a board member of the General Board of Church and Society, also has seen fluctuations in the migrant situation at the border, but her view can be measured in decades.
"I don't think we're addressing the root issue," she said. "I've lived here all my life and migration has happened forever."
Johnson is assigned to La Posada Providencia, an emergency shelter for those fleeing to the United States due to political oppression, natural disasters, and other life-threatening actions.
Part of her ministry is finding ways "to amplify the voices of the migrants," she said. "That's very helpful in advocacy."
During a border trip in September with two colleagues — documented in a photo essay for UM News — DuBose found that the COVID-19 pandemic continues to have an impact.
On the U.S. side near McAllen, Texas, he saw a quarantine camp set up in a city park where asylum-seekers stay "until they get a negative test." Volunteers — masked and taking precautions — provide food and other services.
On the other side of the border, DuBose was impressed with the COVID precautions that could be found even in a big, sprawling camp near the El Chaparral border crossing at Tijuana. "When the Mexican churches did a food and hygiene kit distribution, they also handed out masks to those who didn't have one," he recalled.
DuBose has often thought about what drives the people he meets to leave their homes and undertake such long, arduous trips to the border. "They are just so strong and so resilient," he said. "They all had stories of gang violence, extortion, kidnapping. They would leave with their family in tow and start on this journey."
His job, he believes, is to make a human connection between those he photographs and those who see their photos through UM News. "I always try to make that kind of connection on behalf of our readers," DuBose explained.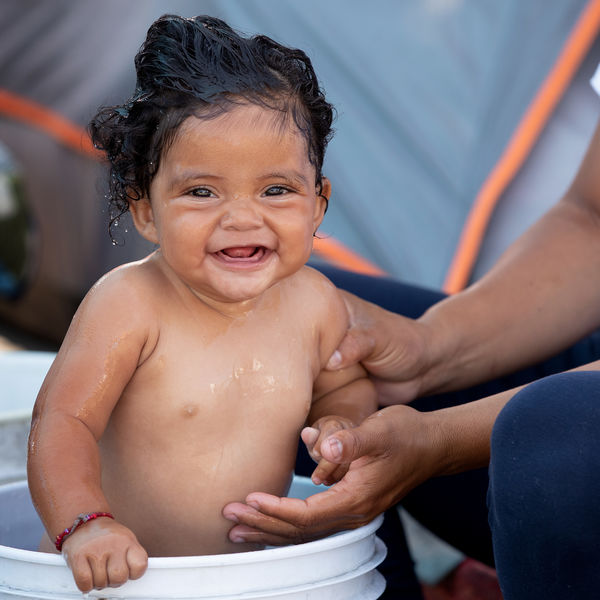 "Can they imagine themselves in that situation? What if you had to care for a toddler on a concrete pad with thousands of other people around you?" he asked, reflecting on his photo of eight-month-old Kelani having a bath in a plastic bucket at a camp at the El Chaparral bordering crossing. Her mother had fled gang violence in Honduras. "What would it be like to have lost one of your children on the journey?"
Methodist volunteers who assist those waiting for a chance to cross the U.S. border know their stories. The Methodist Church in Mexico is a small autonomous denomination with limited resources but they do have people power, DuBose has found.
"This is a way of life for them, to have that kind of servant mentality," he said. "They recognize that these are their brothers and sisters."
DuBose also has taken inspiration from Mexican Bishop Felipe Ruiz Aguilar, whose humble, low-key ministry with migrants provides a model for his congregants. The asylum-seekers create the camps in sight of the border, he added, selecting a spokesperson and leader and organizing routines for various duties, such as cleaning the portable toilets.
On this trip, Johnson took DuBose and the UM News team to see a camp for migrants in the Plaza de la República in Reynosa, Mexico. "They wanted to be there because it was right up against one of the border crossings in McAllen." he said.
Johnson and the group visited with children and families and spoke with Arturo Nelson Villatoro of Honduras, who serves as an informal leader for the camp, which houses about 2,000 migrants.
As part of her mission work, Johnson distributes food and supplies — some donated by United Methodists — and will occasionally arrange for church groups to meet with residents of the camps. "Really, they're just there to listen and amplify the voices," she said.
Johnson also is part of a group of advocates and lawyers concerned that people crossing the border are not receiving due process.
She applauded an Oct. 25 CNN story that pointed to human rights violations in Texas as undocumented immigrants are arrested and detained but never charged. "We knew it was happening," Johnson said. "People are being wrongly arrested."
That is not a partisan statement, she noted, but more of a "how can that happen here" question. "You just become a humanitarian," she added. "How can we serve people?"
In August 2018, three of the bishops who serve on the General Board of Church and Society and General Secretary Susan Henry-Crowe, visited the border near McAllen on a trip led by Bishop Robert Schnase, who pastored a church there for 20 years.
"This trip to McAllen was a two-day reminder that the immigrants we hear about on the news every night are in our pews and behind our pulpits," wrote Tricia Bruckbauer, the agency's communications director at that time.
Johnson said her time as a director for the General Board of Church and Society has helped her think through larger solutions to the migration crisis. "Church and Society has taught me all these ways to look at the big picture," she explained.
One idea involves using pieces of the ministry at La Posada Providencia that provides a comprehensive way to address the needs of migrants who don't have sponsors by utilizing local churches. "That model can be placed around the country." Johnson said.
Bloom is the interim communications director for the General Board of Church and Society.
Watch the UM News slideshow, I Was a Stranger, by Mike DuBose
Read UM News stories on Ministry with Migrants
United Methodist 2016 Book of Resolutions: Welcoming the Migrant to the US