faith in action
The Body of Christ at the U.S.-Mexico border
The Rio Texas Annual Conference and Bishop Robert Schnase led a delegation from Church and Society on a trip to America's southern border.
---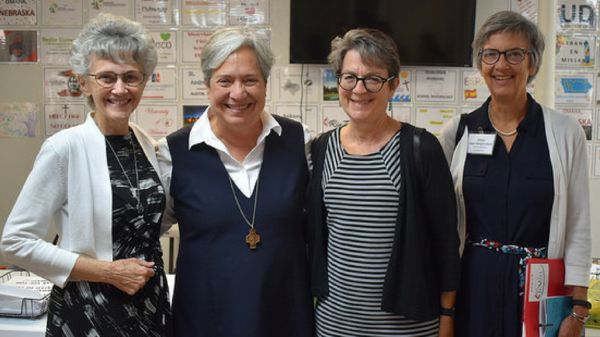 Change our hearts; change our minds
You see pictures, but nothing really prepares you for seeing it in person:
Hundreds of people in cages.
Many of them wearing bright orange t-shirts — the distinctive color of the U.S. prison system — given to them while their clothes are laundered.
Shoes laced together with aluminum foil.
A sea of silver Mylar blankets providing a constant hum of rustling.
This scene is the Ursula Border Patrol Central Processing Center.
I, along with three of the bishops who serve on the General Board of Church and Society and General Secretary Susan Henry-Crowe, was there on a trip coordinated by the Rio Texas Annual Conference and led by Bishop Robert Schnase, who pastored a church in McAllen for 20 years.
Throughout the trip, Schnase shared reflections from his life on the theme of borders. The bishop reflected one evening, "When we cross borders, we encounter people who would otherwise be strangers. We should be willing to put ourselves in situations that change our minds and change our hearts."
It is unlikely that anybody on the two-day border trip left McAllen without having an experience that changed their mind or heart.
It is what it is
We met at the border with the U.S. Border Patrol. Standing on U.S. soil, one just had to glance to the side to see Mexico 400 feet away across the Rio Grande. Four different officers spoke about their perspectives on the immigrants they apprehend. The officers shared about the harsh conditions the immigrants face on their journey and shared how they frequently save the lives of those who are starving or dehydrated.
After having been previously told that entrance into the Ursula Processing Center would not be permitted, Border Patrol escorted the group through the facility.
The images of fellow humans in cages elicited painful reactions from the group. Some members spoke with men, women and children through the fencing or offered short prayers of "God is with you." Others questioned the Border Patrol agents about the conditions in the center: Are the cages necessary? Are children over 10 (who are put in a separate cage from their parents) allowed to spend time with them? What mental health services are offered? Why must the lights be on 24 hours a day?
Upon our exit from the Center, the Rev. Maribel Vazquez, a pastor of two Spanish-speaking churches in the McAllen area, asked one of the agents, "How is your heart?"
His response was, "It is what it is, and we're just trying to do the best we can."
Never has there been a clearer understanding of the need for systemic change than "it is what it is."
Our work as people of faith
Later that day, the group met with Assistant Federal Public Defender Azalea Aleman-Bendiks, who is court-appointed to "defend the indigent." She is also United Methodist.
Aleman-Bendiks shared about her experience, from a judicial branch perspective, with the implementation and repercussions of what the Trump Administration calls a "zero-tolerance policy."
Since the U.S. Department of Justice implemented the policy earlier this year, the public defenders have represented upward of 150 individuals per day. That gives them mere minutes with each client to hear their story and prepare a defense.
Border Patrol told many immigrants who tried to cross the international bridge in McAllen and claim asylum that there was a 20-25 case limit on asylum claims each day. That is untrue and drove people to camp out at the bridge for days at a time and often forced people to cross the river, effectively placing them directly into criminal proceedings.
For the months when the administration was separating children from their parents, Aleman-Bendiks claimed that the government refused to provide a list of children who were separated. Public defenders were writing notes, such as "7-year-old son," on court documents to create even the smallest record of a child-parent relationship.
The group heard stories secondhand from the public defenders about how parents were told that their children were going to take showers or fill out paperwork, when the children were actually being relocated. Attorneys absorbed the trauma experienced by these parents and then had to turn around and defend them.
"They don't see these people as humans," Aleman-Bendiks said referring to the masterminds of these immigration policies. "That is our work as people of faith."
Restoring human dignity
It would have been easy to leave McAllen feeling desperate and heartbroken about the current state of affairs.
However, there exists a network of committed, faith-filled people working along the border to offer hospitality and restore dignity to migrants that inspired all on the trip.
The group visited La Posada Providencia, a crisis shelter for asylum seekers run by the Sisters of Divine Providence (and directed by a United Methodist) that helps clients make arrangements to meet family and friends in the U.S.
One nun spoke of her work at the shelter one Advent season when a man and pregnant woman knocked on the door of the shelter and asked if there was room to stay. It was a stark illustration of the sanctity of their work.
Good Neighbor Settlement House, a ministry of First United Methodist Church of Brownsville, was opening a respite center for migrants the day of the visit. They hope that Customs and Border Patrol will cooperate with them to provide services to asylum seekers released from custody.
A religious celebrity of sorts, Sister Norma Pimentel of the Missionaries of Jesus, welcomed the group into a shelter run by Catholic Charities of the Rio Grande Valley.
The shelter receives communication from Immigration and Customs Enforcement when they drop off migrants at the bus station. Pimental and her team then greet the hundreds of migrants at the bus station and bring them to the shelter for care.
A city manager once visited and asked, "Sister Norma, what exactly are you doing here?" She replied, "We are restoring human dignity."
The Body of Christ
It became very evident that many people are living along the southern U.S. border who have devoted their lives to fighting for the dignity of all people.
Ann Cass, who we met on one of the last visits of the trip, is no exception.
Cass has spent decades working to ensure the rights of farmworkers and now serves as the executive director of Proyecto Azteca, an organization working to build housing for those in the Rio Grande Valley. Because of Cass' experience, she offered the group an overview of the realities of a border wall, which she said would be a waste of money that could go toward building a public hospital.
Cass, a Catholic, shared a conversation that she had with a Jesuit about ministering with immigrants. "How do we welcome them into the body of Christ?" the Jesuit asked.
"They already are the body of Christ," Cass replied.
This trip to McAllen was a two-day reminder that the immigrants we hear about on the news every night are in our pews and behind our pulpits.
Will our mercy and justice responses reflect our understanding of the body of Christ?