faith in action
Praying for peace in Marawi, Philippines
One of the most incredible features of life as we know it is movement. People and other living things are invariably moving; it is in their nature.
---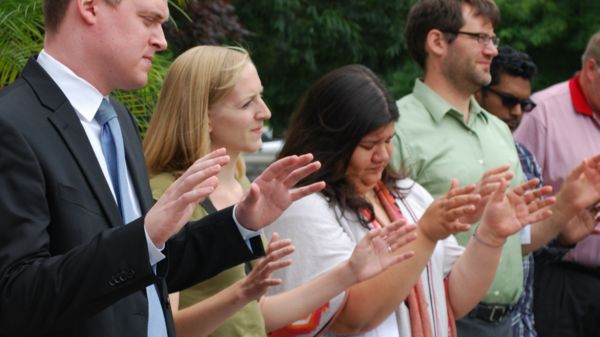 Moving from one place to another is part of the human experience. Most of the time, these movements are self-selected. Sometimes, however, people are coerced from their homes. This is called forced migration, and it is a growing phenomenon around the world.
Lingering wars and conflicts are pushing some people to move. Global warming has recently caused what is called climate-induced movement. All told, the United Nations Office of the High Commissioner for Refugees estimates there were 65.6 million people displaced from their homes last year. That's 20 people a minute.
We are witnessing the largest number of refugees since World War II.
The U.N. high commissioner for refugees, Filippo Grandi, spoke in June on the World Day of Refugees. He called these figures, "unacceptable."
"It speaks louder than ever to the need for solidarity and common purpose in preventing and resolving crises," Grandi said. The world's refugees must be, "properly protected and cared for while solutions are pursued," he added.
I write this piece painfully aware of the massive internal displacement that is currently happening in Mindanao, in the southern part of the Philippines, my home country.
I recently received information from Bishop Reuel Norman Marigza, the general secretary of the United Church of Christ in the Philippines, a colleague and a friend. He shared about Marawi, a city in the southern part of the Philippines. It is the both the capital and largest city of the province of Lanao del Sur on the island of Mindanao.
Marigza's report details a picture of Marawi as being under siege, what is being called the Marawi Crisis. It started on May 23, 2017, when violence erupted between the military and the government-designated terrorist group Maute.
Maute is responsible for many devasting events since then, including destroying Dansalan College.
The crisis has left many dead and forced thousands of people from their homes.
We continue to hold the people of Marawi in our prayers, as we hold all refugees, whether they are crossing international borders or being internally displaced, dislocated and dispersed.
The United Methodist Church has spoken as a global connection on this matter. The 2016 Book of Resolutions says, "Christians do not approach the issue of migration from the perspective of tribe or nation, but from within a faith community of love and welcome, a community that teaches and expects hospitality to the poor, the homeless, and the oppressed. The Christian community at its best not only welcomes and embraces migrants but also led by them toward clearer understandings of justice and hospitality."
Let me share a prayer that Marigza has offered in memory of Marawi and Manchester:
We pray and long for that day when such thing like the Marawi siege or the Manchester bombing will be no more.
The Marawi we see now should not be the norm of the future. We must push and work for a different future. As I have written of Marawi, we can imagine a vision of what can possibly be:
No more shall bombs rain on her
No more shall sniper shots abound
No more shall cannons be at each corner
No more shall tanks crawl around
No more shall smoke engulf the city
No more cries of deep despair
No more whining from planes without pity
No more death's stench in the air
The people of the Book in unity:
Muslims, Christians, also Lumads gather
Living once more in harmony
In peace: One People, together!
May we pray and work that these may be so in our land, in all lands.
For more information on The United Methodist Church and global migration, click here.