faith in action
On the Ground at COP26
Daily updates about interfaith activities and the observations of General Board of Church and Society delegates and others participating in the Oct. 31-Nov. 12 United Nations Climate Conference.
---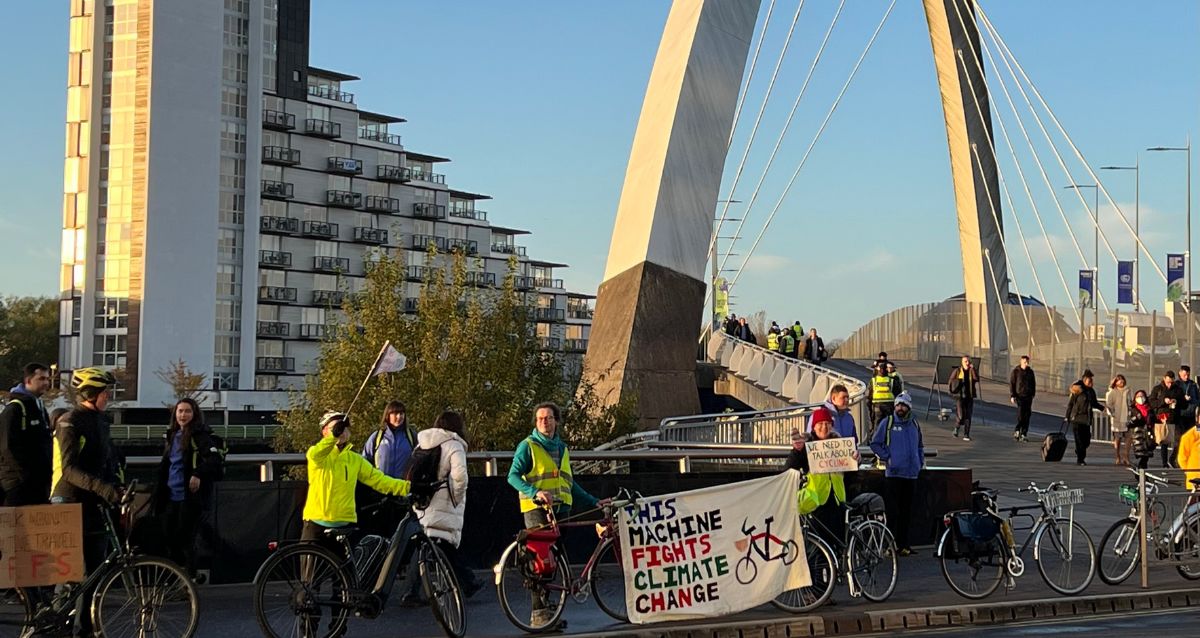 ---
Thursday, November 11th, 2021
Young leaders coordinate Methodist statement on COP26
Climate Justice For All — a joint Methodist initiative for young leaders that had official delegates at COP26 through the Board of Church and Society — coordinated a statement on climate action that was released the second week of the U.N. Climate Change Conference in Glasgow.
 Leaders from the Methodist Churches in Italy, the Pacific Islands, Zambia, Britain and Uruguay joined leaders from six other countries and regions, and leaders from the European Methodist Council, World Methodist Council and United Methodist Church to release the statement.
In the statement, the church leaders identify their Methodist and Uniting Church heritage as a quality which brings them together.  They also highlight their identity as climate activists, saying that "the climate crisis is the greatest threat to life on earth and must be tackled."
Read story from The Methodist Church UK
---
Wednesday, November 10th, 2021
The power of voices working in coalition and solidarity
Today, I had the privilege of sitting alongside a handful of other climate justice advocates in a meeting with U.S. Speaker of the House Nancy Pelosi and 22 other Members of Congress.
The roundtable was convened primarily as a listening session for the Congressional delegation to hear directly from faith, health, civil rights, indigenous, labor, environmental and immigration advocates on key issues at play here at COP26 and how we might catalyze and mobilize climate action in domestic U.S policy.  
In addition to stressing the moral imperative for urgent climate action, I was able to elevate the importance of climate finance for loss and damage and other key international assistance to support developing nations bearing the brunt of climate disruption. As each of us reinforced the intersecting areas of concern that are essential for just and equitable climate solutions, I was struck by just how powerful our voices are in coalition and in solidarity with directly impacted communities.
One of the consistent refrains from the U.S. negotiating team has been the commitment by the Biden Administration to activate an "all of government" approach to the climate crisis. Sitting around the table with the Speaker of the House, Committee Chairs of the Select Committee on the Climate Crisis, Energy and Commerce, Science Space and Technology, Foreign Affairs, Natural Resources — as well as members from Ways and Means, Appropriations, and Transportation and Infrastructure Committees — it became clear that we also need an "all of Congress" approach.
These members, and we as advocates, have an opportunity to advance climate solutions in environment and energy policy, in tax policy, in agriculture policy, in foreign assistance, and so on — both to rapidly reduce emissions and to fund a just and equitable transition to a climate secure future. The questions from the Representatives and answers from the assembled advocates were engaging and cross-cutting — some very practical and some that aimed to push the edges of our collective imagination of climate solutions. I am hopeful that the time we spent with them and their delegation's short time at COP26 reinforced the urgency of action and how their policy proposals can and must be centered on the wisdom, experience, and vision of frontline advocates.
Together, we can address the complex, interconnected areas of climate justice — including health, economic and racial equity, gender justice, migration and indigenous rights.
John Hill, deputy general secretary, GBCS (Glasgow)
Women and girls are leading climate solutions
Tuesday Nov. 9th was gender day at the COP — highlighting both the disproportionate impact climate change has on women and girls and the ways in which women and girls are leading climate solutions in the frontlines of their communities and as policy-makers in elected offices at all levels of government.
Delegates were reminded of the many ways climate change is a matter of gender justice. For example:
Extreme weather and slow-onset events such as drought and sea-level rise impact the ability of women and girls to secure safe water and food for themselves and their families.

Each year, an estimated 4 million girls globally will be unable to complete their education because of climate-related disruptions.

Women and girls forced to flee from climate-fueled disasters face a heightened threat of gender-based violence, including forced marriage, rape, and trafficking.
These impacts and so many others highlight just how intertwined climate justice and gender justice are and how imperative it is that any climate solutions are informed by the experiences, voices, and decisions of women. In addition to high-level ministerial presentations from U.S. Speaker of the House Nancy Pelosi and First Minister of Scotland Nicola Sturgeon, gender day elevated voices of women from indigenous communities and young women climate leaders around the world. All of them are helping delegates and observers understand how critical it is to have gender justice at the heart of climate justice.
As speaker after speaker pointed out, for this to happen, women need to be at the table, in the negotiations, shaping the decisions. As Minister Sturgeon observed, when the 120+ world leaders gathered at the start of COP26 precious few were women. Overall at COP26, only 33 percent of all delegates are women.
This needs to change. I am grateful for the strong leadership of women across our Methodist delegation — preaching, teaching, and advocating for climate justice. Comprising 80% of our delegation, women have been the cornerstone of our contributions here at COP26.
In her plenary address Brianna Fruean, a young climate advocate from Samoa, invited us all "to plant seeds of hope that will grow into justice." She then reminded us of the consistent, daily, faithful work necessary for those seeds to grow. I pray that her voice — and the voices of women climate advocates — will reach the ears of and change the hearts of those negotiating the final decision text.
And may they echo and encourage us all long after we have left Glasgow, Scotland, and returned to our daily work of climate justice.
John Hill, deputy general secretary, GBCS (Glasgow)
---
Tuesday, November 9th, 2021
A 'stocktake' for the second week of COP26
After an energizing weekend of prayerful protests in the streets of Glasgow and powerful worship at the Cathedral, our delegation returned to the now-familiar corridors of the Scottish Event Campus for the second and final week of COP26.
During the Nov. 8 morning plenary session, the COP President, Alok Sharma, provided a "stocktake" — an overview of where negotiations stand. Facilitators of the various workstreams shared areas where progress and consensus has been reached and the numerous areas of continued disagreement — most critically on the issue of climate finance. Following the overview, countries and observers were able to make interventions including youth, indigenous, and non-governmental voices. Taken together, the interventions revealed the depth of differences that must be bridged to have a successful outcome by the end of the conference on Friday.
Among the strongest comments were calls from those countries feeling the worst impacts of climate disruption, including least developed countries and small islands states. They made clear the urgency for developed wealthier nations, who have been and continue to be the largest emitters, to provide additional financial resources both for adaptation and for loss and damage — the irreversible economic and non-economic harm caused by climate change. As the delegate speaking for Antigua and Barbuda put it "without concrete commitments to loss and damage finance we will continue to be held hostage to random acts of charity."
The phrase really struck me: "Hostage to random acts of charity." We as the faith community are often the first to step in following a disaster and among the last to leave until communities are rebuilt and restored.  And yet, as people of faith we know the limits of charity and our call throughout scripture to pursue justice.
So throughout today, faith voices could be heard across the COP venue echoing this call for financial commitments by developed nations. In bilateral meetings with delegations and in a public witness action organized by our colleagues at ACT Alliance, our team urged delegates to commit to significant new finance for loss and damage.
One other phrase from the morning plenary session also stayed with me during the day. As he was updating delegates on the progress of one workstream of negotiations, Tosi Mpanu Mpanu from the Democratic Republic of the Congo said simply, "Time was not on our side." While he was referring specifically to the time constraints of negotiations during the first week, it surely resonated with all of us who continue to impress upon negotiators the urgency of the climate crisis. We will see in the coming days if this urgency is matched with strong, ambitious commitments by negotiators here at COP26.
John Hill, deputy general secretary, GBCS (Glasgow)
---
Monday, November 8th, 2021
Investing Faith in God's Earth
The familiar words of Psalm 23 — "walking in the valley of the shadow of death" — take on a new meaning in light of the world's climate crisis.
But this is not the way it has to be, the Rev. Susan Henry-Crowe, general secretary, Board of Church and Society, told worshippers gathered Nov. 7 at Glasgow Cathedral.
"God is not only with us but gives us guides and teachers," she said to those gathered beneath the soaring arches of the Church of Scotland cathedral, consecrated in 1197. As spelled out in Job 12:7-10, those guides include animals, birds, fish and the earth itself. "Creation will show us the way.''
One of the faith-based events during the U.N. Climate Conference known as COP26, the in-person service was conducted by the Rev. Mark E. Johnstone, Minister of Glasgow Cathedral and broadcast via livestream.
At the Cathedral: History and Young Voices
Sunday's COP26 ecumenical service at Glasgow Cathedral, where worship has continued for more than 800 years, offered some Scottish history but also highlighted young voices from other parts of the world.
In keeping with tradition, a Cathedral bell was rung before the service. "The clanky bells of the Celtic Saints expressed their confrontation of injustice and evil, in their vulnerable dependence on the strength of God," read an explanation in the program detailing the order of the service. "A bell disturbs the easy peace of injustice, sounds an alarm. Calls for action."
The bell rung at this service was an Adamnan's Bell. The name refers to the Abbot of Iona in the 7th century. Adamnan's Law of the Innocents was signed at that time, making the killing of women and children in times of conflict a criminal offense, giving them protection and dignity. The law is still used by the United Nations.
Later in the service, during the time of Intercessions, young people spoke to their hopes for the future.
Jen Morris, Young Christian Climate Network, prayed "that the truth about climate change may emerge clearly in consensus at this conference."
Patricia Mumbua Kombo and Maness Nkhata, All Africa Conference of Churches, prayed that the work of COP26 would lead to "a future for all the peoples of this world" and "the humility to recognize our past mistakes."
Nicholas Pande, Anglican Communion, asked that "each country have the courage to commit to sacrifices that may be costly but are necessary for the long-term survival of human civilization."
Archbishop Antje Jackelén, Church of Sweden, gave thanks for the enthusiasm and vision of young people.
"Rightly they see the threat to their future and the future of their children," she prayed. "Grant, that the commitments of COP26 may set a new corrected course for all humanity that will lead to a more fulfilled life for them and the generations that follow."
The full service, which includes a sermon delivered by the Dr. Rev. Susan Henry-Crowe, can be viewed here.
Linda Bloom, interim communications director, GBCS, (New York)
---
Friday, November 5th, 2021
Difference Between Degrees? "A Death Sentence"
"We come to the COP because this is our lifeline. The difference between 1.5 degrees and 2 degrees for countries like the Maldives is a death sentence." -Aminath Shauna, Maldives Minister of Environment
I am often asked – and at times have wondered myself – do these United Nations climate conferences make a difference? After all, at their core, hundreds of country delegates from around the world are negotiating words in a decision text. Teams of negotiators and observers are sitting around tables and meeting in hallways to reach consensus on items like "CMA 8(e) new collective quantified goal on climate finance." The debate over phrases and bracketed text can seem so removed from the realities of the climate crisis.
And then I hear speeches like Minister Shauna's and I am snapped into reality. These negotiations are a matter of life and death — for individuals, communities, countries, and cultures.
The U.N. Climate Conference (COP26) provides the venue for those suffering the worst of climate disruption to speak directly with those whose emissions are creating the harm. And conversely, these gatherings force major emitters to hear firsthand how their polluting ways are wreaking havoc on communities and cultures around the globe.
Yes, the decision text will be pages and pages of words —  but getting the words right matters. The COP26 decision will represent the current global consensus and commitment to action on reducing emissions, scaling up finance for a just and inclusive energy future, providing funding for adaptation and loss and damage, and throughout it all making explicit the linkages of this transition to racial equity, indigenous rights, and gender justice.
And just as with our United Methodist Social Principles and Book of Resolutions, the words are both essential and insufficient. I imagine Methodists in 1908 celebrated the church's words in support of a living wage in every industry. I know we as United Methodists in 2021 are still working to turn those words into reality.
We need to constantly work to get the words right — to stand in solidarity with those suffering from systems of exploitation and oppression and to proclaim a vision of a world transformed. And then we must be sure those words don't sit on a shelf and gather dust. We must live into them through acts of individual, social, and civic righteousness.
So too it is with the COP. We are working long days and nights to be sure countries get the words right — to achieve consensus on challenging issues. Issues of justice and equity — of life and death.
And then, once COP26 is over, we will return to our home countries and communities and resume the hard work of putting these words into action. Changing the way we live in the world. Transforming our own institutions. Advocating for just and equitable national and subnational policies.  Only then can we say we actually heard and responded to the powerful words of Minister Shauana. Only then will we hope to build a flourishing future for the Maldives and countless other frontline communities around the world.
John Hill, deputy general secretary, GBCS (Glasgow)
Henry-Crowe to preach in Glasgow
One of the faith events at COP26 is an ecumenical service on Sunday, Nov. 7, at Glasgow Cathedral, featuring the Rev. Dr. Susan Henry-Crowe, general secretary of the General Board of Church and Society, as preacher. The 4 p.m. (11 a.m. ET) service will be livestreamed and is co-organized by the Church of Scotland, Churches Together Glasgow, the Conference of European Churches, and the World Council of Churches.
View livestream under "Watch Live" on drop-down menu at glasgowcathedral.org.
---
Thursday, November 4th, 2021
'Finding our Footing' as a delegation
With the departure of heads of state, the halls of COP26 settled into a more predictable but no less busy rhythm of work. Key issues of equity and access for both country delegations and observers continue, but there was a collective sense across the venue that negotiations have begun in earnest. 
As a delegation we are also finding our footing — discovering the quieter corners of the venue for huddles to review the latest negotiating texts and the best spots to recharge both our computers with a power outlet and ourselves with a cup of coffee or tea. Through a combination of formal and informal sessions both in-person and online, our delegation was able to participate in discussions on adaptation, gender justice, climate finance, and ocean resiliency.
Among the hopeful developments in these opening days is the re-emergence of the High Ambition Coalition — originally formed under the leadership of the Marshall Islands ahead of COP21. Consisting of both developed and developing economies — major emitters and climate vulnerable countries — this coalition provided needed momentum ahead of the Paris Agreement. A new statement by the Coalition — which the United States recently rejoined — could portend progress on key areas including "loss and damage." Loss and damage refers to how we will address the irreversible harm caused by climate change and has become both a major priority for the faith community and a major stumbling block for negotiators.
It is hard to believe we are only halfway through the first week of COP26 and no doubt the negotiations will both advance and falter in the days ahead. Throughout it all, in the meeting rooms and hallways — in delegation meetings and one-on-one conversations — our Methodist delegation will be present to remind delegates of the moral urgency of this moment and to advocate for an ambitious agreement that secures a healthy future for God's people and God's planet.
John Hill, deputy general secretary, GBCS (Glasgow)
We Need a "Yes" to Climate Justice
"Let your yes mean yes, and your no mean no." - Matthew 5:37
The United Methodist Church has spoken clearly on the need to take swift action at every level of the church and to advocate for policies that hold major emitters accountable, rapidly reduce emissions and support communities as we transition to a clean more equitable energy future. The recent 6th assessment from the Intergovernmental Panel on Climate Change put it succinctly: "The climate we experience in the future depends on our decisions now."
We as people of faith, mindful of Jesus' caution in Matthew against broken promises, must be sure that our "yes" means "yes" – that our commitment to climate justice reflected in the words of General Conference are lived out in acts of personal, social, and civic righteousness.
From essay by Wyatt Robinson, theological intern, GBCS, and John Hill, deputy general secretary, GBCS.
Mobilizing the Faith Voice on Climate Change
For the Rev, Susan Hendershot — a Christian Church (Disciples of Christ) minister who leads Interfaith Power and Light — it doesn't feel at all unusual to be one of many faith representatives present at COP26 to advocate for action.
"We're really seeing this greater mobilization of the faith voice," she said. That mobilization is grounded on common values and the moral obligation to look out for those most affected by climate change, she added.
Hendershot spoke from Glasgow, Scotland Nov. 4 during a live virtual session sponsored by Religions for Peace USA.
Many issues are intertwined with climate change.
Hendershot's interest in food security issues led to an understanding of the impact of drought and flooding. "That was when I really recognized that if I wanted to solve the issue of hunger I needed to focus on the issue of climate change," she said. "It really has become my calling."
Racism is another topic that intersects with environmental issues.
"We are trying to draw all the parallels that we can so we can act in a holistic manner and an inclusive and equitable manner," she said.
Hendershot sees her presence and that of others in Glasgow as an opportunity to push the U.S. government to action. "Our job is to be observers and to see what's happening and what commitments we are making but also how to make sure, through Congress and the EPA, that the U.S. can deliver the promises it is making."
See COP26 resources (including worship resources) from Interfaith Power and Light
Linda Bloom, interim communications director, GBCS, (New York)
---
Wednesday, November 3, 2021
Why We're in Glasgow
At COP26, 45,000 registered participants representing over 197 countries have one task —achieving climate justice.
However, there are multiple perspectives for how justice needs to be achieved at this COP.
As United Methodists, we call for "the church and its members to place a high priority on changes in economic, political, social, and technological lifestyles to support a more ecologically equitable and sustainable world leading to a higher quality of life for all of God's creation."
We are at the COP to advocate for just and equitable climate action that is led by and in solidarity with voices from the frontlines and with ambitious goals. Climate action is needed now and it is the only way for justice to be achieved.
On Monday, I connected with United Methodists and Environmental Activist Shamiso Winnet Mupara. Shamiso is a Climate Justice grassroots organizer for The United Methodist Church in Zimbabwe. She equips and supports young and local congregations to learn more about their faith and creation through workshops, and activities. Her presence at the COP speaks to the importance of grassroots leadership shaping the world's response to climate justice.
As the second day of COP 26 began, the first session opened with the World Leaders Summit, where heads of state bring greetings and make declarative statements of their commitment to climate change. In between the diplomatic speeches, grassroots voices raised their own demands of what this global moment means for them. One of those voices was South African activist Eddie Ndopu, who shared his perspective of the impact of climate change for disabled persons. Ndopu commented that world leaders must work towards climate action that guarantees a "safer future for every life regardless of their ability."
Centering and honoring stories such as the one shared by Ndopu is essential for the climate justice movement to be inclusive. The climate action that we need now must be inclusive for transformation to occur.
As United Methodists we believe in creating an "equitable and sustainable world that leads to a higher quality of life for all." Living into this just vision requires participation of all voices.
Laura Kigweba James, program coordinator for grassroots organizing, GBCS (Glasgow)
Code Red for climate action
The Rev.Liberato (Levi) Bautista, assistant general secretary for United Nations Ministry and a participant in previous climate conferences, said that GBCS delegates would sound a message of urgency at COP26.
The report on climate change issued by the United Nations this year was considered "to be Code Red," he pointed out. "I would hope that the governments make decisions in Glasgow as if it really is Code Red.
To Bautista, a Code Red governance strategy means not delaying action. "The challenge for the U.N. and the governments is to not push their targets all the way to 2030, 2050 or 2070, but to consider the targets as if they are achievable in their own lifetimes," he said.
Read story about the GBCS delegation to COP26
Linda Bloom,  interim communications director, GBCS, (New York)
---
Tuesday, November 2, 2021
COP26, General Conference and how decisions happen
Yesterday was the start of the World Leaders Summit, kicking off the two-week United Nations Climate Conference (COP26) in Glasgow, Scotland. And in some ways, it reminded me of the opening of a General Conference. Just as The United Methodist Church starts General Conference with uplifting worship and inspiring preaching, so too this global conference began with powerful presentations and speeches by youth, indigenous leaders and heads of state promising action for a future filled with hope. And yet like at General Conference, the ultimate success of this global gathering will be based not on the soaring rhetoric at the start but on the concrete decision text adopted in the second week — text that is currently being negotiated in smaller committee rooms around the venue.
Arriving at these decisions will be no easy task. Key differences among the country delegations must be bridged on everything from targets for new emissions reductions under the Paris Agreement to scaling up finance to assist nations in adapting to and facing losses from climate change. And running through all these work streams are fundamental issues of human rights, racial equity, and gender justice.
As with previous COPs, the faith community is present in the conference halls and in meetings encouraging delegates to take bold action and make concrete commitments to bend the arc of future emissions so that all God's creation might flourish. While navigating new health protocols and challenging restrictions regarding access, the faith community — and our Methodist delegation — remains committed to advocating for just and equitable climate action and a successful, ambitious decision by the conclusion of this COP. Delegates must seize the opportunity for bold action here at COP26 and not defer these decisions for another year — God's people and God's planet demand nothing less.
John Hill, deputy general secretary, GBCS (Glasgow)
---
Monday, November 1, 2021
Advocacy through a justice lens
Through its non-governmental, consultative status with the United Nations, the General Board of Church and Society is able to participate in conferences such as COP26.
Its advocacy role in Scotland is to urge the international community to consider the justice implications on the effects of human activities on climate.
"We know that – historically and currently – certain countries can contribute more greenhouse gases than other," John Hill, GBCS deputy general secretary, who is leading a Methodist delegation on the ground in Glasgow, told GBCS directors on Oct. 21. "When we look at the impact … we see an inverse relationship."
Wealthier countries have better resources to protect against the impact of climate change, Hill pointed out. "Those who are least resourced, those who are contributing the least, have the least resources to adapt to the changing climate."
COP26 provides "a moment of great opportunity and great challenge" to bridge the "ambition gap" between what countries pledge and what they achieve, he said.
The United Methodist Church also has made strong statements and passed specific resolutions in support of climate action, Hill said, but it also has an ambition gap.
One way the Board of Church and Society is addressing that gap is through its work with Climate Justice for All, a program of the World Methodist Council, "to ensure that these younger voices…are brought into the COP in ways that are meaningful."
During the two weeks in Glasgow, the board delegation includes young adult representatives of Climate Justice for All, along with GBCS staff and several participants representing other Methodist and ecumenical partners.
Linda Bloom, interim communications director, GBCS, (New York)
---
Check out GBCS Facebook and Twitter.
Other Methodist-related and interfaith Twitter feeds following COP26 include:
Climate Justice for All - @ClimateJust4All
Glasgow Churches COP Group CJ4A - @Cop26Group
The Methodist Church - @MethodistGB
JPIT (Joint Public Issues Team) - @PublicIssues
Christian Aid - @christian_aid
US Climate Action Network - @uscan 
Climate Action Network International - @CANIntl 
---