faith in action
Celebrate June with Sacred Worth Books
There is so much to celebrate in June! Look through this list of our Sacred Worth children's books to find ways to share June's observance days, from World Environment Day to Father's Day to Juneteenth to Pride, with the children in your life.
---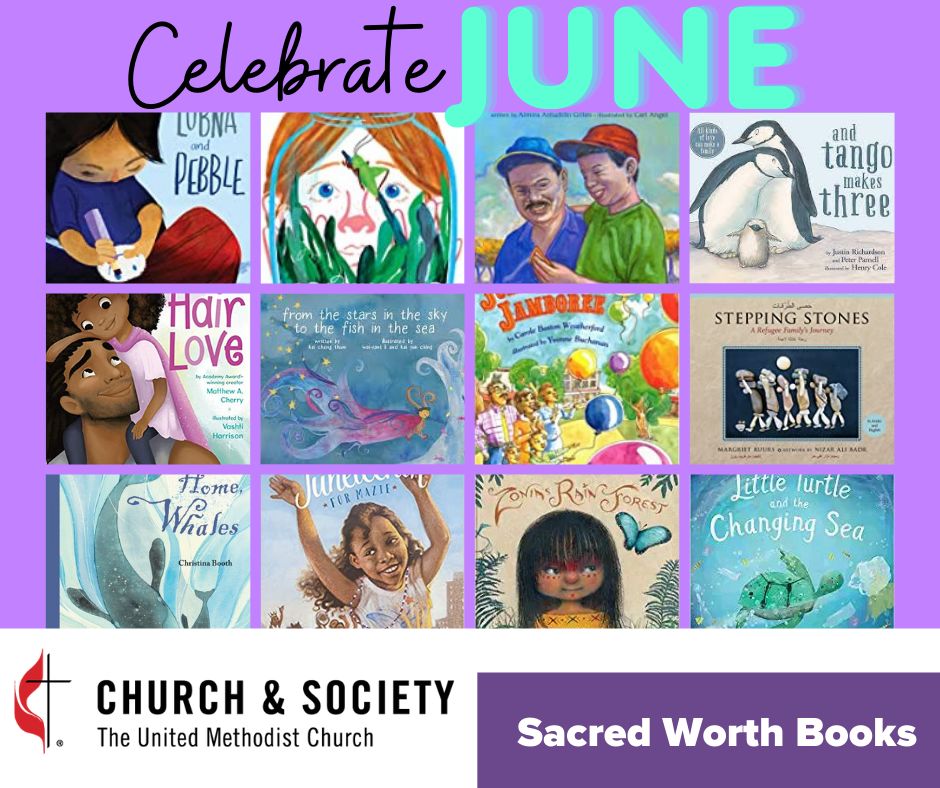 This list was curated using the Sacred Worth Books database, a Church and Society resource that highlights children's books with diverse main characters with the goal of teaching children to honor the dignity and worth of every person, including oneself, a message that is at the heart of the Gospel. Why Sacred Worth Books?
World Environment Day
Saturday, June 5 is World Environment Day. As persons of faith, this is a time to celebrate God's creation and the ways we can serve as good stewards of the beautiful environments in which we live. These books encourage kids to see the ways they are connected with the natural world that God created.
Zonia's Rain Forest by Juana Martinez Neal tells the story of a young Peruvian girl and her connection to the life of the rainforest that can inspire kids to see how they are intertwined with the world around them.
Old Turtle by Douglas Wood is a classic parable in which children can learn how God is reflected throughout all of creation.
World Oceans Day
Another piece of learning to be good stewards comes on June 8th with World Oceans Day. The oceans sustain us all, and these books help kids to see how we need to value them and the creatures that call them home.
The Ocean Calls by Tina Cho is a story of culture and family bonds as well as connecting with nature. A young Korean girl learns from her grandmother, a haenyeo, or free diver, not only to dive but to love and respect the ocean.
Little Turtle and the Changing Sea by Becky Davies follows a sea turtle as he grows in his love for the ocean and struggles with seeing it become polluted.
Juneteenth
An important celebration comes on June 19: Juneteenth! This is when we remember June 19, 1865, the day the news of the Emancipation Proclamation finally reached all enslaved people in the United States. Slavery had been abolished, and they were freed! These books describe the history, the importance of the day, and the celebration of what this means in our country.
In Juneteenth for Mazie by Floyd Cooper, a young girl learns about Juneteenth and celebrates with her family while she hears stories of when her great-great-great-grandfather finally gained freedom. This story also touches on the continuing fight for civil rights after this day.
Juneteenth by Vaunda Michaux Nelson is a recounting of the history of slavery, the civil war, and the day of Juneteenth.
World Refugee Day
June 20 is World Refugee Day, when we recognize the continued need for support of refugees receiving inclusion in healthcare, education, and more. As Christians, we know that we are called to welcome the stranger as an equal member of the family of God. These stories foster empathy for the refugee experience and show why folks might have to leave their home to go to a new country. Check out this Refugee & Global Migration Faith & Facts Card for what the Bible and our faith have to say about refugees and migration, and how you can take action to support migrants and refugees.
In Lubna and Pebble by Wendy Maddour, see through Lubna's eyes as her family arrives at a refugee camp, and she uses her imagination to make a new friend and share her stories. She then meets a new arrival to the camp and offers him comfort and friendship too.
Stepping Stones: A Refugee Family's Journey by Margriet Ruurs, written in English and Arabic, tells with unique stonework illustrations the story of one Syrian family forced to leave home during the war as they seek true freedom.
Father's Day
Sunday, June 20 is also Father's Day, when we celebrate the men who have been mentors and caretakers. The books below show diverse fathers in relationship with their kids, and the bonds that are common among all kinds of people. This kind of diversity portrayed in the books we read can help kids be affirmed by seeing themselves and their families reflected as main characters and can also help kids break down biases before they are built.
Hair Love by Matthew Cherry is a sweet, endearing story of Zuri and her dad, who learns how to help her do her hair for a special day.
In My Papi Has A Motorcycle by Isabel Quintero, told in English and Spanish, Daisy Ramona and her dad take a motorcycle ride around the city they love, taking in the sights, sounds and people around them.
Pride Month
Pride Month is celebrated throughout the month of June. During this month, we recognize the impact and contributions of the LGBTQIA+ community. It's important for us as Christians to recognize the equal value and sacred worth of all people in the eyes of God. These books help kids to see that though families may be different, and though people may be different, all are valuable and worthy of respect and love. For more about how our faith leads us to support the equal rights of the LGBTQ community, see this Church & Society article on LGBTQ rights.
In both A Tale of Two Mommies and A Tale of Two Daddies by Vanita Oehlschlanger, a child answers curious questions from friends about their family. The children talk about their family bonds, the way their parents nurture and care for them, and the sweet love that is shared.
From the Stars in the Sky to the Fish in the Sea by Kai Cheng Thom tells with fanciful illustrations the story of a child born who can change into any form- will the child become a boy or a girl, or a fish or a flower, or even a star in the sky? As Miu Lan tries to decide what to be, they face struggles at school from kids who don't understand, but Miu Lan's mother is always there to comfort and to love. This story is beautiful for any child who feels like they are different and can also open up opportunities for conversations about gender identity.
Do YOU have a favorite book to add to our list?
We are always continuing to collect children's books titles for our Sacred Worth database. Have a favorite book you'd like to contribute? Submit titles here.