faith in action
Building Tomorrow with a Faithful Census Today
Join us on April 1 for a #faithfulcensus webinar.
---
For many of us, the emerging realities of COVID-19 pose new challenges and unexpected disruptions to our everyday lives. Those who are the most vulnerable in our communities now face mounting concerns in addition to already precarious circumstances. Amidst social distancing it may be hard to know how we can continue to love our neighbors.
Church and Society board member Raúl Alegría names how completing the 2020 census is one way we can love our communities:
Why is it important to me that all persons are counted in the U.S. Census?In the gospel of Mark, Jesus outlined the greatest commandments.

The second of these commandments, 'Love your neighbor as yourself' (Mk 12:31) connects to the noble vision of our Founders to ensure all persons are cared for in the United States.

God gives to each of us that responsibility to love and care for yourself and love and care for your neighbor.
By being counted, you are making sure that your community has the representation and resources that it needs in the future.
U.S. households will begin receiving invitations to participate in the 2020 Census March 12-20, 2020.
Tomorrow is coming, and a complete census can help us prepare for what comes next.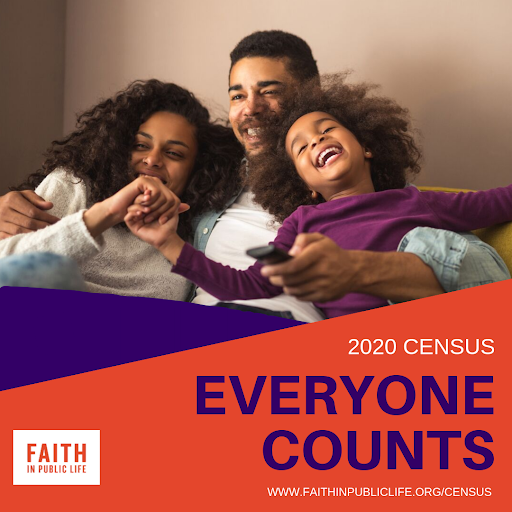 Act now
Three Ways You Can Be Counted
Complete the census online at my2020Census.gov. The Census Questionnaire is live NOW! You can still complete the census online even if you have not received your invitation letter.
Call the Census Bureau in your preferred language. You can get questions answered and respond to the 2020 Census in English and 12 non-English languages.
Return a paper questionnaire.
Additional Actions
Join a #FaithfulCensus webinar with national faith leaders on National Census Day, April 1, 2020. Register here!
Contact your church and community members informing them to complete the Census!