faith_in_action
12 Picture Books to Celebrate Christmas & Other December Holidays
Learn about how December holidays are celebrated around the world with these 12 children's books.
---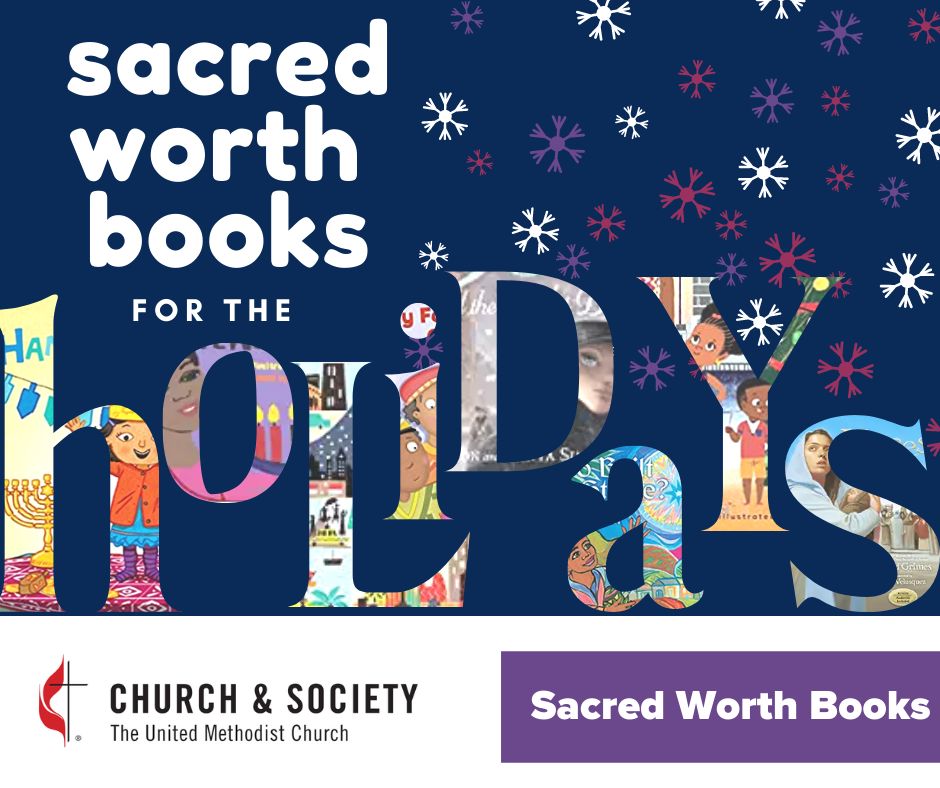 During this Advent season, there are many ways that the anticipation and event of Christ's birth are celebrated in different cultures around the world. In addition, of course, there are other December holidays celebrated in various religions and cultures, including Hanukkah and Kwanzaa.
This month, learn more about all kinds of celebrations around the world by reading some of the children's books on the list below. These books can help start conversations with the young ones in your life about different holiday traditions, as well as where your own family's traditions have come from, and even new dimensions to the Christmas story.
When we learn more about the culture, history, traditions, and celebrations of others, we can more deeply understand, value, and respect one another and each person's God-given sacred worth. This list was curated using Church & Society's resource, the Sacred Worth Books database, a list of over 1000 children's books that promote anti-bias thinking and represent a wide range of diverse main characters in the hopes that all children can know their own and all people's deep worth in the eyes of God. For more books, you can access our database here, and if you'd like to contribute some of your favorites, you can submit favorite titles here.
Christmas Around the World
'Twas Nochebuena by Roseanne Greenfield Thong, Illustrated by Sara Palacios.
This fun book shows a Latine family getting ready for Nochebuena (Christmas Eve). Sprinkled with Spanish words and phrases, the story follows the rhythm of the original "Twas the Night Before Christmas" poem, describing traditions like making tamales together and joining in to posadas.
A beautiful lift-the-flap book that almost functions like an Advent calendar, this book travels the world showing all different kinds of Christmas traditions from continent to continent.
Christmas in Lagos by Sharon Abimbola Salu, Illustrated by Maria Nikla
Before Christmas, Ranti's classmates talk about all the places they'll be visiting for the holidays. Ranti, who is just staying at home in her city of Lagos, Nigeria, feels disappointed that she doesn't get to travel somewhere exciting. But with the help of her teacher who gives her a journal to record everything she does at home for Christmas, she realizes that Christmas in Lagos is pretty wonderful after all.
Hanukkah
Jeremy's Dreidel by Ellie B. Gellman, Illustrated by Maria Mola
At a dreidel-making workshop at his local Jewish community center, Jeremy starts to create a unique dreidel. When his friends are curious if he is making a secret code, he reveals that he is making a Braille dreidel for his father, who is blind. A book that highlights disability awareness as well as teaching about Hanukkah traditions.
This story follows a multicultural family as they incorporate their mother's Indian heritage into their Jewish father's Hanukkah traditions through the delicious food they prepare. This book touches on how traditions come together, as well as offering a fun story of family hijinks.
Oskar and the Eight Blessings by Tanya Simon & Richard Simon, Illustrated by Mark Siegel
Young Oskar flees to New York as a refugee from Europe after the terrifying Kristallnacht in 1938. This book follows Oskar as he walks the entire length of Manhattan on the seventh day of Hanukkah, searching for his aunt's home. In his memory are his father's last words reminding him to always be looking for the blessings, and on his long walk, he receives many such blessings in small acts of kindness from others.
Kwanzaa
The Sound of Kwanzaa by Dimitrea Tokunbo, Illustrated by Lisa Cohen
This book tells about the seven principles of Kwanzaa and offers an introduction to the holiday. Included in the back of the book are an author's note, pronunciation guide for the Swahili words throughout the book, and a recipe for no-bake brownie bites.
Come along with Kevin as he and his family prepare for Kwanzaa. This book also includes descriptions of the history of the holiday and how it came to be, as well as different kinds of traditions practiced by different families.
Together for Kwanzaa by Juwanda G. Ford, Illustrated by Shelly Hehenberger
Kayla worries that her brother, Khari, won't make it home in time for Kwanzaa due to a snowstorm. A story of family togetherness as well as an introduction to Hanukkah.
Retelling the Christmas Story
Refuge by Anne Booth, Illustrated by Sam Usher
This book tells the story of what happened right after Jesus' birth, when his family had to seek out safety from Herod and his soldiers, beautifully and poetically reminding us that Mary, Joseph and the infant Jesus were a refugee family.
The story of Jesus' birth through the eyes of another young boy, a shepherd and carpenter. Told in the style of a poem with colorful folk art style illustrations.
Voices of Christmas by Nikki Grimes, Illustrated by Eric Velasquez
The Christmas story told through the imagined voices and emotions of different characters in the Biblical tale, including Gabriel, Joseph, Elizabeth, the shepherds, Mary, and more. Provides perspective and reminds us to always think about the different voices that are involved in the stories we hear and tell.