faith_in_action
Sacred Worth Books Highlight: A Place to Land by Barry Wittenstein & Jerry Pinkney
A beautifully told story to share with the kids in your life on Dr. Martin Luther King Jr. Day.
---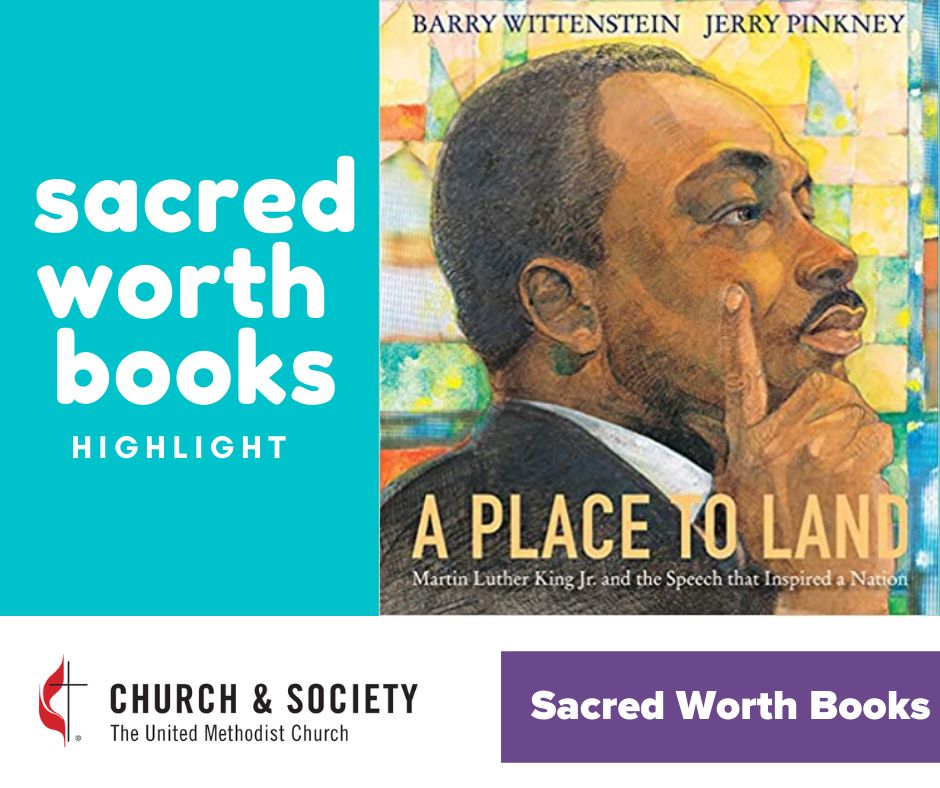 On January 17, 2022 we will celebrate Dr. Martin Luther King, Jr. Day in the United States. This day recognizes the powerful contribution made by Dr. King to the civil rights movement in this country as well as the ongoing legacy he leaves for justice work moving forward.
As a pastor, preacher, and man of faith, Dr. King was a leader of the civil rights movement in the United States in the 1960s who placed non-violent but unyielding work for true justice and liberation at the center of what he did, transparently calling out white supremacy and emphasizing the urgency of the movement. His actions to pursue justice and his prophetic words contributed to revolutionary shifts in society and policy, and we as those who work towards justice and equity today must carry on his legacy by speaking truth fearlessly to power and working to eradicate racism and white supremacy in all forms.
The United Methodist Church has committed to recognize Dr. Martin Luther King, Jr. Day every year because its observance "enriches and strengthens our social witness today," noting that "His words continue to inspire and guide our commitment to the whole Gospel: 'We cannot be truly Christian people so long as we flaunt the central teachings of Jesus: brotherly love and the Golden Rule.'- Martin Luther King, Jr." (Book of Resolutions #3065)
Recognize this important day by reading with the children in your life about Martin Luther King, Jr. and his accomplishments and legacy. One great choice is the book A Place to Land, a picture book written by Barry Wittenstein and illustrated by the renowned Jerry Pinkney. In this book, we read the story of how Dr. King wrote the famous "I Have a Dream" speech. We join Dr. King as he confers with other civil rights leaders of the day and as he spends time with God, envisioning the folks who have been impacted by the systemic oppression of slavery, segregation, and racism; listening, writing, re-writing, and finely crafting his words with hope and passion. We then watch him give the speech and see the immediate impact of his words and a sense of the movement of the Spirit that was felt. We see some of the momentum that occurs in the civil rights movement as a result of this speech and the march, and we also hear recognition that this work is still ongoing.
This story is told with beautiful watercolor pictures and in an engaging format that makes you feel like you are in the moment beside Dr. King. It's a wonderful book for kids to hear a piece of history in a new way, and to recognize how our faith and our compassion for others moves us forward to work towards justice.
A Place to Land is a part of the Sacred Worth Books database, a resource of Church & Society that exists to help provide churches and families with children's books that represent all kinds of diverse characters and stories, with the hope that children may grow to see themselves and all others as made in the image of God.
Searching for more books for Martin Luther King, Jr. Day? Here are a few more from the Sacred Worth Books database:
Love Will See You Through: Martin Luther King Jr.'s Six Guiding Beliefs by Angela Farris Watkins, illustrated by Sally Wern Comport
Martin's Big Words: The Life of Dr. Martin Luther King, Jr. by Doreen Rappaport, Illustrated by Bryan Collier
Martin & Anne: The Kindred Spirits of Dr. Martin Luther King, Jr and Anne Frank by Nancy Churnin, Illustrated by Yevgenia Neyburg
My Brother Martin by Christine King Farris, Illustrated by Soentpiet
Martin & Mahalia: His Words, Her Song by Andrea Davis Pinkney, Illustrated by Brian Pinkney