About 296 results.
Filter By
faith in action
After presenting her work at Church & Society's UN office, Megan Beddow sat down with us to talk about how attending a seminar in 2005 affected her.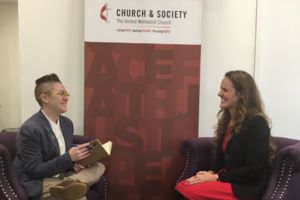 faith in action
Number 1 in military spending. Number 1 in military weapons sales. Number 1 with military bases across the world.
faith in action
The fate of the Supplemental Nutrition Assistance Program (SNAP), commonly referred to as "food stamps" is again up for discussion in the U.S. House of Representatives.
faith in action
Staggering numbers of women die each day as a result of childbirth and pregnancy. In response, Church and Society launched a campaign leading up to Mother's Day focused on the many ways we can save mothers' lives. We can do this work every day. Indeed, stopping maternal deaths is central to Jesus' command that we love our neighbors.
faith in action
In the 242-year long history of the United States of America, there have been less than 30 years in her existence without U.S. involvement in a war.
faith in action
The Poor People's Campaign launched a six-week program, calling for a moral revival in the U.S. Week two focuses on linking systemic racism and poverty.
faith in action
Mary Ward, a United Methodist from Virginia, lost her son, Adam, to gun violence. She recently spoke about the experience of losing her son and finding her voice in advocacy.
faith in action
On Sept. 5-7, 2018, Church and Society will host its third annual called-seminar, Scarcity in Abundance: Hunger in the United States. Registration for the event will begin June 1, 2018, but if you ever wondered what a called seminar is, this FAQ is for you!
faith in action
As we continue to celebrate Mothers, we're taking a look at some of the steps we can take to help prevent deaths due to pregnancy and childbirth. This is part 4, addressing the sin of racism.
faith in action
Church and Society's general secretary, the Rev. Dr. Susan Henry-Crowe, grieves for the dead and offers this prayer for peace after the Israeli military killed dozens and injured thousands of Palestinian protestors.