faith in action
United Methodist leaders appeal to government for just treatment of migrants
The call for just and equitable support for migrants and asylum seekers come amidst their being transported nationally from the border.
---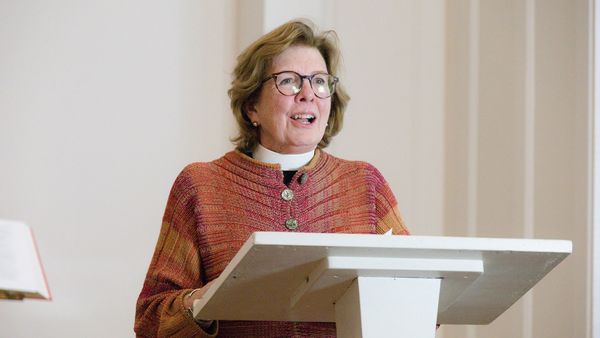 On Thursday, October 13, 2022, Rev. Dr. Susan Henry-Crowe, General Secretary of the United Methodist General Board of Church and Society (GBCS), joined United Methodist leaders and coalition partners to call on all levels of the United States government to provide just and equitable support for migrants and asylum seekers being transported to cities nationally.
Watch the recorded livestream here, provided by the General Commission on Religion and Race (GCORR).
The press conference, held at the United Methodist Building in Washington D.C. was convened by the National Plan for Hispanic/Latino Ministry of the United Methodist Church (NPHLM) in collaboration with GBCS, GCORR along with Inter-Ethnic Strategy Development Group, and United Methodist Leadership.
Rev. Dr. Lydia Munoz, Executive Director of The NPHLM, began the press conference with the declaration that all of the speakers who would follow stand together in, "sharing in the ask… to call for every person to be treated with equity and justice regardless of their nationality or their legal status."
Rev. Dr. Susan Henry Crowe, GBCS General Secretary, recognized the, "collaborative efforts of local faith, community, and government leadership," across the country as well as the reality that, "there is still more to be done."
Bishop Cynthia Moore-Koikoi, GCORR Board President and Resident Bishop of the Western Pennsylvania Conference and the Susquehanna Conference, prayed in appreciation of our being created in God's image. Bishop Moore-Koikoi also declared that, "we will not allow your image to be on the auction block for political gain."
Rev. Dr. Giovanni Arroyo, GCORR General Secretary, pointed out that, "to be an immigrant is to live like Jesus." He directed this message to the US Congress and the Supreme Court, calling for, "every immigrant that touches this land to be treated with dignity."
Speakers also included Bishop Lizette Gabriel Montalvo of the Methodist Church in Puerto Rico and representatives from the Baltimore Washington Conference, Metodistas Asociados Representando la Causa de los Hispano-Americanos (MARCHA), Black Methodist for Church Renewal, National Federation of Asian American United Methodists, Native American International Caucus, Baltimore Washington Annual Conference Latino and Hispanic Ministries, National Justice for Our Neighbors, and Salem United Methodist Church.
The press conference comes amid the order to transport thousands of migrants, since April 2022, from the U.S./Mexico border to major U.S. cities, by Texas Governor Greg Abbott, Florida Governor Ron DeSantis, and Arizona Governor Doug Ducey. This has left migrant families and individuals struggling to access necessary resources and organizations scrambling to provide services. (Reuters)
United Methodists have long been activists, advocates, and supporters of those who sojourn among us. First Spanish United Methodist Church in East Harlem, NY where GBCS Board Member Rev. Dorlimar Lebrón Malavé is the Lead Pastor has been, "reviving crisis response programs that helped East Harlem residents weather the first two years of the pandemic," in an effort to support migrants. (Columbia News Service)
Learn more about GBCS' continuing efforts in Civil and Human Rights, including those of migrants, here.
Image Credit: Alison Burdett, Baltimore Washington Conference