faith in action
The Need for Worldwide Vaccine Access
Citizens of many countries are unprotected as COVID-19 cases rise.
---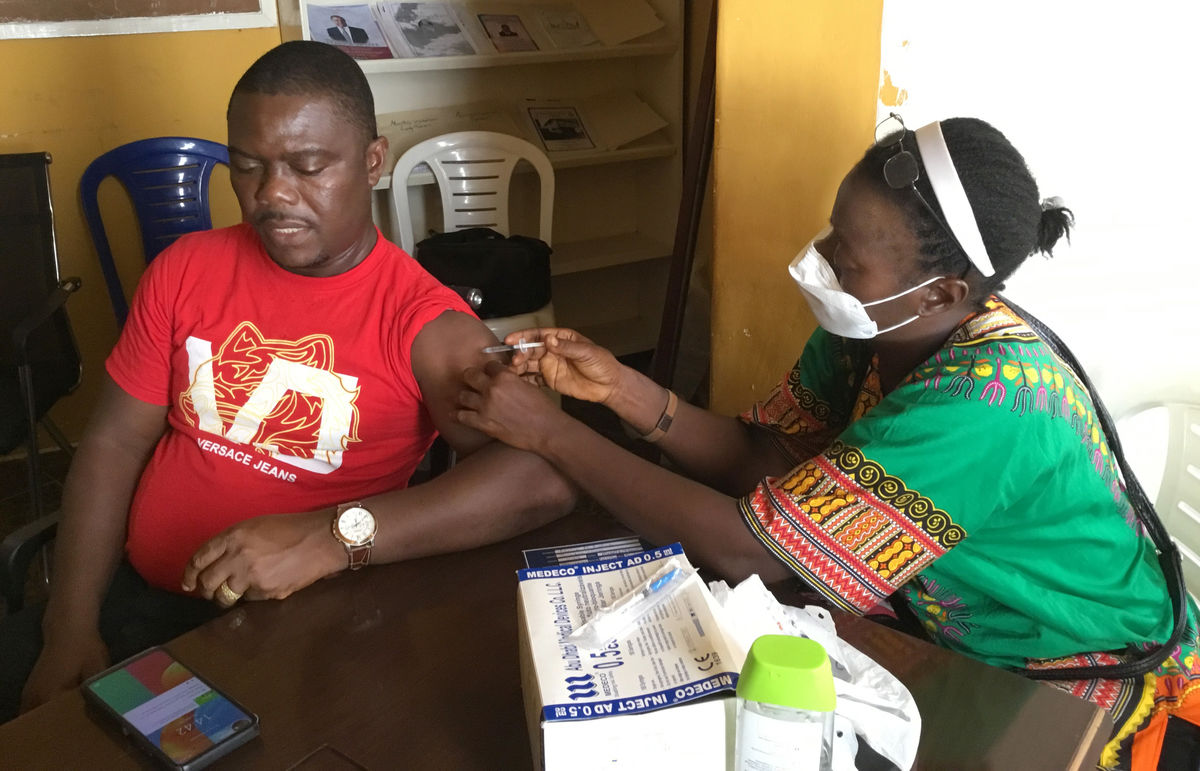 United Methodist and other faith leaders view access to the COVID-19 vaccine as a human right, along with other basic health care needs.
But citizens in many countries remain unprotected from the coronavirus as multinational efforts to increase vaccine availability have fallen short. The total number of known coronavirus cases worldwide has now surpassed 200 million.
The Rev. Susan Henry-Crowe, general secretary of the General Board of Church and Society, was among the religious leaders who met virtually Aug. 4 with U.S. Trade Representative Katherine Tai to express support for waiving vaccine patents to increase COVID vaccine access for developing countries.
"A commitment to promoting vaccine access all around the world grows out of the moral and ethical imperatives of our faith and religious traditions," Henry-Crowe said.
The United Methodist Social Principles calls health care a basic human right and a governmental responsibility. "Creating the personal, environmental, and social conditions in which health can thrive is a joint responsibility — public and private … Countries facing a public health crisis … must have access to generic and patented medicines." (Paragraph 162 V)
The meeting with Tai was organized by Jubilee USA and Eric LeCompte, its executive director, said Tai understood the urgency of the situation. "Waiving vaccine COVID patents will help produce more vaccines and save lives in the developing world," he said.
Mark Harrison, director of the Peace with Justice Program for Church and Society, also pointed out that the COVID-19 pandemic cannot be resolved only within individual countries precisely because of its global impact.
Harrison was among the participants in a U.S. Prayer Vigil for Global Vaccine Access on July 20 at the Capitol Hill Reflecting Pool in Washington. The vigil, which also took place online, sounded an alarm over the increasing moral crisis and the set-back of 30 years of development gains because of the pandemic.
In a statement read by Harrison, the Rev. Ivan Abrahams, top executive of the World Methodist Council, noted that while COVID-19 has "exposed the fault lines of global inequality," the pandemic also offers an opportunity to stand together, press reset and "work for a transformed world in which we commit to sharing resources, walking softly on the earth, and affirming dignity of all humanity."
Those attending the prayer vigil also called on the World Trade Organization to waive intellectual property rights for vaccine manufacturing in order to enable more countries to produce COVID-19 vaccines domestically, the World Council of Churches reported.
Ellen Johnson Sirleaf — the former President of Liberia and a United Methodist — raised the issue during a July 28 briefing for member states at the United Nations General Assembly, according to a World Health Organization news release. Sirleaf and Helen Clark, former Prime Minister of New Zealand, were co-chairs of the Independent Panel for Pandemic Preparedness and Response, which reported to the World Health Assembly in May.
"While in some places, vaccines are blunting the worst of COVID-19's impact, for too many countries, supplies are so limited, and prospects for access pushed so far into the future, that hope is turning to despair," Sirleaf said during the briefing.
The World Health Organization, which has called for a vaccine booster moratorium until more are vaccinated worldwide, announced Aug. 5 that Africa reached a record peak for coronavirus-related deaths — more than 64,000 — in the week ending Aug. 1.
During the same time period, continent-wide infections rose by 19 percent, with 278,000 new cases recorded. Less than two percent of Africa's population is vaccinated.
Increased access to vaccines is crucial for countries in Africa and elsewhere, Harrison said.
"We've been thankful that President Biden has agreed to temporarily lift the patents to produce the vaccines in appropriate places in the world so people have access," he added.
That strategy, Harrison noted. was used successfully to produce HIV/AIDS medications at a lower cost, making the medications more widely available. "That's what we're trying to get done as relates to COVID."
In the U.S., Harrison said, local United Methodist congregations and individual members can take action by praying, having a better understanding of the global aspect of the COVID-19 pandemic and advocating for vaccine access.
Other countries do not have the type of rescue plan implemented in the U.S., he pointed out, and poor countries need international support through the World Bank and International Monetary Fund to recover from the pandemic and improve their economies.
"We want the president (Biden) to come up with a plan to work with the world to end the pandemic," he said.
Bloom is the interim communications director for the General Board of Church and Society.