faith in action
Taking action to end child detention
Jessica Frazier-Emerson is serving as a General Summer Intern with Church and Society. Here she reflects on a series of advocacy events she attended during her time with us this summer.
---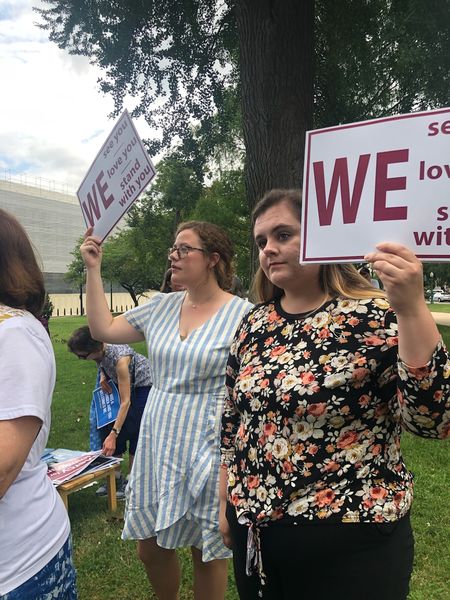 During my time as an intern with Church and Society, the United Methodist community has felt more interconnected and tangible. I've met other United Methodists in the Washington area through friends in the Arkansas Conference, and graduates of the Methodist college I attend, Hendrix College, can be easily found throughout the city. The roots of The United Methodist Church feel strong and interconnected, and the concept of a connectional ministry has taken form, for me, in a powerful and vital way. This has become more significant to me as my perception of the UMC's role has been altered by the development of my knowledge of the immigrant detention centers on our nation's southern border. I faced an unavoidable reality¬—these tragedies are occurring in communities we are worshipping and fellowshipping in as United Methodists.
The detention center closest to my childhood home of New Boston, Texas is the Prairieland Detention Center, located 191 miles away in Alvarado, Texas. The closest United Methodist Church to the Prairieland Detention Center is less than two miles away: a four-minute drive.
At one point, over 1,500 children were being held in an old warehouse serving as a detention center in McAllen, Texas, located 660 miles from my childhood home. The closest United Methodist Church to the East Hildalgo Detention Center is 20 miles away: a 30-minute drive.
My home sits 28 miles from Texarkana First United Methodist Church in Texarkana, Ark., my home church. It's a 31-minute commute, and a commute I make regularly to join a community I actively engage, fellowship and pray with. It's the same distance from the United Methodist Church in McAllen and the East Hildalgo Detention Center.
On July 18, 1,800 miles from McAllen, in Washington, D.C., Church and Society staff members and I had the privilege of standing in solidarity with our Catholic brothers and sisters by participating in the Catholic Day of Action. We protested the treatment of children and families being held in detention centers along the border. Over 70 people were arrested at the protest, including Catholic priests and nuns.
The following day, July 19, I joined Church and Society staff members again, this time at the White House, to protest the current administration's ban on refugees.
I also had the opportunity to pray over and deliver letters to members of Congress which were handwritten by United Methodist children, youth and adults from across the country.
Although the Texas-Mexico border is over 600 miles from my home in New Boston, Texas, the injustice being faced by immigrants at the border has equipped me with a sense of urgency and shame. Whether a congregation is less than two miles from a detention center or 1,800 miles, these injustices should feel personal, because they are impacting the entire United Methodist community.
Participating in the Catholic Day of Action, protesting the refugee ban at the White House, delivering letters written by documented and undocumented children, youth and adults and witnessing the conjunction of faith and advocacy forced me to realize we cannot passively allow these injustices to affect the communities we are worshipping in. The United Methodist Church values the impact and utilization of connectional ministries—a spiritual network called to support their brothers and sisters in faith.
I have always been interested in the intersection of faith and advocacy, but as a college student in a small, southern state, I had not received the opportunity to witness faith in action in a similar way. This experience has been transformative and allowed me to recognize the true impact people of faith can make. This congregation of faithful, passionate, peaceful people filled with righteous anger on the lawn of the Capitol, in front of the White House and in the hallways of congressional buildings inspired me to further advocate for sacred resistance.
I found myself struggling with why this feeling was so new to me. As someone who has always firmly held and believed in resistance and reform, I was confused and disappointed in myself. I hope to bring this sowed lesson from this internship to my home congregation and fellow United Methodists at Hendrix College: an uninhibited passion for justice. I believe these passions and these instances of my heart being strangely warmed for justice can happen outside of rallies and protests. They can take place in our congregations and worship as well.