press release
Seminar Program Launches Virtual Series on COVID-19
Online seminars will be held Thursdays from May 21-June 18 at 2PM ET.
---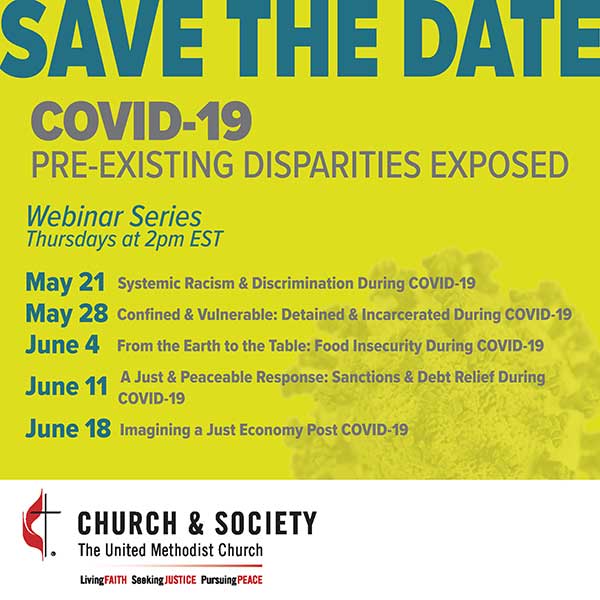 Church and Society takes its signature Seminar Program virtual in a series of webinars on COVID-19 and social justice issues. The weekly series, called Pre-existing Disparities Revealed, explores how the pandemic intersects with topics such as systemic racism, the carcel system, and access to food.
"COVID-19 revealed societal injustices that already existed. This pandemic has magnified familiar societal, political, and economic disparities—now with the added urgency of a public health crisis," said Aimee Hong, Senior Executive Director of Education and Engagement.
"We will hear from experts and learn how to take action for a long-lasting change towards a more just post-COVID-19 world," says Hong.
Webinars will occur every Thursday, starting May 21 at 2 PM ET. Topics include:
All webinars are free and open to all. Click the links above to register for individual sessions.
"It may be tempting to return to life pre-COVID-19, the opportunity exists for people of faith to use this unprecedented moment to prophetically redress these historical and persisting wrongs," said Hong. "Now is an opportunity to commit to Thy kingdom come, Thy will be done, on earth as it is in heaven."
All webinars in the series will be archived and available on Church and Society's YouTube channel.
Learn more about the series and register here.
###
About Church and Society
With offices on Capitol Hill and at the United Nations, the General Board of Church and Society is the advocacy arm of the United Methodist Church. The board is called to advocate for the implementation of the Social Principles.
CONTACT:
Kurt Adams, Communications Director