event
Reparations: Remembering, Repairing, and Re-imagining
Webinar series on reparations held June 17, 24 and July 19 at 1pm ET.
---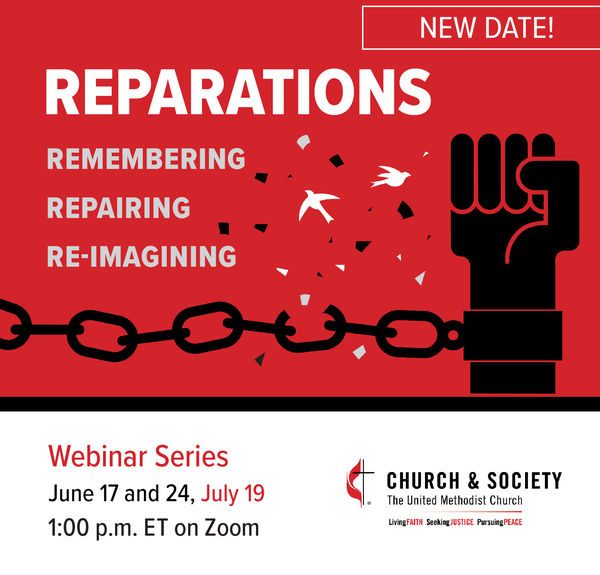 Join Church and Society for a special three-part webinar series:
"Reparations: Remembering, Repairing, and Re-imagining"
June 17, 2021, Repairing:
Panel discussion on examples of reparations in the United States (Japanese Americans, Native Americans, Native Hawaiians, and Evanston, Illinois). What can we learn from these examples of reparations?
Watch a recording of the June 17 event here!
Panelists:
His Excellency Leon Kaulahao Siu, Minister of Foreign Affairs for the Kingdom of Hawai'i
Rev. Michael Yoshii, Activist and Retired Elder California-Nevada Conference
Rev. Chebon Kernell, Executive Director of Native American Comprehensive Plan
Rev. Grace Imathiu, Senior Pastor of Evanston First United Methodist Church in Evanston, Illinois
June 24, 2021, Re-imagining:
As people of faith, what is the case for reparations from a theological/biblical perspective? And how can we prophetically live into that calling now and guarantee it for the future?
Speaker: Rev. Dr. Kelly Brown Douglas, Dean of the Episcopal Divinity School at Union Theological Seminary
Per the request of Dean Douglas, this webinar was not recorded. Her lecture is part of a current project and is not yet published.
July 19, 2021 Remembering:
To better understand the case for reparations, this webinar will examine the history of our unjust past and the legacy of slavery. It will also examine H.R. 40 as a step towards a more just future.
Speaker: Dr. Earl Lewis, Thomas C. Holt Distinguished University Professor of History, Afroamerican and African Studies, and Public Policy at the University of Michigan; Director of Center for Social Solutions, former President of the Andrew W. Mellon Foundation, and former Provost at Emory University
---
Closed captioning will be provided.
For questions about the webinar series, contact Aimee Hong, Senior Executive Director of Education and Engagement.