faith in action
Pastor Ann Jacob Opening Prayer for WCC
Former GBCS intern delivers opening prayer at World Council of Churches 11th Assembly in Karlsruhe, Germany
---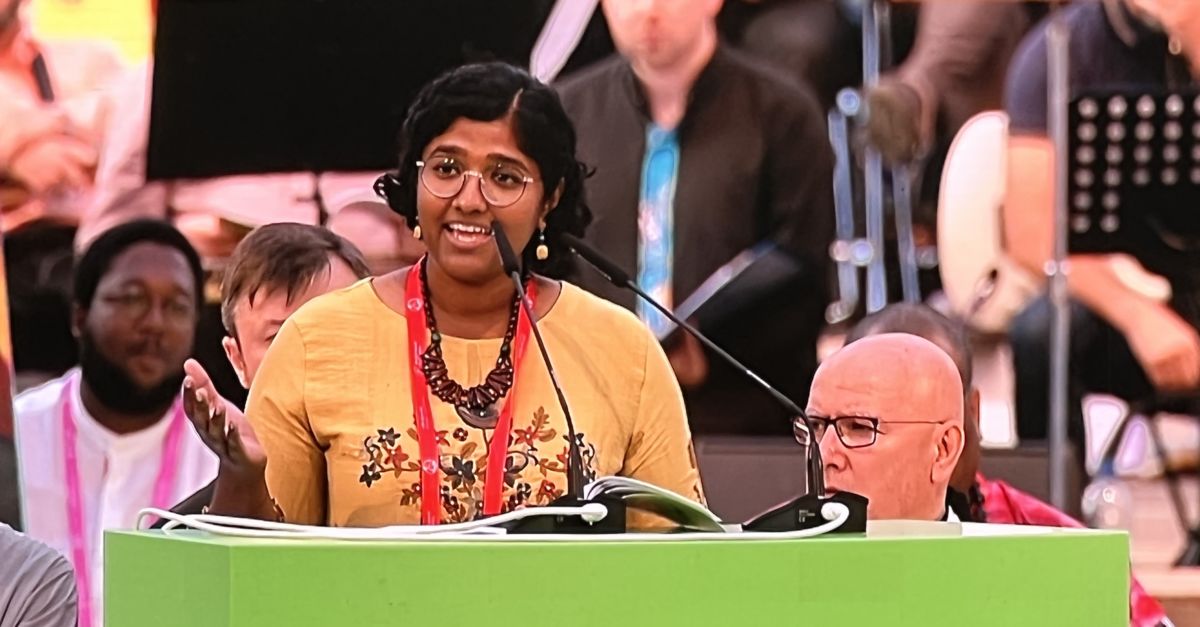 Opening Prayer – Youth Testimony
In my present context, I serve a United Methodist Church in Edmonds, Washington on the west coast of the United States. In the community I serve, we have a Refugee Resettlement Ministry through which we accompany more than 30 Afghan and Ukrainian refugees every week. In the autumn of 2021, we received a Muslim family of eight who were part of the evacuations from Afghanistan. They landed in rainy Seattle to a welcome team of members from Edmonds United Methodist Church. The congregation surrounded them in love and care as the four Afghan refugee children navigated a new school system and learned a second language. War brought our Afghan family to Edmonds, and Christ's love through hospitality has given the community a new opportunity to practice reconciliation and peace.
In May, our Afghan family hosted a meal in their home for the church youth group. They prepared delicious Afghan food – Kabuli pulao, mantu, and mango custard – and the children of Abraham and the children of Ibrahim broke bread together. No matter where we come from, what our immigration status is, how much or how little we have, what we believe or doubt, or whom we love, Christ's love moves through us to transform the world to reconciliation and peace.
I come from a family of nineteen pastors. From the beginning of my life, I have lived in ecumenical spaces. I was baptized in the Church of South India and lived in India until I was nine years old. My grandfather was a pastor in the Church of South India serving in the south Indian states of Kerala and Andhra Pradesh. He grew up in a time of revolution when India was gaining independence from the British Raj and Christian denominations in India were unifying to become one. My grandmother always had an extra place setting at the dinner table. She was ready for an unexpected visitor and prepared to practice Christ's love through breaking bread together.
In October last year, I had the privilege of visiting and traveling in the country of Georgia. While I was there, strangers would welcome me for a meal or offer a ride for free. When I asked why they were offering radical hospitality, they would say, "We believe that guests are from God."
When I think of Christ's love moving the world to reconciliation and peace, I think of our Refugee Resettlement Team at church, my grandparents, and Georgians I have encountered – people of different faith traditions moved to practice radical, inclusive, agape love towards a neighbor and stranger. When we break bread together, when we pause to filter our actions through the reality of our neighbor, we transform the world to reconciliation and peace.
And so, beloved Friends: May our love be a balm, healing wounds and tending to places of hurt. May our love be radical, proximate to the margins prioritizing people over profit.
May we, in our love, offer Christ to one another, overflowing with peace and reconciliation. May it be so. Amen.