faith in action
Order Church and Society Print Materials Online
Now you can order updated materials from Church and Society's website for events, rallies, trainings, Bible studies and meetings.
---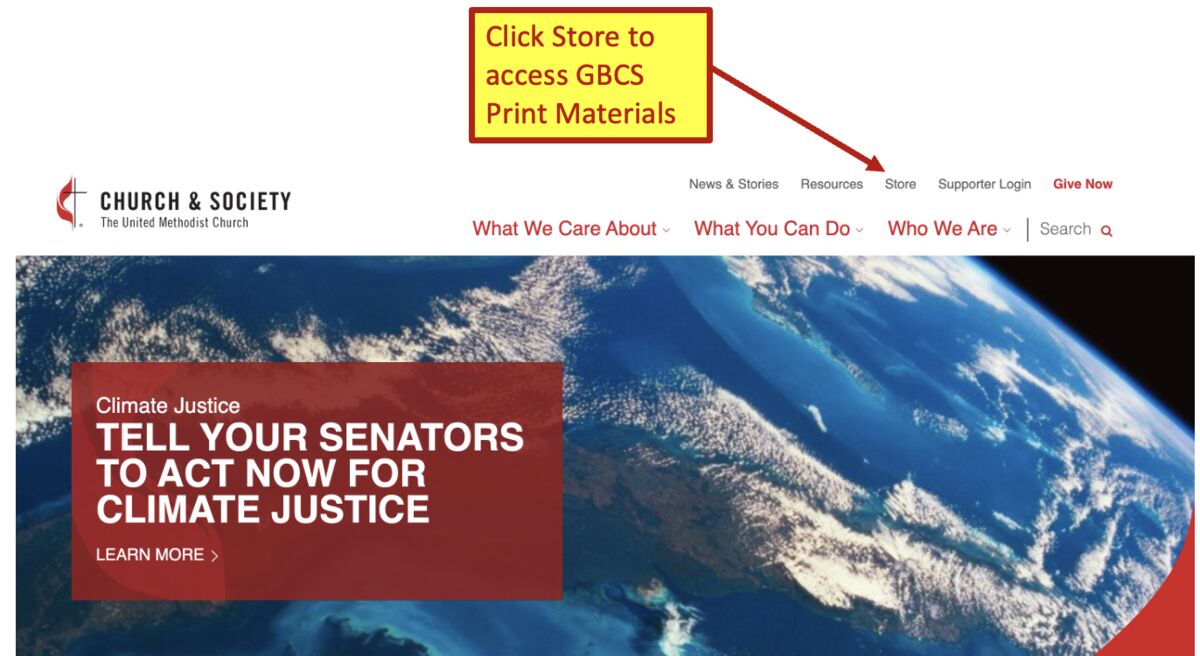 The online store is open to place orders and receive GBCS materials shipped directly to you within seven - ten days.
To reduce environmental impact, all printed materials are print-on-demand by a union shop printer, who will print and mail orders directly to you. All the paper is certified by the Forest Stewardship Council (FSC) and includes recyclable materials. GBCS has subsidized the cost of all items in the store.
The current GBCS online store inventory includes:
Church and Society T-Shirts (Adult, Children and Baby sizes)
T-shirts are made of 50% organic cotton and 50% recycled RPET polyester. The front says "Living Faith. Seeking Justice. Pursuing Peace." and the back says "United Methodists Stand for Justice" with a list of positions the Church has taken through our Social Principles.
Creating Change Together: A Toolkit for Faithful Civic Engagement
This brochure offers strategies on how to put faith into action to influence change for public concerns through faithful civic engagement.
Resource Guide
This brochure includes details on GBCS programs and resources (both available as downloadable resources only and those available in print) listed through QR Codes to scan for easy access to GBCS content via our website.
Program Pamphlet for Ethnic Young Adult Internships
This pamphlet describes internship opportunities offered by Church and Society. Internships are for students and young people who are seeking to learn about the mission and vision of Church and Society, justice, faith, vocational and professional development.
Program Pamphlet for Seminars
This pamphlet details how to engage in tailor designed, interactive Church and Society educational seminars that are available throughout the year for groups interested in social justice issues from a faith-based perspective.
Justice Rally Poster
Church and Society Double-Sided Rally Poster that reads "United Methodists Stand for Justice".
Peace Rally Poster.
Church and Society Double-Sided Rally Poster that reads "United Methodists Stand for Peace".
Individual Faith and Facts Cards in a Set of 25
Faith & Facts cards are great tools for Bible study and advocacy (25 cards per pack) See the list of cards here. Each two-sided study card is divided into four sections; (1) Biblical references, (2) United Methodist Social Principles and Book of Resolutions references, (3) facts regarding the issue, and (4) steps you and your church can take to make a difference.
Set of Faith and Fact Cards on One Ring
All 33 Faith and Fact Cards hole-punched on a metal ring. Each ring includes cards from the following six categories:
Peace With Justice (6 cards)
Civil and Human Rights (7 cards)
Health and Wholeness (6 cards)
Environmental Justice (3 cards)
Economic Justice (7 cards)
Women and Children (4 cards)
To go directly to the GBCS Store click here.