faith in action
Ministry with: Wesley Rankin Community Center
The reasons why an individual is experiencing poverty are unique, and so the help they need will also be unique. That's why the Wesley Rankin Community Center addresses each person's needs individually. We spoke with Executive Director Shellie Ross to learn more.
---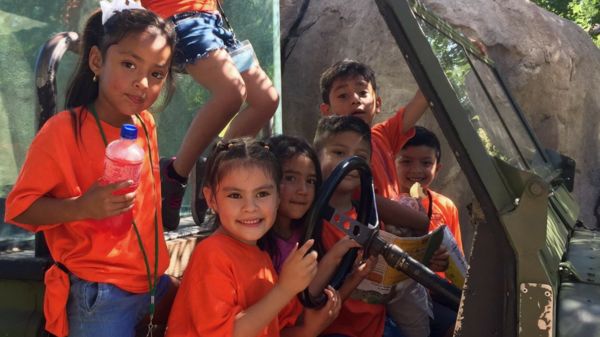 Root causes of poverty are diverse and complicated. There is not one single solution that will bridge the gap and provide access to abundant life for all.
A lack of quality and affordable education are roadblocks for students of all ages. Counseling and trauma therapy are vital for those with specific challenges to overcome but inaccessible to those who cannot afford it. Teen pregnancy presents obstacles for young parents. Affordable child care is out of reach more many. Seniors need support services for their physical and mental health needs but often do not have a network that gives them care and attention.
The reasons why someone might fall through the cracks and into poverty are varied and plentiful. While many ministries attempt to address one, very few attempt to provide solutions for them all.
The Wesley Rankin Community Center in Dallas, Texas, is an extension ministry of the North Texas Annual Conference that walks with every person individually by addressing specific needs. We spoke with Shellie Ross, executive director, to learn more.
Tell us about the ministry
Wesley-Rankin has been at the heart of ministry in North Texas for 116 years, over 80 of those years have been spent on the same block of West Dallas.
Our mission statement is: Through caring relationships, Wesley-Rankin Community Center partners with our West Dallas neighbors providing education and resources to drive community transformation. 
What this looks like is: programs targeting gaps in equity between the larger city of Dallas and West Dallas. Programs like B3X (Beakers, Base Ten and the Beat), a summer enrichment camp in math, science, music and the arts and reading bringing quality hands-on learning to students who do not get chemistry and biology labs in school, access to instruments and intentional reading intervention to prevent the summer slide. Or, an after-school program that provides reading, interest clubs and counseling to students who do not have someone to help with homework or access to mental health support.
In addition, it means we walk with every person who walks through our door, and we try to support him or her all we can by connecting them to an advocate. So if someone is unsure if they need a lawyer or law enforcement, we listen and advise. Or, if someone needs assistance with completing medical forms because he or she is elderly, we help or find someone who can.
What dream is the ministry pursuing?
Our dream is that every child, adult and senior citizen has the opportunity to reach his or her potential. This may mean being an engineer, a musician, a healthy parent, etc. We strive to holistically support each individual so that they are given the skills and tools to live a healthy, safe and full of promise life.
Is there a particular moment or memory that stands out for you?
Every single day is a photo in my memory book. This is due to the fact that every day is different. And life together, living this intentionally together is messy and hard. It's joyous and celebratory too. But I wouldn't be honest if I excluded the conflicts and how we as a family have to work through disagreements to continue the journey together.
Life together looks like this: a child we haven't seen in four years stopping by to say hello and give hugs. Irene, an afterschool mother, giving Natalie, a staff member, weekly Spanish lessons. My trying to work on a Wednesday and four students wanting to talk about Pluto as a planet in my office. A student Mary Chuy reading with a volunteer and realizing that Mary Chuy is providing healing to a widow and the volunteer is bringing the most stability to the life of this child. It's a child getting in trouble with the law and going to jail only to return to the Center to tell the others to stay in school and not to live life so fast.
What have your neighbors (those utilizing services) taught you in doing this work?
What have they not taught me? I've learned compassion, unconditional love, how to be more honest and have an admirable work ethic, how family always takes care of family no matter what.
What challenges have you encountered, and how have you adapted?
When I first started WR, I was an intern. I was a white girl from Mississippi and thought my theological education would equip me for this work. I thought I'd be trusted and quality time would show I care. I wasn't trusted because I was white. Most of the community thought I was coming to "save" them because that was their experience with my race. And, for me, sure, I thought if I could help, I would. But I learned that trust takes time. And that some people do not need help. They need encouragement. So I stopped assuming what people need and started asking. And I quickly learned, their answers were not always what I assumed. This one mindset changed the way we approached ministry at WR.
What advice would you give to others who are working to be in ministry *with?
To do ministry with, you have to let go. Let go of assumptions, plans and ideas. All of the planning and ideas come with trust. The process isn't quick and will not happen overnight. And for this reason, many do not choose the road of doing ministry with. But if this road is taken, prepare for deep transformation to occur within the hearts of all involved. Once we lock arms with someone who may not look like us, we begin sharing the same frustrations and celebrations. Your entire ideals and values may change. That's not always what people wish for. Yet, it rocks my world!
How can people contact you if they are inspired by your ministry?
Please contact me by emailing shellie@wesleyrankin.org or calling 214-742-6674. I'm happy to talk more of what we do and share ideas.