faith in action
Meet the 2017 Ethnic Young Adult Intern Cohort
The Ethnic Young Adult Internship (EYA) program is for young justice seekers willing to unpack their faith and identity while working with an organization engaged in addressing social injustices. Interns are placed with advocacy, public policy, nonprofit and grassroots organizations where they work four days a week.
---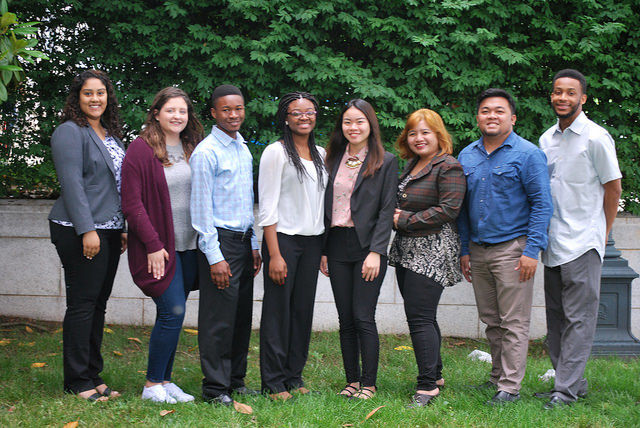 Engoma Fataki
Engoma is a member of the Missouri Annual Conference and will working with the Church World Service organization in Washington, D.C. He will serve as an advocate for refugee and immigrant communities. Personally, he is looking forward to gaining a valuable experience and knowledge to use in his community and to share his own experience as a refugee from the Democratic Republic of the Congo.
Jeanne "Julliane" D. Osias
Julliane is a member of Guam United Methodist Church, a part of the Hawaii District in the California-Pacific Annual Conference. She will be working with the Interfaith Power and Light agency to respond to issues surrounding climate change, energy conservation, and maintain the cleanliness of the environment. She is looking forward to gaining knowledge about the different faiths of the world, their perspectives on climate issues, as well as the organization's unique ways to promote environmental justice. She is eager to share her experience and knowledge with her community back in Guam.
Jasna "Jazz" Claudine C. Nicholas
Jazz is a member of the Philippines Central Conference. She will be working with the Creation Justice Ministries organization, seeking to understand the impact of environmental injustice and its effects on indigenous populations. Jazz is looking forward to delving deeper into the issues that oppress people and learning about a wide array of subjects. She also is excited to explore the culture, art, history, and politics of Washington, D.C.
Khary Armster
Khary is a member of Trinity United Church of Christ in Chicago, Illinois, a student at Howard University, and an affiliate of the United Methodist Campus Ministry. This summer, he will be working at FairVote, addressing voter suppression nationally, regionally, and locally. He has had a recent history with the election process having served as a deputy registrar and is anxious to learn more about the efforts taken by legislatures to limit individuals voting power.
Nura Zaki
Nura is a member of the Northern Illinois Conference and a native of Chicago, Illinois. This summer, she will be working with The Democracy Initiative, a coalition of organizations working towards a bright future in which all Americans participate fully and freely in the democratic process. She is looking forward to joining the effort to connect communities and their interests to their representatives, information, and community engagement, locally as well as globally.
Kevin John A. Maddela
Kevin is a member of the Northeast Philippines Annual Conference and President of the National United Methodist Youth Fellowship in the Philippines. He will be interning with the National Religious Partnership for the Environment. The agency is an alliance of four religious organizations and institutions committed to caring for God's creation. They add a moral voice to debates and actions on public policy, highlighting the need for social justice, health, and sociological well-being. Kevin is looking forward to apply his learnings, sharing it with others, engage the communities, applying his faith into action, and viewing the world as well as these issues with different lenses.
Iris M. Gadsden
Iris is a member of Wesley United Methodist Church in Columbia, South Carolina, a part of the South Carolina Conference. This summer, she will be working with the NAACP, planning and researching with the organization to for all people in all aspects of life. She is especially looking forward to being a part of the leadership transition at the national level and observing what that change will entail.
Skye Dixon
Skye is a member of Fife Indian United Methodist Church as well as the Oklahoma State University UMC Campus Ministry. She is a part of the Oklahoma Indian Missionary Conference. Skye will be interning this summer with Results, an agency dedicated to addressing US poverty, Medicare, and access to health services. She is looking forward to addressing the Medicaid and Medicare issues, health are reform, exploring the Washington, D.C. area, and especially visiting the Library of Congress.
Kendal L. McBroom
Kendal is the EYA Chaplain Intern this summer at Church and Society and is a native of Burlington, North Carolina. He is currently pursuing a Master of Divinity and Master of Public Policy at Duke University in Durham, North Carolina. A member of the African Methodist Episcopal Church (AMEC), Kendal will provide spiritual, theological, and professional support for the interns during their time in Washington, D.C. He will lead weekly Bible studies on relevant issues around the intersection of faith and politics, social justice, and Methodism. He will be a part of their weekly seminars on Friday as well as serve as a guide to the rich culture and history of the D.C. area.
Apart from working with the EYA interns, Kendal will be working with John Hill in the Church and Society office to address issues pertaining to economic and environmental justice, human rights, and other social justice matters. He is looking forward to applying his seminarian and political experience in this role as well as being formed by the work of the agency to pursue ordained ministry, further theological scholarship, and additional political engagement.