faith in action
Harrison Leaves Legacy of Work in Peace and Justice
Retiring after 30 years, he represented GBCS on Capitol Hill and around the U.S, and the world.
---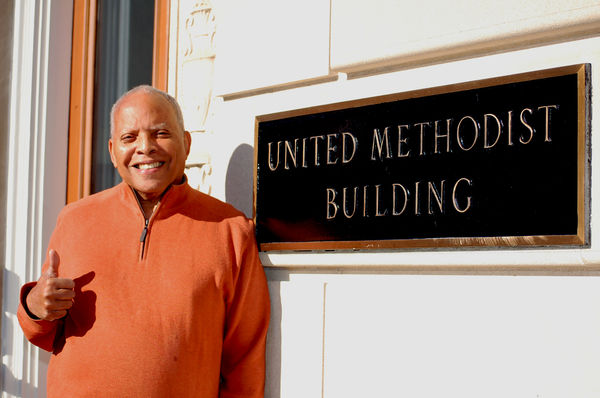 When Mark Harrison retired from the General Board of Church and Society at the end of November, he left behind a long legacy of work for peace and justice in almost every corner of the world.
As Peace with Justice director, Harrison helped raise millions of dollars across the church through Peace with Justice Sunday, one of the special Sundays of the denomination. It is held on the first Sunday after Pentecost.
That money has been essential in keeping the church's voice strong in the push for an end to the nuclear arms race and the use of war as an instrument of national foreign policy, said Jim Winkler, former general secretary for the Board of Church and Society. Winkler is now president and general secretary of the National Council of Churches.
Harrison's sense of humor and easy-going personality are just as well known and valued as his faith and tireless work for peace.
Harrison said when he came to Church and Society, he never dreamed he would have relationships with members of Congress, attend meetings at the White House and the United Nations and have the opportunity to represent The United Methodist Church with many government agencies.
He marvels that he has traveled to many African countries, Latin America, the Caribbean, Middle East and Asia — the list goes on. And, he has gotten to experience most of the United States as well.
"At one point, I thought I was living on the border," he said, laughing. "I was always at the Texas border, the California border."
Harrison points to his work with The United Methodist Church in the Democratic Republic of Congo to end the war in the eastern part of that country as one of his most memorable experiences.
Bishop Mande Muyombo, bishop of the North Katanga Episcopal Area, said Harrison is a tireless, passionate advocate who is well-connected with members of the U.S. Congress.
"During the time of the bloody M23 Rebel group, Mark worked with DRC churches and civil society groups on an aggressive advocacy campaign at the U.S. House, Senate and State Department that led to a hearing where now retired Bishop Nkulu Ntanda Ntambo, Congo Central Conference, testified with other panelists," Muyombo said.
After that hearing, the guns were silenced. A dialogue between the DRC government and the M23 Rebel Group resulted in peace and stability in the DRC, he said.
"In my memories, I can see the excitement of Mark when you discuss issues that need to be dealt with. He would pull out his book of contacts and would know exactly where to channel the issue and he would start making contacts right away.
"He is such a wonderful human being to work with," Muyombo added.
The Rev. Christopher L. Pierson, now pastor of Gary United Methodist Church in Wheaton, Illinois, worked closely with Harrison on issues related to Palestine and Israel and the Methodist Church in Bolivia when he was Director of Connectional Ministries for the North Illinois Conference.
Pierson agrees that Harrison was the person to seek out when connecting to the right people in Washington.
"I will sorely miss being able to pick up the phone to call him to make connections and provide resource information that is reliable and upholds our truest values as United Methodists," he said.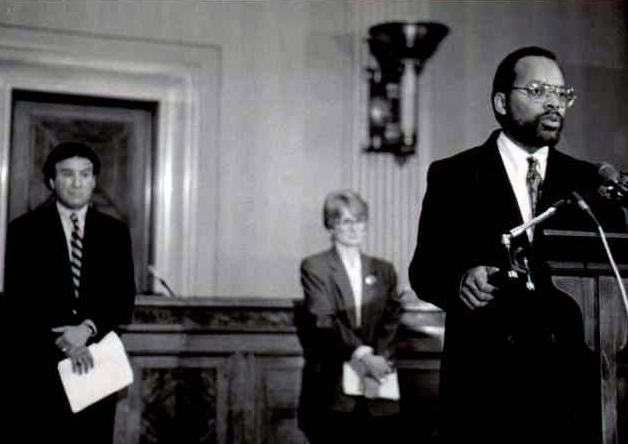 Mark Harrison speaks during a campaign finance reform event on Capitol Hill in March 1994. Harrison, who retired Nov. 30, 2021, built many relationships with Congressional leaders and their staffs as an advocate for peace and justice.
Another person who will miss Harrison as a knowledgeable resource will be retired Bishop Warner Brown who is currently serving as interim bishop of the Sierra Leone Episcopal area.
"He often knew who was approachable on key issues and was well aware of other advocacy partners. In his low key, matter-of-fact way, he shared practical insights for training our leaders and influencing policy decisions," Brown said.
The Rev. Susan-Henry Crowe, general secretary of the Board of Church and Society, said Harrison is a "trusted and authentic colleague" both with the staff and with many people who work on Capitol Hill.
"Mark's history in advocacy on Capitol Hill on behalf of the General Board of Church and Society is remarkable. For over 20 years, Mark has connected with congressional members and their staffs, promoting the United Methodist Social Principles on a variety of issues, including voting rights, civil and human rights, peace with justice, health care and now COVID-19 relief — as well as opening doors for United Methodists in many countries in Africa and Asia and Europe."   She added, "His capacity to build friendships and lasting relationships has served the church's mission in extraordinary ways."
The Rev. Liberato (Levi) Bautista, assistant general secretary for United Nations and International Affairs for GBCS, said Harrison is a "faithful Christian and quintessential activist."
"It would not be too much to summarize Mark's work in Church and Society and his advocacy for justice and peace around the world by saying that he heeded the Prophet Isaiah's admonition (58:14-15) that unless we declared what the Lord required, our Lord will be so appalled and displeased," he said.
Harrison reminds governments and God's people to do something or earn the displeasure of the Lord, Bautista said.
Winkler, who has known Harrison for 40 years, said he is proud to call him a friend.
"Mark knows where every reception is held on Capitol Hill. Food is served at most of those receptions. I don't think Mark has had to pay for dinner for at least 25 years."
Harrison admitted to having some "withdrawal symptoms" when thinking about retiring.
"I want to retire but I still want to be engaged in some issues," he said. "I will miss the dedication, the people and the travel."
Harrison's family lives in Washington and he is looking forward to spending more time with them.
"The greatest thing the church has given me was an opportunity to see the world and work for justice in God's world," he said.
Kathy Gilbert is a freelance writer in Nashville, Tennessee.
---
More about Mark
Mark Harrison joined the staff of the General Board of Church and Society in June 1991 as Economic Justice program coordinator. He became director of the board's Peace with Justice Program in 2003.
Harrison has an undergraduate degree in Urban Studies from Morgan State University and a graduate degree in International Studies from Johns Hopkins University.
As director of Peace with Justice, Harrison served on the boards of Churches for Middle East Peace, International Labor Rights Fund and Interfaith Peace Builders, among others.
Harrison also served as a Mission Intern in Botswana for the General Board of Global Ministries.