faith in action
Free and Fair Elections for All
The Wesleyan tradition has a long tradition of fighting for voting rights.
---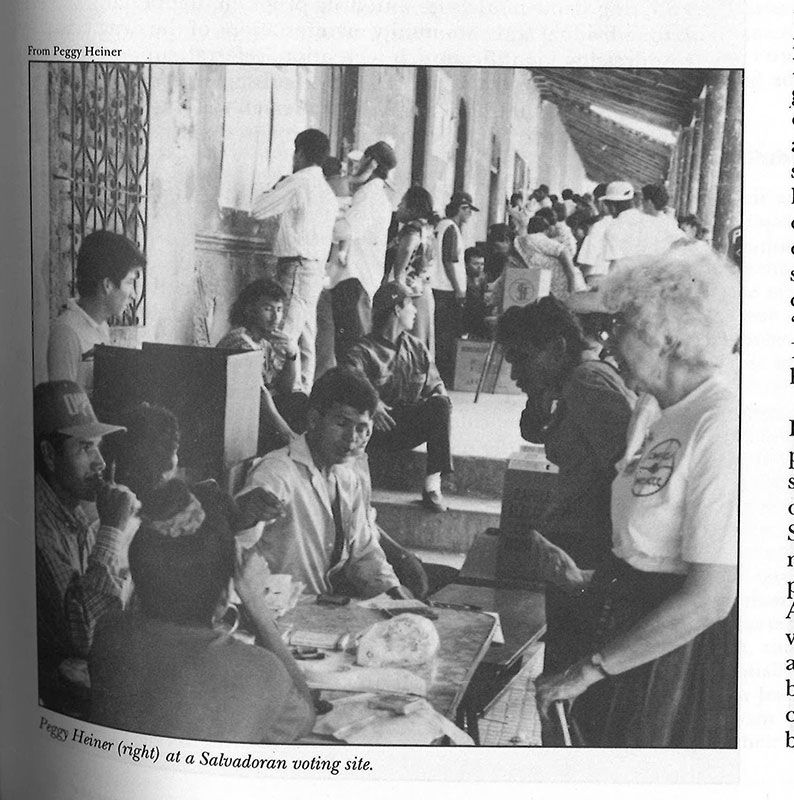 "We hold governments responsible for the protection of the rights of the people to free and fair elections…The form and the leaders of all governments should be determined by exercise of the right to vote guaranteed to all adult citizens."

(2016 Book of Discipline, Paragraph 164.A "Basic Freedoms and Human Rights.")
Voting in free and fair elections is a hallmark of good governance; yet, in these days we see continued efforts to stifle voting rights whether it be for those who are released from prison, those who are fearful for their health and safety due to the coronavirus, or from governments that are preventing free and fair elections to occur.
The Wesleyan Legacy for Voting Rights
The Wesleyan tradition has a long tradition of fighting for voting rights.
The Rev. Anna Howard Shaw, Mary McLeod Bethune, Rev. James Lawson, Rev. Joseph Lowery and many more Wesleyan men and women fought in their time for the right to vote.
The Global Effort for Free and Fair Elections
In more recent decades, United Methodists have been concerned globally for free and fair elections. In 1994, Church and Society staff observed the elections in El Salvador alongside U.N. officials.
More recently, in 2019, Church and Society supported training for free and fair elections in the Democratic Republic of Congo. Church and Society board member Bishop Daniel Lunge remarks:
"Through the financial support we received from GBGM and Church and Society (GBCS), the presidential and legislative elections of December 30, 2019 were well attended by experienced observers, trained by our United Methodist Church, jointly with the Protestant platform of the DRC."
Voting Rights in the U.S.
In the United States, United Methodists are prioritizing efforts to restore voting rights for those formerly incarcerated. Since incarceration rates disproportionately impact communities of color, restrictions on voting risk disenfranchising many black and brown voters in the U.S. (See "Stop Criminalizing Communities of Color in the United States," Book of Resolutions #3379).
In Florida, the fight for voting rights for former felons is not over and is currently mired in litigation.
After months of advocacy work, in partnership with the 11th Episcopal District of The African Methodist Episcopal Church, Florida Impact to End Hunger, and Faith in Florida, Floridians witnessed the passage of Amendment 4 by almost two-thirds of Florida's voters in fall 2018.
Unfortunately, shortly thereafter, the Florida legislature led by Governor Ron DeSantis, sought to undermine the effectiveness of the passage, by requiring former felons to have paid their court-ordered fees, fines, and full restitution before they could vote. His opinion was upheld by the Florida Supreme Court. Opponents argued that this requirement was tantamount to a poll tax and that would effectively render former felons to face lifetime disenfranchisement.
Following continued appeals in the last week of May 2020, the 11th Circuit Court of Appeals upheld an earlier ruling that a person's right to vote cannot be contingent on their ability to pay.
Rev. Dr. Sharon Austin of the Florida Annual Conference, Church and Society board member, and lifelong advocate for civil rights, emphasizes that voting is part of the work of justice: "when voting is not corrupted or contaminated, it represents equity - that is, one person, one vote."
Each adult citizen is given the same power – one vote – to decide their government representation. Former felons are U.S. citizens and should not be denied the right to vote, she says.
Certainly, Austin notes that there are people who cannot vote either because of their immigration status or they are too young. Yet, this makes voting and access to voting for all adult citizens all the more imperative: "Our votes elect officials who make policies, which affect the quality of life for us as well as our neighbors who cannot vote."
COVID-19 and Voting
Clearly, the fight for voting rights is far from over.
With the need for social distancing, and with many elderly and immune compromised citizens especially vulnerable to exposure to the coronavirus, election processes must be coordinated with these health concerns in mind.
We must ensure that polling place adjustments do not disenfranchise vulnerable populations, protect the health and safety of poll workers; expand registration options, early voting, and no-excuse vote-by-mail for every voter; and maintain and expand opportunities to vote in person.
Access to mail-in ballots options in all states can help ensure that all people can vote. The dignity and rights of all people demand that we respect each person's ability to voice their conscience by casting their ballot - in peace and safety.
Steps for action:
Call your Senators: Tell them that $4 billion in federal funding is needed in the next COVID response package to support safe and fair elections in the pandemic. Make sure that funding prioritizes pro-voter, pro-safety solutions that equally protect voting rights and public health
Watch Suppressed: A Fight To Vote on YouTube for free, and stay tuned for a panel discussion on the film on Tuesday, June 30.