faith in action
Domestic Violence Awareness Month Around the World: Democratic Republic of Congo
Olga Kangai shares about the work she does to advocate for gender equity and nonviolence education programs in the Democratic Republic of Congo.
---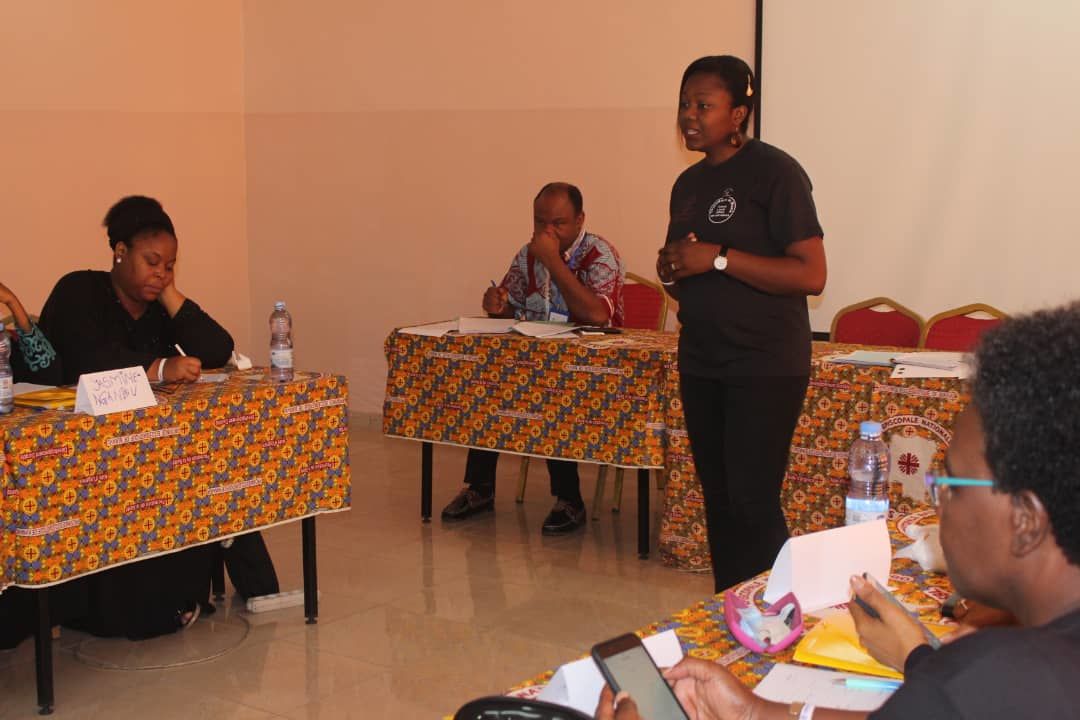 In observance of Domestic Violence Awareness Month, Rev. Neal Christie, the Assistant General Secretary for Education and Leadership Formation, interviewed advocates against domestic and gender-based violence from around the world.
This is the first in a series of articles this month highlighting the work United Methodists across the globe are doing to end domestic violence.
Olga Kangaj: The Democratic Republic of the Congo
Olga Kangaj, a former Ethnic Young Adult Intern with Church and Society and a former Global Mission Fellow with Global Ministries, founded a youth advocacy organization called "All for Social Justice" in the South Congo Episcopal Area. All for Social Justice provides trainings on healthy masculinity, promotes nonviolence education, and advocates for gender equity.
Olga says, "We trained young men and women on how to use their masculinities positively in order to end gender-based violence. The manual used for this purpose is one published by the World Council of Churches."
She adds, "We train them to put into practice the Convention on the Elimination of all forms of Discriminations Against Women (CEDAW) one of the United Nations instruments to which different countries ratified in order to end all forms of discriminations against women. Most people in the DRC are not aware of this tool which promotes women's rights, so our aim as an organization is to raise awareness…and also push the government to respect their engagement of making an end to discriminations against women. We are currently planning to get involved with members of Parliament of the provincial assembly of the Lualaba province. A training targeting them will be organized soon."
Another example of the public witness of All for Social Justice is promoting the "Thursdays in Black" campaign which aims for a world without violence and rape. Olga says, "There is a need of breaking the silence around violence in all its forms, so this campaign is one of the simple and practical ways people can adopt to make to support the victims of violence by showing support in wearing black every Thursday. In all our activities we take sometimes to talk about this campaign and invite people to participate."
Another activity is a nonviolence education program called "Volunteer Amani." This training program provides an opportunity to young people to learn various approaches to resolve conflicts nonviolently, thus eradicating and preventing violence and violent ways of resolving conflicts.
Olga describes the impact the trainings have had: "Parents are more alert to the way they treat their children. They try not to treat differently their boy and girl children. They also watch their language because they have understood that this has a big impact on the way their boys treat women in the society and on the way that girls consider themselves. Teachers have also learned the principles of nonviolence and are more sensitive to the way they treat boys and girls in schools."
Yet she adds, "Still, sometimes biblical verses such as Ephesians 5:22, are misinterpreted to justify domestic violence. The culture and some traditional practices are still oppressing women such as the lobola (dowry) which for some people mean that a man can treat his wife the way he likes because he paid money to request her for marriage. Most church or community leaders are conservative and not ready to have talks around gender-based violence."
Articles 12, 13 and 14 of the Democratic Republic of the Congo Constitution addresses equality of rights and gender. In addition, the DRC has ratified several international judicial instruments related to human rights such as the Universal Declaration of Human Rights, the CEDAW, the Southern African Development Community (SADC) protocol on gender and development, Resolution 1325, and the protocol on the African Charter on Human Rights related to woman's rights.
Olga explains that a particular challenge in the Congo is the DRC Family Code as a legal instrument that governs the organization of the family.
She said, "Articles 444, 448, 450, 454 and 497 of the Family Code of 1987 provide that a husband is head of the household and a wife must obey him; a wife must obtain her husband's permission to provide a personal service and for all legal actions; a husband determines the family residence; and a husband can assume control over his wife's property."
The challenge then to the Church and Society is, "Not to be silenced. By organizing talks with the government (Lobbying) so that such laws can be abolished. By equipping its members with skills on advocacy so that they can be able to engage effectively so that such laws can be abolished."
Olga said, "I believe everyone was created to enjoy life to the fullest and to use their full potential in order to achieve their dreams. Gender based violence is a challenge and a barrier especially for many women and they underestimate themselves whilst they are full of gifts and potential."