faith in action
Church and Society Welcomes Young Clergy – January 2018
Our next Young Clergy Forum is scheduled for January 28-31, 2018.
---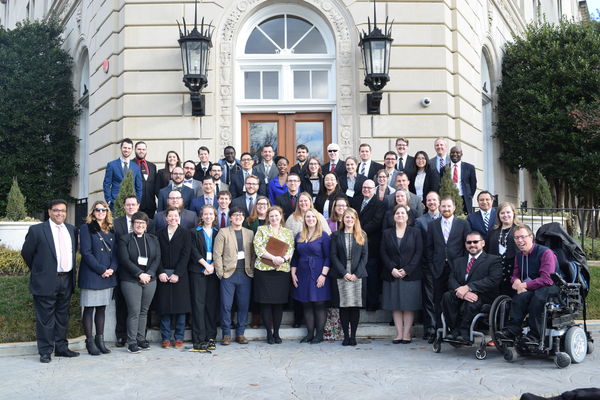 We are continually renewed by the energy and passion of young clergy in our church. Hosting them at Church and Society each year is a blessing.
General Secretary Susan Henry-Crowe
Each Annual Conference is invited to send two young clergy to next year's Young Clergy Leadership Forum (though space is limited to 55 participants). The forum will run January 28-31, 2018 at the United Methodist Building in Washington, D.C.
In addition to spending time with Church and Society staff discussing the vital issues being debated in our society and in Congress, participants enjoyed visits to meet with the Rev. Dr. Barry Black, chaplain of the U.S. Senate and hearing from Shane Claiborne, perhaps best known for his classic The Irresistible Revolution.
Over 700 young clergy have now participated in one of the YCL Forums over the 15 year history of this event. After attending, many participants express a renewed commitment to social action and ministries after attending the 2017 Gathering.
"God is busy in the world through the church," said the Rev. Joe Varner of the Virginia Annual Conference, "and the General Board of Church and Society is evidence of how God is reaching people for the sake of God's kingdom on earth. Having attended I feel prepared to take the next steps towards genuine peace and justice where I serve."
I feel the Forum has "reignited my passion for our United Methodist history of and heritage, our teachings on social holiness are still alive and well, collaborating with the Holy Spirit toward the Kingdom of God," said the Rev. Ashley Prescott Barlow-Thompson, a deacon in the Great Plains Annual Conference. "Now I feel connected and equipped to find ways to live out (social holiness) in my church and community. I am so glad for our connectionalism."
The Rev. Megan Armstrong of the Rocky Mountain Annual Conference, said "The Leadership Forum reminds me or our unique opportunity to be in connection with one another. Our ability to find God in one another will continue to give us the skills to find the image of God in others."
Find out more and register here.
For questions or more information contact the Rev. Clayton Childers, Director of Conference Relations, cchilders@umcjustice.org.