faith in action
Church and Society mourns the loss of Abrams
The Rev. Cynthia Abrams, director of health and wholeness advocacy at Church and Society, died Friday, Jan. 11.
---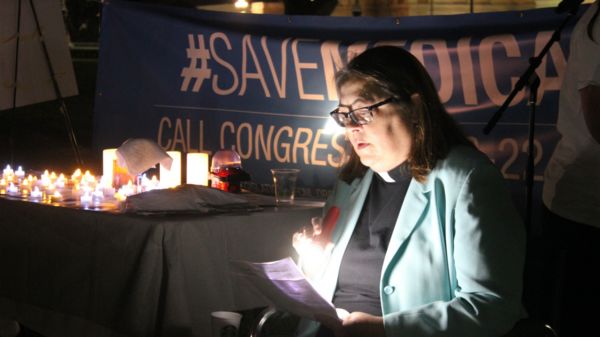 The entire Church and Society community mourns the loss of the Rev. Cynthia Abrams, who most recently served as director of health and wholeness advocacy.
Abrams had a long and remarkable history with Church and Society, and once said that work with the agency was "the highlight of my calling to ministry."
General Secretary Susan Henry-Crowe remembered Abrams as a profoundly spiritual and widely influential leader. She said, "Cynthia's commitment to justice was unwavering."
Henry-Crowe also announced the establishment of the Cynthia Abrams Scholarship. The scholarship honors the life and work of Abrams, a Native American herself, by supporting a young Native American or indigenous person committed to advocacy and justice.
"She was a mentor to many and had a passion for helping young people discern their vocation," said Henry-Crowe. "Cynthia's first interaction with Church and Society was an intern, so it's extremely fitting that we name a scholarship after her."
Abrams first came to Church and Society while a student at California State University Long Beach as an intern in 1984. As part of what is now called Church and Society's Ethnic Young Adult Internship Program, she was assigned to work with the Senate Committee on Indian affairs. This experience helped to hone her understanding that advocacy is part of a life of faith.
Abrams attended Claremont School of Theology and was ordained in the California-Pacific Annual Conference of The United Methodist Church, where she remained a member until her death.
Abrams served several local congregations, including Sheridan United Methodist Church, in Sheridan, New York, First United Methodist Church in Whittier, California, and Native American United Methodist Church in Anaheim, California.
Abrams worked across the United Methodist connection. She was the executive director of the National United Methodist Native American Center at Claremont, where she oversaw the production of a textbook on Native American theology. She served on many annual conference committees and the board of directors of the General Commission on Communications, the General Board of Discipleship, the National Native American Comprehensive Plan and the Native American International Caucus.
Abrams returned to Church and Society in January 2003 as director of drug and alcohol concerns. Her portfolio quickly grew to include all of health and wholeness advocacy. She worked both in the United States and throughout the United Methodist connection promoting health and wholeness. Her work included many different policy areas, including addictions, Alzheimer's, and access to high quality, affordable health care.
Abrams approached her work in health care through two lenses. First, she focused on the systems that lead to inequality and uneven access to health care, and second, she responded to these disparities through the lens of our biblical and theological imperative to act to change those systems. She worked diligently for many years to get a single-payer health care system passed by the U.S. Congress.
"Cynthia's impact on the United Methodist Church and the world was huge," said Henry-Crowe. "I'll miss her generous and hospitable spirit and the world will miss an extraordinarily passionate worker for justice."
Her funeral will be held 11 a.m. Saturday, Jan. 26, 2019, at the Four Corners United Methodist Church, 1586 NY Route 438 Irving, N.Y. 14081-9502.
Memorial gifts to the Cynthia Abrams Scholarship may be made on our website by indicating the gift is in memory of Cynthia Abrams, or by mailing a check with "Cynthia Abrams Scholarship" in the memo line to:
Church and Society
100 Maryland Ave, NE
St. 310
Washington, D.C. 20002.