faith in action
Church and Society Ethnic Local Church Grant Supports Middle East Migrants
This is an interview with Rev. Dr. Zaki Labib Zaki, founder and president of the Middle Eastern United Methodist Caucus. The caucus received an Ethnic Local Church grant to support their work with migrants, especially focusing on survivors of trauma.
---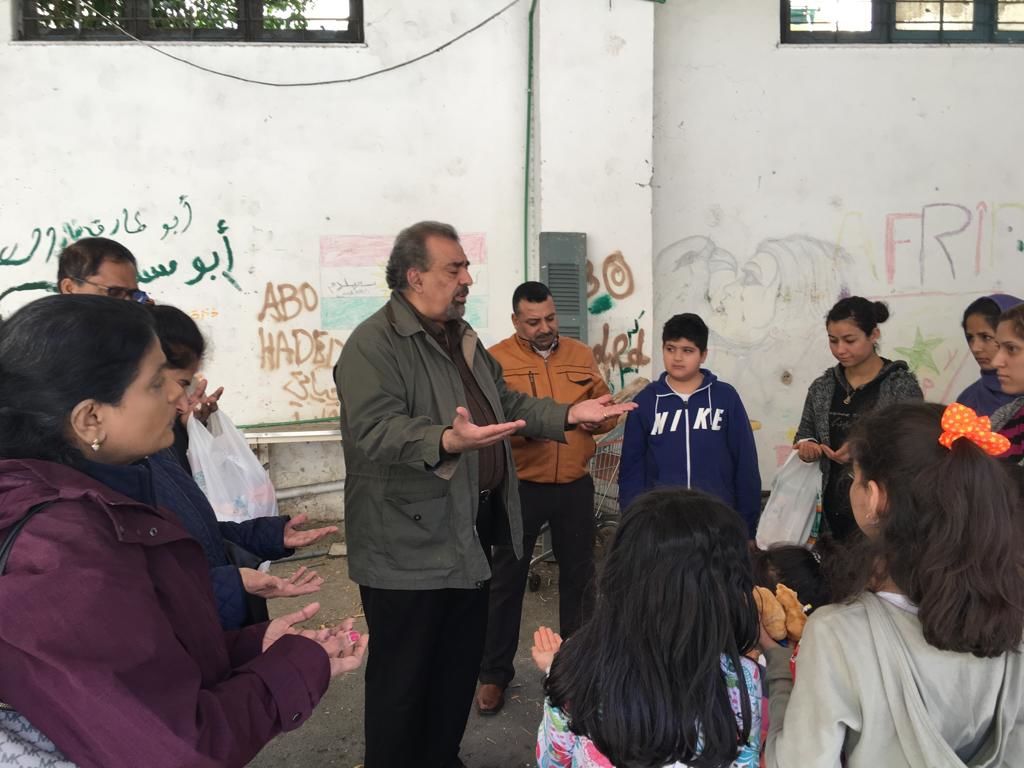 What are the root causes of migration that the Middle East Caucus is addressing?
Ongoing wars and escalating conflicts in Syria, Yemen, Iraq, Afghanistan, Myanmar, Venezuela, South Sudan, Somalia, Eritrea, and Ethiopia continue to produce an average of 37,000 newly displaced persons [mostly children and women] every day, according to a recent BBC World report.
70.8 million people have been forcibly displaced and are on the move in our world today according to the latest data from the United Nations. This is 2.3 million more people than 2018 and, sadly, every researched forecast predicts that this number will continue to increase.
The Middle Eastern United Methodist Caucus, organized in November 2015 and recognized by the 2016 General Conference, was formed with a mandate to develop missional and advocacy responses to this massive movement of people. It specifically functions within the region of the Middle East, and from that region to the rest of the world.
Did you partner with other United Methodists to respond to this crisis?
Thanks to an ELC grant from Church & Society, the caucus began two pilot projects to incorporate a counseling, and trauma healing component in its ongoing work with refugees.
An increasingly important ministry for the caucus is trauma counseling. Understandably, large numbers of refugees—especially children, youth, and women—are traumatized as a result of forced relocation. Serving refugees across the globe through our Global Connect journeys and medical mission trips has exposed us to this most urgent need.
The ELC grant provided an opportunity for United Methodist congregations to support this effort. The congregation of Indo-Pak United Methodist Church in Chicago was the first to extend support by praying for the leaders of the caucus and making a generous donation to support this ministry.
Likewise, the missions committee of First Korean UMC in Wheeling, Ill., following a presentation by the caucus on one of its medical mission trips to serve traumatized and displaced Christian communities in Egypt, decided to send a generous donation to support the work of the caucus.
How did you achieve your goals?
Because of the extensive nature of the caucus's outreach to refugees in Greece, the ELC grant was primarily used to support two of our medical mission trips to Athens.
At the time, I led a team to Athens composed of 20 medical doctors, nurses, a dentist, a chiropractor, a psychiatrist, a full-time chaplain, two pastoral counselors, a Christian musician and singer, and three college students. The team visited several refugee camps as well as large abandoned buildings used by refugees for shelter.
One of the refugee camps we visited and supported is administered by the American Red Cross and exclusively houses unaccompanied minors from Syria, Iraq, and Pakistan.
For seven days, the team held daily, free medical clinics from 10 a.m. to 2 p.m. and 4 p.m. to 7 p.m. Our psychiatrist, chaplain, and two pastoral counselors tended to many refugees who asked to be seen or exhibited signs of trauma.
Our team offered over 500 free clinic and counseling hours, dispensed free medicine, and distributed winter wear. A large crowd of refugees assembled at the end of each day, and our team organized evening gatherings where the team would lead worship in Arabic, English, Hindi, and Urdu to reach a diverse crowd of refugees from Syria, Iraq, Egypt, North Africa, Pakistan, Afghanistan, and Bangladesh.
A community meal and time of fellowship followed, and we visited, and often prayed, with lots of refugees.
More than one person told us they found "real hope" while listening to the message of the Gospel. They told us it was that message that saved their life while on the verge of committing suicide on the same day they first met us as we walked into the abandoned building which hundreds of refugees lived in and called home.
Other refugees told us that the gatherings and community meals nurtured, not just their hungry bodies, but also their souls and made them feel "human again" for the first time since they were forced to flee from their homes and become refugees.
What are the next steps?
Building on the momentum of the medical mission trip, the caucus organized another follow-up medical mission trip to Athens and is currently working on recruiting and training trauma counselors who are refugees to serve within their own communities.
We are very grateful for the ELC grant from Church & Society. It opened a vital door of ministry that will greatly impact our ministry with refugees in many places and for many years to come.
The caucus's conviction remains that now is certainly a violent and chaotic moment in human history, but it is also one of the greatest missional moments embodying unprecedented opportunities to be in mission with marginalized and forcibly displaced communities on the move across the globe. We can seize this missional moment and find faithful ways to be in ministry with immigrants and refugees on the move from the region of the Middle East who are settling in our own backyards, towns, and cities.
Our Wesleyan heritage invites and compels us to offer Christ to our world today in new and multifaceted ways as we engage in ministry with, and through, those who are on the move.
Rev. Dr. Zaki Labib Zaki was born in Sudan to a family of Egyptian missionaries and educators. In the 1980s, Zaki worked for the United Nations and several other NGOs to serve refugees in Sudan and across the Middle East. From 2012 to 2018, Zaki served as District Superintendent of the Chicago Northwestern District of the Northern Illinois Conference. Zaki currently serves as Senior Pastor of Roselle United Methodist Church in Roselle, Ill.
To learn more about the work of the Middle Eastern United Methodist Caucus, contact Zaki by phone at 773-497-4141 or by e-mail at zLzaki@msn.com.