faith in action
Church and Society Completes 2023 Social Justice Leadership Pilot Program
Annual Conference Church and Society Chairs and Peace With Justice Coordinators in the United States joined GBCS in a three-session leadership training pilot program this year.
---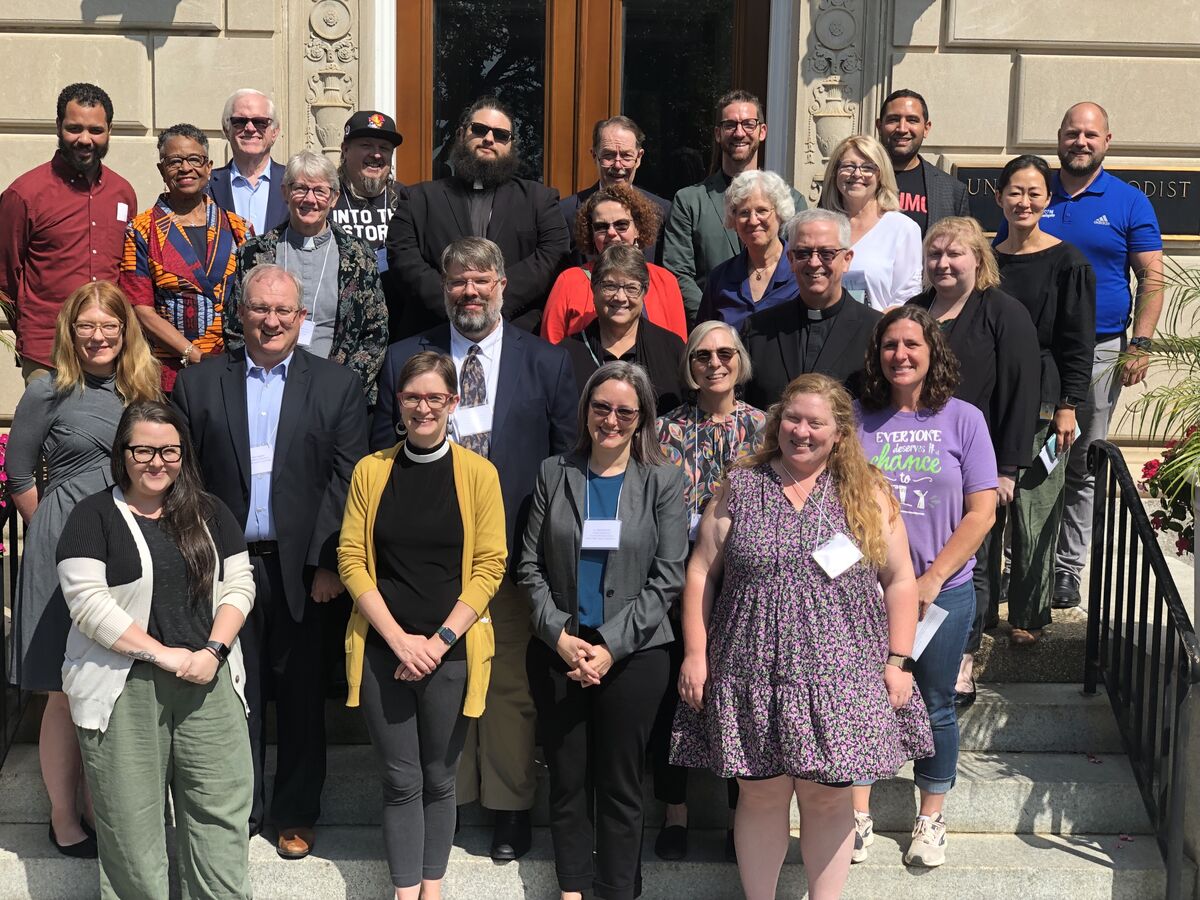 In a structured three-session pilot program, GBCS managed training sessions for UMC Annual Conference leaders throughout 2023 to help them better understand how advocacy and justice efforts are pursued at the local level.
Focusing on education, grassroots organizing and advocacy, the sessions were designed to demonstrate strategies and tactics that leaders could adapt and use to build advocacy teams in their conferences. The final session took place in-person in September and provided additional opportunities for cross-conference and cross-jurisdictional relationship building and collaboration.
Church and Society staff will spend time evaluating and fine-tuning the pilot program with the hope of formally launching it to conferences early in 2024.
Andrea Paret, a participant of the September training session and Peace With Justice Coordinator for the Great Plains Conference, reflected on the experience in her conference newsletter. With her permission, we have shared her article below.
If you are interested in learning more about becoming a Church and Society Chair or Peace With Justice Coordinator, contact Amber Gaines at againes@umcjustice.org.
The Experience of Being on Capitol Hill, Washington, D.C. and How The Great Plains Conference Puts Faith Into Action
by Andrea Paret
In September, Peace with Justice Coordinators and chairs of conference Church and Society committees met in the United Methodist Building on Capitol Hill. This was the first in-person gathering since the pandemic. It was good to see old friends and meet new ones.
Having these connections with others from different ministry contexts allows us to learn from each other, to share, to discern, and to support each other in our work for peace with justice.
Amber Gaines and her colleagues at the General Board of Church and Society (GBCS) had prepared a prayerful, structured and challenging agenda. We worshipped together and engaged in sessions about grassroots organizing, faith-centered and prophetic advocacy with decision makers, examining the racial wealth gap and much more.
New resources were introduced and shared. GBCS helped the team prepare for legislative visits. Since each conference is working on different issues, each had indicated ahead of time what issues were of utmost importance in ministry work. GBCS staff had arranged sit-down meetings with Congressional staff from Senators and/or Representatives.
Being from the Great Plains Annual Conference, I was able to meet with staff members of the two Nebraska Senators in regard to immigration issues. If there would have been more time, I would have also visited with Kansas Senators. We were able to leave a document behind urging Congress to prioritize grace over greed when working on spending bills.
Nebraska has currently 80,000 open jobs and a very low unemployment rate. At the same time, we have people allowed to enter the United States with different non-permanent statuses and some of these are not even allowed to apply for a work permit until they have a court date in a year or even later. We also have hard-working and contributing members of our communities that lack any legal status.
Then there are those who lack a permanent legal status, e.g. Deferred Action for Childhood Arrivals (DACA or Dreamers) as well as Temporary Protective Status holders (TPS). In Nebraska, we have many TPS holders from El Salvador who have lived and worked here for decades. They have businesses, they work in agriculture and other industries and contribute to our economy. Yet, they live in fear what will happen if their TPS status cannot be renewed or extended. And these are just some examples.
There are other groups of immigrants too. When I was teaching preschool at a Head Start program a few years ago, I had a four-year old student who had trouble sleeping at night because he was afraid his parents would be gone in the morning, picked up by ICE. And his parents tried to not talk in front of their children about their fears. But he still understood their non-permanent status and that they could have to leave. And there are many mixed status families who live in fear and with this trauma in our communities.
As Christians we are concerned about treating every human being as a beloved child of God. So many scriptures talk about strangers and immigrants among us and how we are to treat them. Leviticus 19:33-34 says: "When an immigrant resides with you in your land, you shall not oppress the alien. The alien who resides with you shall be to you as the citizen among you; you shall love the alien as yourself, for you were aliens in the land of Egypt: I am the Lord your God."
The Great Plains Annual Conference passed a resolution in June, 2023. (Building Bridges, Not Walls). Letters were sent to all listed in the resolution. If you want to add your individual voice, go to www.house.gov for your Representative and www.senate.gov for your Senators.
Our time at GBCS ended with the Companion Litany to Our Social Creed.