press release
CHURCH AND SOCIETY COMMEMORATES UNITED NATIONS DISARMAMENT WEEK WITH NEW PEACE POLE DEDICATION CEREMONY
FOR IMMEDIATE RELEASE
---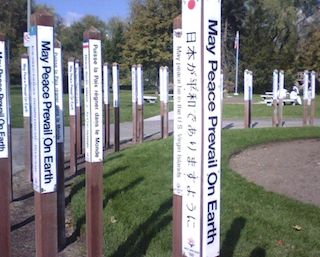 Washington DC – The United Methodist General Board of Church and Society (GBCS) will host a special ceremony to install a new Peace Pole on the United Methodist Building (UMB) grounds on Capitol Hill in Washington, D.C., Wednesday, October 26, 2022, during United Nations Disarmament Week.
The Peace Pole is a globally recognized symbol for peace, with an estimated 250,000 peace poles located around the world. The Church and Society's current Peace Pole, which is being replaced, was planted on the UMB grounds over 20 years ago.
Masahisa Goi, a Japanese poet, writer and philosopher, began the Peace Pole movement with the intention of spreading hope for peace around the world. The movement started with small neighborhood groups in Japan handing out stickers and pamphlets on peace in the 1970s. Over time, the following grew and activists developed creative ways to convey the message of peace into public view all over the world. In 1976, the idea of placing the Peace Message and Prayer on poles began. This was the first campaign, which led to the Peace Pole Project.
"As United Methodists, we pursue more than the absence of war – we seek peace and harmony, wholeness, health and well-being for all human relationships," said Rev. Dr. Susan Henry-Crowe, General Secretary of The United Methodist Board of Church and Society. "We renew our commitment to the practice of peace as a vision and sacred tradition, with this new Peace Pole."
For the GBCS Peace Pole ceremony, percussionist Sebastian Wang will open the event with traditional Korean drumming. Distinguished guests to be present include Jon Melegrito (Filipino Veterans Recognition and Education Project), Nathaly Calixto (Institute on Race, Equality and Human Rights) and Ntama Bahati (Africa Faith and Justice Network). Ecumenical faith leaders and Congressional staffers will also be present.
October 24-30, 2022 was first designated Disarmament Week by the United Nations (UN) General Assembly in 1978. Today, the UN continues to celebrate the efforts and involvement of a range of actions contributing to a safer, more peaceful common future through disarmament, arms control and non-proliferation efforts.
The Peace Pole event will take place on Wednesday, October 26, 2022, at 11:00AM EST at the United Methodist Building on Capitol Hill at 100 Maryland Ave N.E. Washington, DC 20002.
GBCS: A Legacy of Justice at Work for Over 100 Years
As a program agency of the General Conference of The United Methodist Church, the General Board of Church and Society expresses the commitment in Wesleyan theology to social and personal holiness that has been part of the denomination's organization witness for more than a century. It has cultivated networks for advocacy, deepened its communications and cultivation efforts, strengthened ecumenical relationships, aligned its structures for the ministry of justice, positioned its message of public hope for moving forward into the next decades. Through trusted relationships, collaborations, and engagement with other United Methodist agencies, annual conferences, congregations, and active individuals, this witness will continue to flourish. Visit www.umcjustice.org
The United Methodist Building is at the center of GBCS' work for justice. Located in the heart of the U.S. nation's capital, 2023 marks 100 years after the building was completed to begin work for justice and peace on Capitol Hill in 1923. "The building," also houses ecumenical and denominational offices and hosts important activities associated with faithful public witness.
Today, the United Methodist Building is the only privately owned structure on Capitol Hill in Washington, D. C.
                            ###

Media Contact:
Jeffrey Corey
jcorey@umcjustice.org