statement
Bearers of the Light
After a season of deaths of public servants, Susan Henry-Crowe asks, "Is this the dying of the light?"
---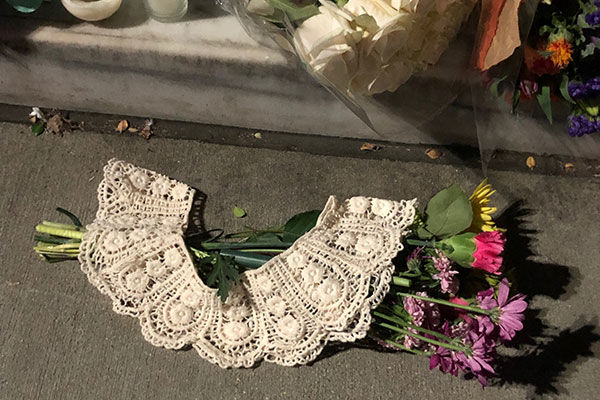 Is this the dying of the light?
It has been a somber season. And there are ways to find joy. Family, friends, phone calls, work, books, movies, and walks. With the sound of crickets, exquisite sunsets and nights walks, the somberness turns to rest. But this night—the night of Yom Kippur—the white marble against the indigo sky of the grandest building of this democracy I was caught by surprise. As I gazed into the offices of the Justices, as I often do, there was a lone interior light shining on empty bookshelves. The most profound sadness surrounded me. The empty bookshelves signified the end of an era.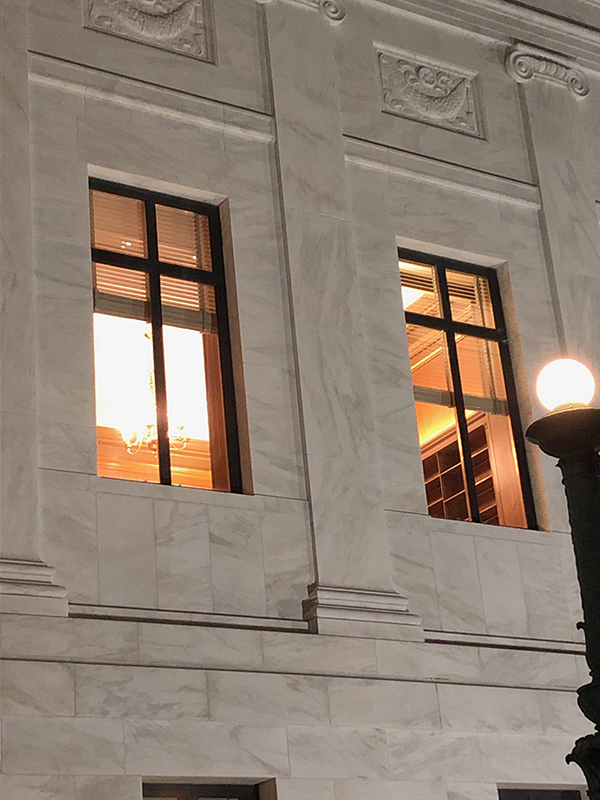 The previous two years brought loses that signaled change. John McCain in his final days stretched to uphold as strong a healthcare bill for Americans as was possible. It was with pride that I spent a summer evening in line to pay my respects for his valor, his service, his commitment and his life to this democracy as he laid in state in the U.S. Capitol. I did it for myself. I did to represent United Methodism to all the women and men who have served this country in military and public service for this democracy. At his funeral, it was said that he exhibited a largess of spirit that was committed to something larger than himself believing that there were principles that transcended politics.
Months later, President George H. W. Bush laid in state, again signaling that the twentieth century had come to a close. The eulogy by Jon Meacham reminded the country that President Bush had carried the weight of responsibility imbued in him the day when his soldiers were lost and he was rescued. He lived as if his life was no longer his own. He believed that there was always more work to do. More love to give. Meacham continued to state that President Bush was the last great soldier statesman. He was a generation of those who believed in causes larger than themselves. Loving and loyal, he was "an imperfect man but he left us a more perfect union."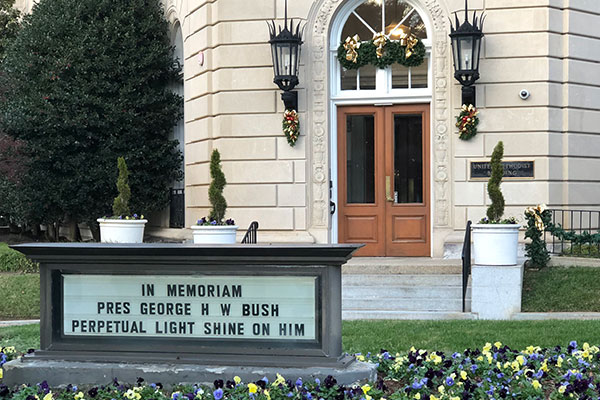 Less than a year later, the country witnessed the sad and premature death of Representative Elijah Cummings. His body laid in state as we paid tribute to his remarkable service to the state of Maryland, the U.S. and to this democracy.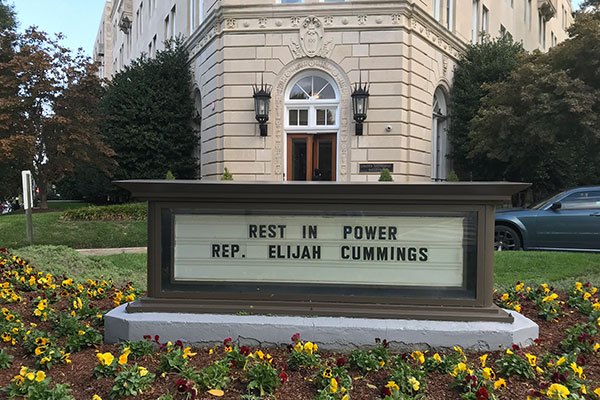 As the country shut down for the pandemic, The Reverend Dr. Joseph Lowery passed from this world into the next leaving an unflinching legacy and passion for civil rights. His commitment, his humor, his winsome spirit left a world incomplete but with more perfect civil rights for all and a better democracy.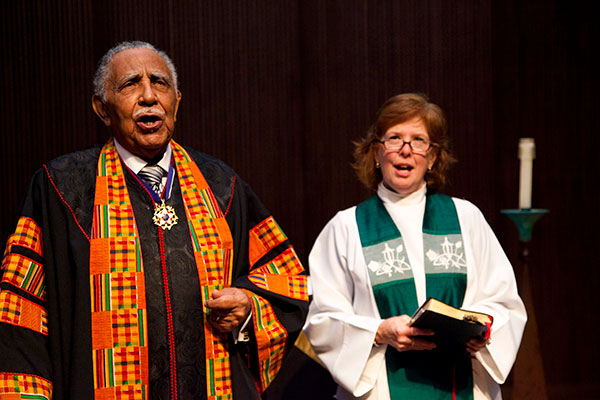 Image courtesy of Emory University.
On July 17, 2020, the world and the country lost Representative John Lewis and the Reverend Dr. C.T. Vivian on the same day. Congressman Lewis laid in state at the Capitol with thousands passing to pay their respects.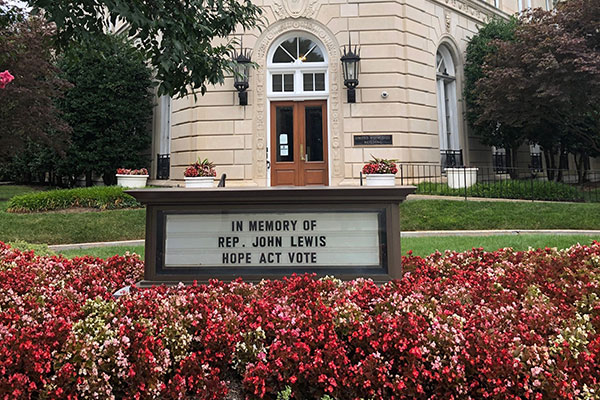 The death of Justice Ruth Bader Ginsburg was shocking. As we think back, we might have seen it coming but we could not bear to think of a world without her. The sadness is visceral. There has not been unencumbered space to grieve. Thousands upon thousands of men, women, children, law students, attorneys, rabbis, clergy, civil servants, people who speak many languages, those hobbling on canes, people in wheelchairs and little girls dressed up in collars of dissent came to pay their respects.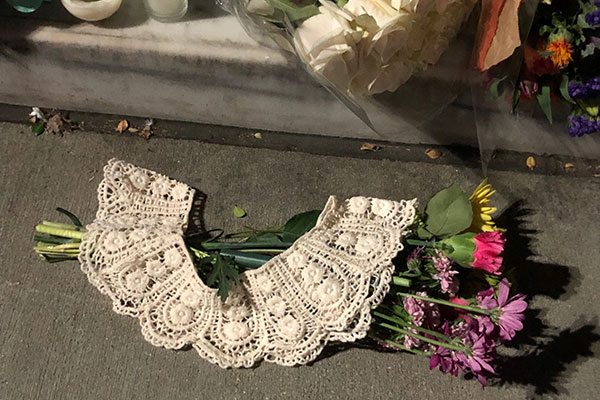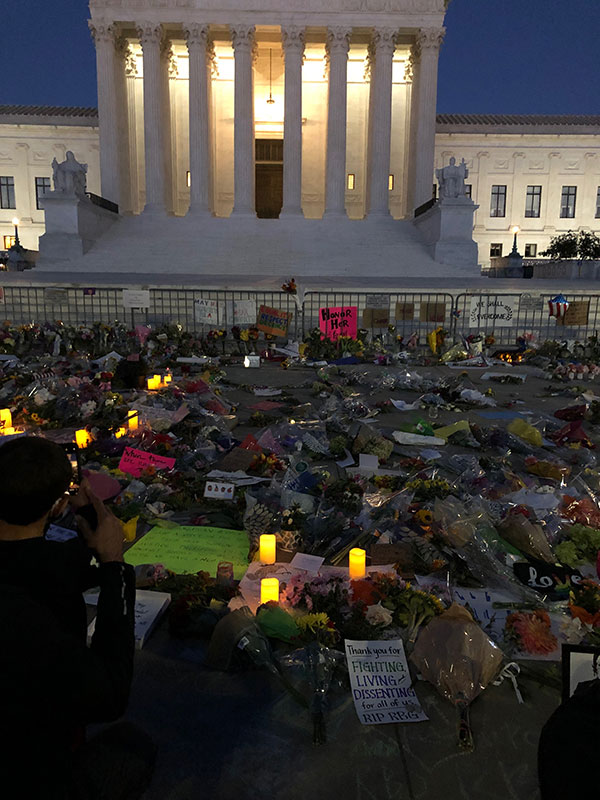 The grief needed to be shared in a public space. An opera company sang. A man played Sam Cook songs on his jam box. Messages, flowers, notes flooded the Supreme Court grounds. And for one morning the body of Justice Ruth Bader Ginsburg, the first and only woman, laid in state in the Capitol. It was as if it really might be the dying of the light of democracy. A couple of days later the bookshelves stood empty.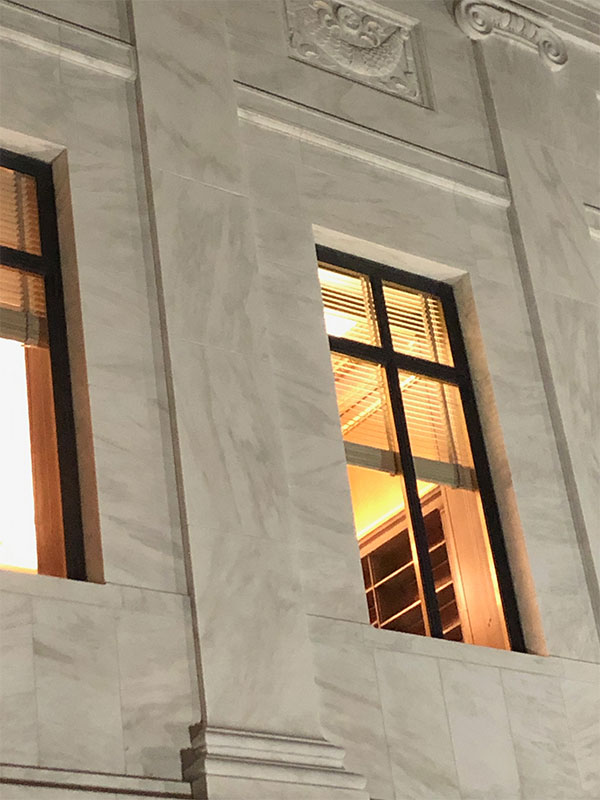 On the day John Lewis' body was taken from the Capitol to Atlanta I wrote these words so that I would remember the day.
The morning of July 29, 2020
As I strolled the grounds of the Capitol in the emptiness and heat of the late morning, amid the beauty and splendor of the symbols of democracy, an Emily Dickinson poem kept creeping into my consciousness.
After great pain, a formal feeling comes – The Nerves sit ceremonious, like Tombs – The stiff Heart questions 'was it He, that bore,' And 'Yesterday, or Centuries before'? This is the Hour of Lead – Remembered, if outlived, As Freezing persons, recollect the Snow – First – Chill – then Stupor – then the letting go –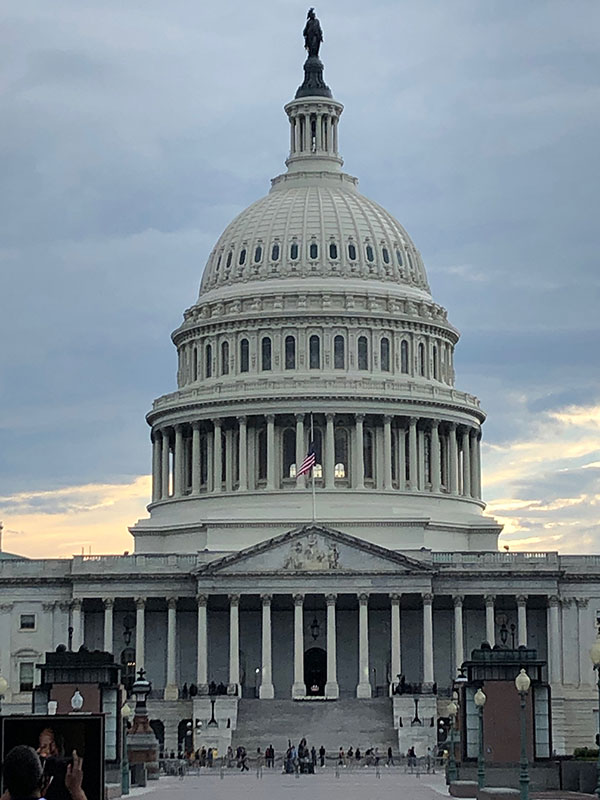 There is both profound beauty and sadness in the way this has, for the moment, seemed to come to a close.
It is an unceremonious end of an era—of a life-changing, tumultuous, joy-filled movement toward justice.
The sun is setting on the power and strength and goodness of these and other civil rights leaders. The deep sadness is they had to depart in the midst of disease, chaos, confusion and malevolence not seeing clearly where their work would lead. For that we grieve.
The beauty is that they were all people of exceeding and spacious faith. They learned and left the lessons of laboring on for the sake of justice and freedom. They knew that they had done all they could.
As in the Dickinson poem, we are left to the letting go. We will always be marked by them - their vision, their courage, their intellect, and their steadfastness. The foundation has been laid. They can rest.
Now is the time for new voices—for democracy. And now, there must be a commitment to intellectual rigor, unswerving non-violent engagement, strategic thinking and tenaciously hard work to continue this road. The vision for justice must be clear. It must be able to be written so as to run on toward justice. Passion must be turned into strategic thinking. Yearning for justice must be turned into long days and nights of clear thinking, meticulous planning and skillful negotiating, keeping our eyes on the prize of democracy.
And So Shall We: A Sacred Season of Voting
Over the next month, we in the United States are entering a new season—a season of voting. This may not be a season of the church calendar, with liturgical colors but it is a sacred season, nonetheless.
At Church and Society, we will be observing the election season with a new series of events and programs, called "And So Shall We: A Sacred Season of Voting." Inspired by the words from our United Methodist Social Creed Litany, this language reminds us of the role we each must play in working for justice and democracy.
Through November 3, Church and Society will be sharing ways you can vote, hearing from voices from the global church offering prayers for the U.S. elections, reflecting on the United Methodist heritage of public witness, and waiting in prayerful anticipation together. Please continue to visit our website, social media, and YouTube pages to learn more.
This Wednesday, October 7, we're excited to announce two events.
Interfaith Prayer Service for the Election: At 12 PM EST Church and Society is coming together with interfaith leaders in pray for the election. Watch on our YouTube channel.
Dismantling Racism – Voter Suppression: At 1 PM EST, the UMC's Dismantling Racism initiative continues with a conversation on voter suppression. Congressman and United Methodist minister Rev. Emmanuel Cleaver will be speaking. No registration needed.
Both events are free and open to all. We hope you can join us.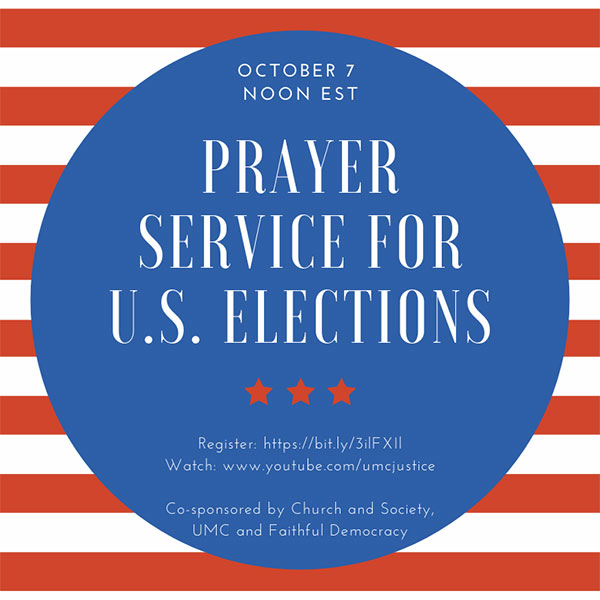 The lives of Justice Ginsburg, Congressman Lewis and Cummings, President Bush, and Senator McCain are part of the great cloud of witnesses to democracy. Now it is our turn to participate. We are the bearers of the light.