faith in action
Apply today to be a Ethnic Young Adult intern for summer 2019
Iris Gadsden was an Ethnic Young Adult (EYA) intern in the summer of 2017. She shares her experience as we begin to recruit applicants for summer 2019.
---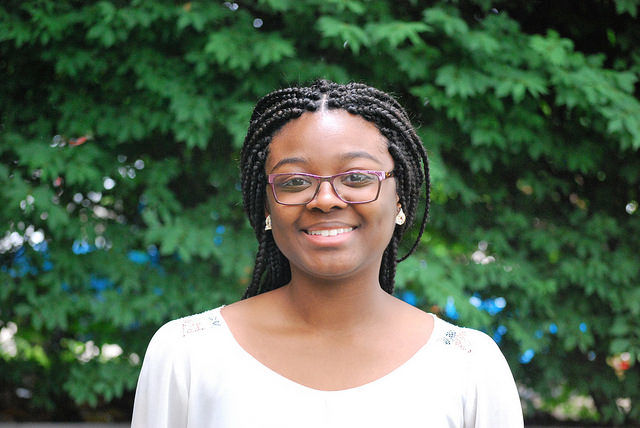 Iris Gadsden shares her experience
My Ethnic Young Adult intern experience in Washington, D.C. was an unexpected yet indescribable time. Not only did I get to discover the history of my awesome denomination, but I got to explore our nation's capital and create lifelong friendships.
The EYA internship through the General Board of Church and Society set a spark in my spirit to continue and push harder for social issues of my community. I learned that directly serving others was only one way to support those in need. This experience allowed me to research policies with the NAACP Washington Bureau and see just how important these policies are to our country. I got to meet powerful voices in the U.S. political system including Senators Bernie Sanders and Kamala Harris. I became more politically involved and saw how fast political declarations can change the nation. From the political atmosphere to the amazing roommates I had, in two months Washington, D.C. challenged and changed me.
After returning from my summer internship, I knew I wanted to continue to be a part of my local community. Being around inspirational leaders and peers for two months reassured my passion for service and my dream of being a non-profit owner. I have since served my community by interning with the Greenwood Chamber of Commerce in South Carolina. The Chamber is a connectional organization that works with the businesses and organizations of the surrounding Greenwood area. I appreciated being able to be in touch with professionals around me while learning the trade of keeping a non-profit running.
Taking a chance by applying for the EYA internship was absolutely worth it! I would recommend the program to anyone interested in social issues who is ready to change the world.
Apply now for summer 2019!
The program dates are set for June 1st- July 27th, 2019. Program description: The Ethnic Young Adult Internship (EYA) program is designed for young justice seekers willing to unpack their faith and identity while working with an organization engaged in addressing social injustices. Interns are placed with advocacy, public policy, nonprofit and grassroots organizations where they work four days a week.
EYAs engage in weekly seminars designed to explore a wide variety of social issues, while also learning about The United Methodist Church's history of pursuing social holiness. Interns live in community with one another and participate in weekly devotions.
EYAs have the unique opportunity to learn about the role of Church and Society at the United Nations by visiting our UN office. EYA Interns also get to visit a UMC historical site.
Program Qualifications
Be a member of The United Methodist Church,
Be between 18 and 22 years old (Central Conference interns are accepted up to 24 years old),
Be at the academic level of rising sophomore, junior or senior in college/university studies or employed full-time,
Show active leadership and participation in the local church/community and an involvement in social justice activities;
Self-identify as a person of color
To apply and find out more, be sure to visit https://www.umcjustice.org/internships.