faith in action
Annual conferences address issues of justice and peace
The annual conference season has come and gone, and issues of social concern were part of the discussion in numerous conference sessions this year.
---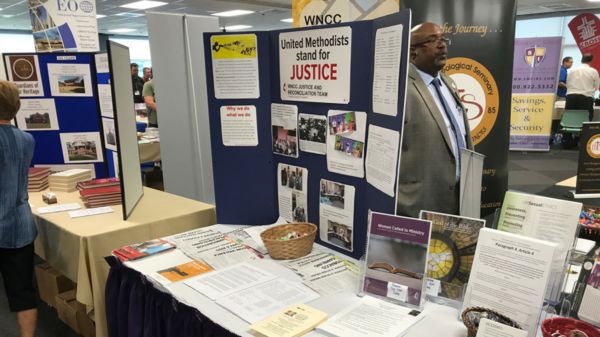 In a season where critical issues of justice and peace show up every day in the news, it is not surprising that they would also be part of the discussion as United Methodists gathered for their annual meetings.
United Methodists have long used our times of gathering to speak out on issues of concern. We are public witnesses for justice and peace. Several annual conferences called for immigration reform, for example. These witnesses are an important way we put our faith into action.
Church and Society staff attended and spoke at several of these gatherings, too.
General Secretary Susan Henry-Crowe visited five annual conferences this year. She talked about the overall work of Church and Society and met with conference leaders, furthering her commitment to building relationships across the connection.
Susan Burton, director of women's and children's advocacy at Church and Society, attended the Detroit/West Michigan, Great Plains, and Eastern Pennsylvania Annual Conferences. There she spoke about changes to the American health care system currently being considered in the U.S. Congress and the values we hold as United Methodists.
Pauline Muchina, director of the Healthy Families, Healthy Planet program, talked about child and maternal health with United Methodist Women leaders in South Carolina. Participants then made plans to visit the office of U.S. Senator Lindsey Graham to discuss cuts to funding for international family planning and reproductive health care services.
The Revs. Neal Christie, associate general secretary for education and leadership formation, and Clayton Childers, director of annual conference relations, both attended the North Texas Annual Conference. Christie spoke at a luncheon while Childers led a workshop.
Leigh Ann Gong, director of finance, shared with laity from the New York Annual Conference the story of how her family was able to escape from war-torn Viet Nam coming to the United States.
Rebecca Cole took part in a forum on the church's response to immigrants hosted by Baltimore-Washington Annual Conference. The Rev. Jeania Ree Moore attended her home conference, California Pacific Annual Conference. Aimee Hong visited the Virginia Annual Conference. Rick Reinhard participated in the Upper New York Annual Conference. The Rev. Dr. Levi Bautista returned to his home conference in the Philippines.