faith in action
Announcing the "Holding Sacred Space: Mental Health and Faith" Called Seminar
Creating space in which to break the stigma of mental illness, this webinar series with special guests emphasizes the intersectionalities of mental health, faith, and social action.
---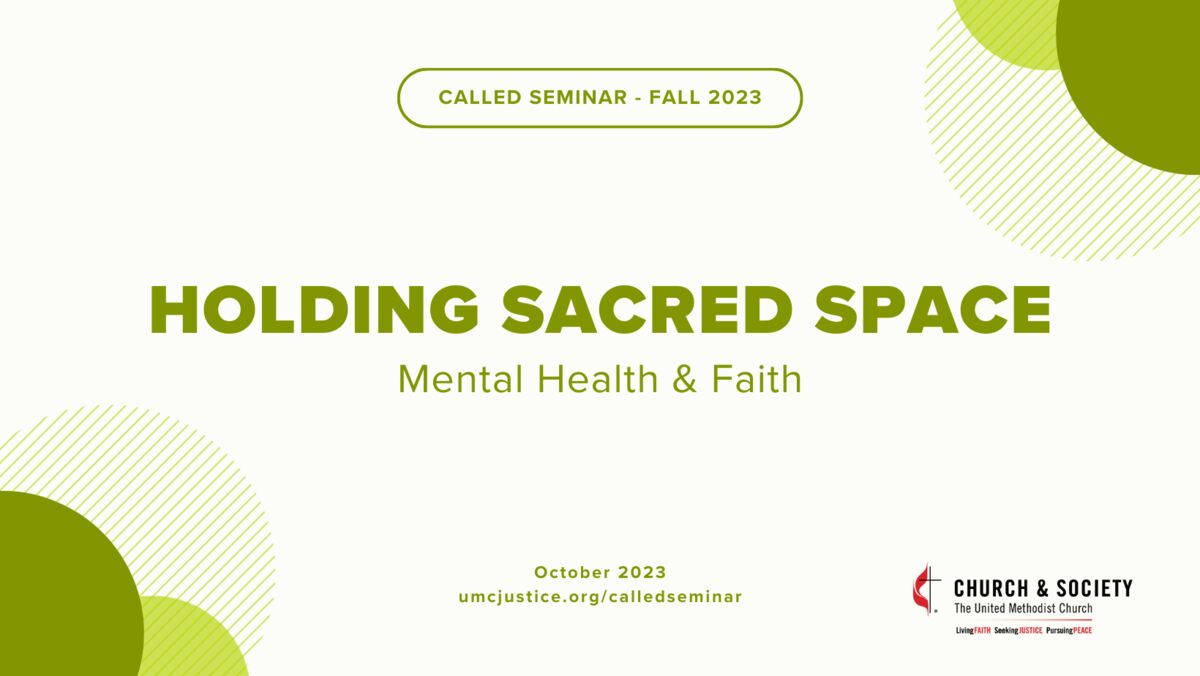 Background
According to NAMI (National Alliance on Mental Illness):
22.8% (57.8 million people) or 1 in 5 adults experience mental illness in the U.S.
8.4% (21 million people) of adults had at least one major depressive episode in 2020 in the U.S.
16.5% (7.7 million people) or 1 in 6 youth (aged 6-17) experience a mental illness in the U.S.
Despite advances made in medication, therapy, and psychosocial support, depression and other mental illnesses remain stigmatized by much of society. And our churches and faith communities are no exception. Sadly, they are oftentimes the places where stigma towards mental health is most apparent. Conversations about fellow congregants struggling with mental health are whispered and just as quickly hushed away. Rarely do we hear about mental health from the pulpit or in bible studies. There is a pervasive misunderstanding that faith and mental health exist in separate silos¬- even though mental health is a critical part of holistic health.
The United Methodist Social Principles, paragraph 162 states, "No person deserves to be stigmatized because of mental illness…When stigma happens within the church, mentally ill persons and their families are further victimized. Persons with mental illness and their families have a right to be treated with respect on the basis of common humanity and accurate information. They also have a right and responsibility to obtain care appropriate to their condition. The United Methodist Church pledges to foster policies that promote compassion, advocate for access to care, and eradicate stigma within the Church and in communities."
Overview
Church and Society invites you to participate in its 2023 Webinar Series, "Holding Sacred Space: Mental Health & Faith."
The series is comprised of six webinars taking place throughout the month of October 2023 - to create space in which to break the stigma of mental illness by:
Learning about different intersectionalities of mental health
Acquiring tools to raise awareness in our local church settings
Growing our advocacy for mental health.
Registration
Registration is required for each webinar in the series
For questions, please contact Aimee Hong (ahong@umcjustice.org), Senior Executive Director of Education and Engagement.
Mental Health & Faith
Date & Time: October 11, 2023 (Wednesday) at 1:00PM-2:15PM Eastern

Speaker: Rev. Dr. Monica Coleman, John and Patricia Cochran - Scholar for Inclusive Excellence and Professor of Africana Studies and Director of Graduate Studies, University of Delaware

Registration: Click / Tap Here

Mental Health & BIPOC communities
Date & Time: October 12, 2023 (Thursday) at 1:00PM-2:15 PM Eastern
Speaker: Dr. Sarah Y. Vinson, Triple Board-Certified Child & Adolescent, Adult and Forensic Psychiatrist, Founder of Lorio Psych Group and Lorio Forensics, co-editor of "Social (In)Justice and Mental Health"
Registration: Click / Tap Here
Mental Health & Climate Change
Date & Time: October 18, 2023 (Wednesday) at 1:00PM–2:15 PM Eastern
Speakers: Janet Lewis, co-founder, Climate Psychiatry Alliance, Co-Chair, Climate Committee, Group for the Advancement of Psychiatry, and Sherwin Shabdar, medical student in psychiatry, and member of Climate Psychiatry Alliance
Registration: Click / Tap Here
Mental Health & Gun Violence
Date & Time: October 19, 2023 (Thursday) at 1:00PM-2:15PM Eastern
Speaker: Dr. Jeffrey W. Swanson, Professor in Psychiatry and Behavior Sciences, Duke University School of Medicine. Faculty affiliate of the Wilson Center for Science and Justice at Duke Law School, the Center for Firearms Law at Duke Law School, and the Center for Child and Family Policy at Duke Sanford School of Public Policy.
Registration: Click / Tap Here
Mental Health & Young People
Date & Time: October 25, 2023 (Wednesday) at 1:00PM-2:15PM Eastern
Speaker: Caren Howard, Senior Director of Policy & Advocacy for Mental Health America
Registration: Click / Tap Here
Mental Health & Tools for a Faithful Community
Date & Time: October 26, 2023 (Thursday) at 1:00PM-2:15PM Eastern
Speaker: Dawn L. Brown, Director, Cross-Cultural Innovation & Engagement Task Force, NAMI (National Alliance on Mental Illness)
Registration: Click / Tap Here