faith in action
#ThrowBackThursday: 'President Obama: You have blood on your hands. #StopTheRaids'
United Methodists and Church and Society staff protested outside the White House Feb. 22, 2016, to protest the Obama administration's use of immigration raids.
---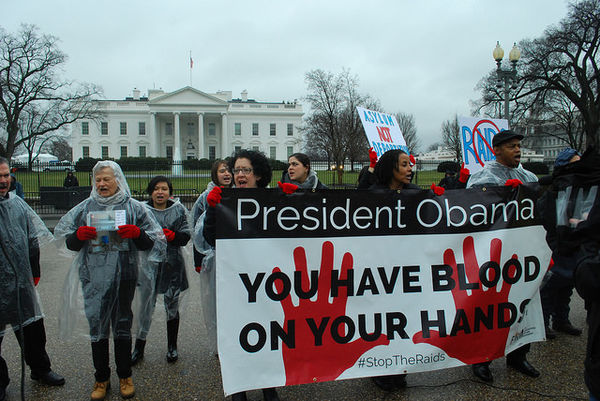 While the U.S. Border Patrol detained more than 65,000 mothers and children (what they call "family units") in the final four years of the Obama presidency, many were able to make their way into the country. Many of these people were from Central America (particularly Honduras, El Salvador and Guatemala). They were fleeing violence and seeking refuge in the U.S.
In response to those who were not caught, Obama's Immigration and Customs Enforcement agency planned and executed several raids, resulting in several deportations.
The Guardian reported as many as 83 of those departed by Obama were murdered after returning.
Obama became known as the deporter-in-chief because of his policies that increased raids and deportations. These policies were in opposition to the positions taken by The United Methodist Church in the Social Principles and the Book of Resolutions. Church and Society actively engaged in a variety of advocacy tactics with the goal of reversing these practices.
Church and Society staff were among the immigration advocates at a protest outside the White House Feb. 22, 2016. The protestors carried 83 crosses to memorialize the dead, they wore red gloves to symbolize the blood on Obama's hands, and were arrested after refusing to move.
They also carried the sign, visible in the photo, which reads, "President Obama: You have blood on your hands. #StopTheRaids"