faith in action
Susan Henry-Crowe Named to International Commission Investigating Human Rights in the Philippines
General Secretary Rev. Dr. Susan T. Henry-Crowe is part of a global commission to investigate human rights violations in the Philippines.
---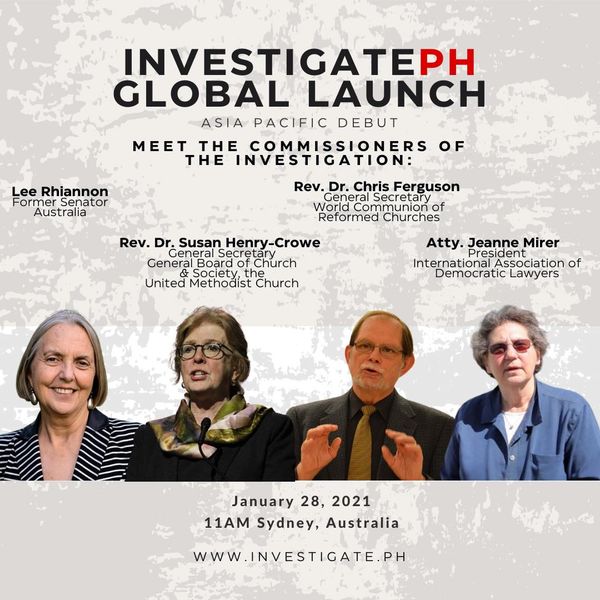 We are thrilled to share that the Rev. Dr. Susan Henry-Crowe has been named as a member of Investigate Philippines, an independent international group of religious leaders and civil society leaders concerned about the state of human rights in the Philippines. The formation of the Investigate PH is an organized international response following the extrajudicial killings under President Rodrigo Duterte, which total more than 25,000 at last count in June, including at least 73 children.
Under the guise of a "war on drugs" and vowing a drug-free country, Duterte directed the killing of anyone alleged to use or possess drugs. Localized human rights groups tasked with reporting violations and atrocities became targets themselves, as did journalists, liberal community and Indigenous leaders, and Duterte's political critics.
Despite a clear appeal from then-High Commissioner for Human Rights Michelle Bachalet to implement meaningful accountability measures last June, Philippines' state representatives balked at the High Commissioner's report and the UN's Human Rights Council failed to meet the widespread call for an independent probe.
Civil society will pursue an investigation, and work to stop the ongoing crimes against humanity. The ICHRP, which includes over 200 leaders from NGOs, churches, and lawyer organizations from across the world, will submit its findings in the form of three reports, to both the International Criminal Court and the UN Human Rights Council.
"We stand in solidarity with the Filipino people and bear witness to the horrific trauma perpetrated against them," the Rev. Henry-Crowe said. "I look forward to assisting the ICHRP in shedding more light on this unconscionable violence and joining the call to demand accountability so it cannot continue or happen again."
The group is slated to present its first report to the UN Human Rights Council next month.
Learn more about how Duterte used the COVID-19 pandemic to further escalate human rights abuses in the Philippines.