faith in action
Shaping Peace Together: A Prayer for the International Day of Peace
A Prayer for the International Day of Peace delivered and written by the Rev. Liberato Bautista
---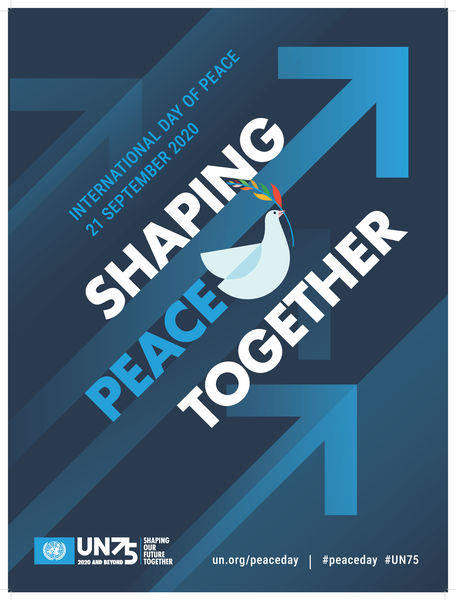 God of history—holy, divine, eternal, ever present, ever abiding—we come to you today seeking your guidance on how to truly embody a just, peaceable and sustainable world.
It is the world you envisioned for all peoples, the planet and the entire cosmos. It is the world we seek and want to live in. It is the world of justice, peace and sustainability that our religions have prayed for, to happen here on earth as it is in the heavens and all the realms.
We come to you on this International Day of Peace cognizant that our longing for peace and justice mirrors the dreams of sages past and the admonitions of the prophets of old. We pray that we may "shape peace together" as our theme invites us to.
We pray to you to bless us with a world as announced by Prophet Micah (4:4), where "Everyone will live in peace and prosperity, enjoying their own grapevines and fig trees, for there will be nothing to fear." It is a world in which the affirmation of life and life-giving processes triumph over death and death-dealing forces.
We pray to you today as the nations of the world gathered—physically and virtually—at the United Nations to commemorate 75 years of its existence. May it be, dear holy and precious divine, that our prayers advance our search for justice and embody our longing for peace—in the earthly realms of governance as it is in your divine design.
We recognize that the world in which we proclaim our search for justice and longing for peace is a world threatened not just by one pandemic, COVID-19. Not just two. Not even three. It is, oh merciful Lord, a world threatened by a multiplicity of pandemics that have come upon us not by happenstance but by our indifference, complicity and inaction.
We confess, forgiving God, that we have plagued our world with pandemics that deaden our cries and threaten our advocacies for health justice, for climate justice, for gender justice, for racial justice, for migrant justice, for peace with justice.
May it be worth your mercy that we name the underlying social and economic inequalities that have impoverished our world and our relationships. Empower us to address the endemic poverty that plague our communities so that we may be true to our campaigns for sustainable development.
May it be worth your mercy that we name the underlying violence that fuels our enmity and drives our greed as to allow ourselves to be death-dealing instruments of hatred and bigotry, of racism and racial discrimination, of xenophobic nationalism and racial intolerance.
Empower us to seek and pursue just and compassionate relationships, consolidating a deep respect for our common humanity, for ourselves and for our children, so that their descendants may live no longer, in fear or in want, but rather, to live assured of the inherent and divine gift of dignity.
May we do all we can, by all the ways and means we can, and in all the places and times we can, to protect human dignity with the instruments of human rights that we must continually negotiate within the multilateral fold of the United Nations.
Remind us of the inherent worth of every human being so that all human rights accrue to their benefit and well-being, regardless of race, color, creed, ethnicity, nationality, political beliefs, gender or sexual orientation, and all else that deny the divine image in every person.
Merciful Divine, look kindly at this human institution called the United Nations. Make it truly an instrument of the peace we need and the justice we want. Make it a vessel of human understanding, reminding its leaders that "we the peoples" of the United Nations both recall and recommit to its fundamental calling to establish peace and security—by putting an end to the scourge of war and all threats to a peaceable future.
We the peoples recommit to the UN ideal for human progress and sustainable development, ensuring the future of a livable and sustainable world. Empower us to be instruments for the preservation of a healthy environment and biodiverse world. May we be instruments in the fashioning of a world that is at once sustainable, peaceable and equitable.
On this International Day of Peace and in commemoration of the UN's 75th anniversary, enable us to craft an infrastructure of multilateralism that truly cares for the people and the planet. The affirmation of human rights for all is crucial to that infrastructure. Abandoning the development and the deployment of death-dealing instruments and weapons—conventional or nuclear—forms part of that affirmation.
We say our prayers today knowing that there is a surfeit of fear and a deficit of hope in our world today. And that there are raging wars even as there are those waging peace. Today, we humbly seek blessings from the divine that we may conjure up images of peace that abandon in our imagination the prosecution of more wars. Sure, we have developed a sophisticated language of war that advanced its engineering and technology. It truly is far easier to conjure up images of war than that of peace. Even our prose and poetry are recited in the cadence of soldiers marching to war.
We must imagine a different future where peace is no longer the alternative but the imperative.
Truly, the UN as a human institution may not bring us to heaven, but could prevent us from descending into hell. Another look at our efforts of imagination will go a long way in the achievement of a rule of law—domestic and international—rather than the rule of force and of domination that propelled the historic injustices of slavery, colonialism and racism that have plagued the relations of peoples and nations, in the distant past as much as in the present, here and now.
Lord God, we are warned of your displeasure, said in the words of your prophet Isaiah: "So justice is driven back, and righteousness stands at a distance; truth has stumbled in the streets, honesty cannot enter." Let it be said that we cried out in the public space, even as that space is crowded out by a deafening rhetoric of war, hatred and racism. Even as democratic discourse is muzzled in the public square. May our prayers prove otherwise.
May we be worthy instruments of your peace. So be it. Amen.
What you can do
Become a Justice Advocate Today
Join Us