faith in action
Reflections on Two Years as a Missionary Working at Church and Society
Amber Feezor's ministry at Church and Society as a US-2 missionary comes to an end this summer. She reflects on her time with the agency.
---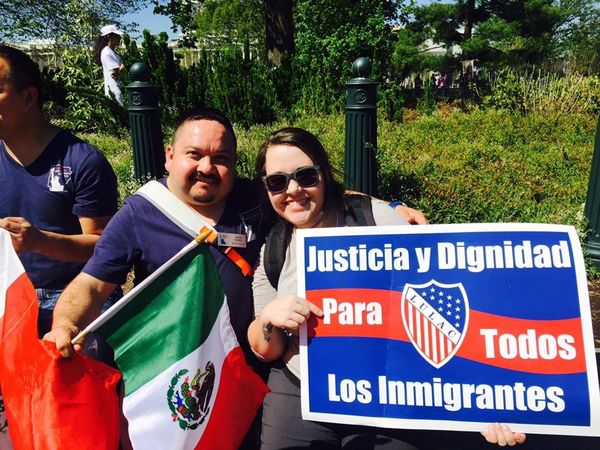 The General Board of Global Ministries placed me at the Church and Society as a Global Mission Fellow US-2 in August 2015. Church and Society would serve as the work site for my two years as a domestic missionary with the United Methodist Church.
There have been some truly monumental moments during my time at Church and Society.
I was assigned to work with Aimee Hong in the Seminar Program, an experiential educational opportunity for participants to learn about social justice. My background as a manager of a nonprofit coffeehouse and music venue in rural Arkansas did not prepare me for all I would encounter in my new position.
I tried to explain social justice to the Vacation Bible School kids at my home church the summer before I moved to Washington, D.C. It was no easy task, in large part because I did not have a clear understanding of it myself.
I was overwhelmed with how much there was to learn when I arrived at Church and Society. The first three months were filled with research into issues of mass incarceration, human trafficking, immigration, poverty, and many more. I empathize with every seminar group that experiences shock, anger, frustration and guilt as we introduce them to these issues. Those are the exact feelings I wrestled with in those first months. Eventually, these emotions became my fuel for the important work of education, advocacy and organizing.
There have been some truly monumental moments during my time at Church and Society.
I have been able to have deep conversations with Shane Claiborne, author and activist. I met the legendary John Lewis, civil rights leader and politician. I grieved with and prayed for a mother who lost her son to gun violence.
The best moments, however, have been working with seminar participants when the information finally makes sense. I yearn for the moments when something clicks and a participant suddenly understands how unjust a situation can be, and how important it is to pursue change.
Working in the Seminar Program and with Church and Society has changed me in ways I could have never anticipated. Seeking justice has brought me closer to the heart of God than ever before. I have had to make sacrifices along the way, but working toward a more peaceful world has absolutely been worth the cost.
I am thankful for this agency and the transformation it has inspired in me.