faith in action
Reflection: A Time for Everything
Students from the Pacific School of Religion recently spent ten days exploring faith and advocacy in Washington, D.C. Here's a reflection from one of the United Methodist students.
---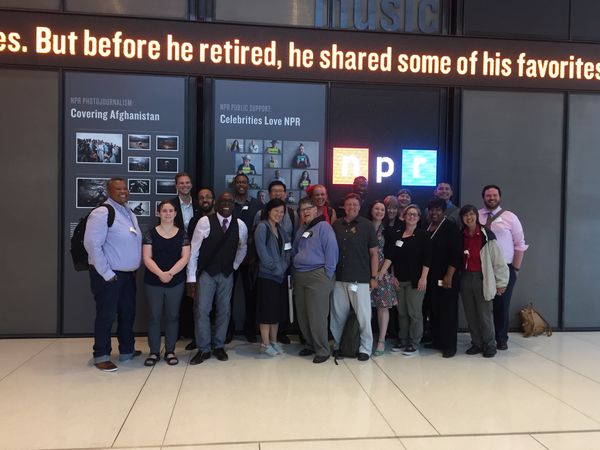 I am a seminarian from the Pacific School of Religion in Berkeley, California. Along with fifteen of my classmates, I have embarked on a ten-day immersion course designed to help me wrestle with social justice issues at the intersection of faith and public policy. Our co-hosts have provided space to engage with issues pertinent to the current climate on Capitol Hill: refugees and immigrants, healthcare, the federal budget, and environmental justice, to name a few.
We met daily at the United Methodist Building on Capitol Hill.
It is surrounded by Senate offices and the Supreme Court and it is the only non-governmental building on Capitol Hill. It houses the General Board of Church and Society and a variety of other offices, including the Justice and Witness Ministries of the UCC, all working individually and cooperatively to create positive change in the world. As a United Methodist, I am thankful for the Methodist Church's historic focus on social justice issues — a foundational reason that a space such as this exists.
We met with members of Congress to share with them our thoughts and concerns on different issues as people of faith, and in conversation learned the different ways that these individuals are working to implement just social programs.
"As a United Methodist, I am thankful for the Methodist Church's historic focus on social justice issues."
As we have learned about the different issues, regardless of the issue we were focusing on, I was reminded of the importance of starting with what we have in common. This can be as simple as recognizing the value of each individual person as it relates to our shared humanity. While nonprofit organizations all have a special interest that they are working toward, as future faith leaders, our special interest must be for the common good for all people.
I have been reminded over and over of the beauty of the Imago Dei, the way in which our Creator has formed us in our Creator's own image. Searching for the Divine in each other will help us as we navigate issues related to social justice and equality in the world. Finding common ground creates a model of communication in which equality is celebrated, leaving room for disagreements to remain civil and differences to be understood.
I've also been struck by how vital the role of the church is in creating change in public policy.
For a number of justice issues, church leaders are called, not in spite of faith and scripture, but because of them. I learned that much of the work and achievements of secular organizers has been possible because it has been able to partner with, and at times be supported by, different church leaders.
Oftentimes we hear that the church and state are to remain separate, and those reasons are true and valid. And yet, because of our love of God, we are called to love others. Engagement with others will naturally include all sectors of life, knowing that our politics will be one of those sectors. As faith leaders, it is incumbent on us to be voices of justice and inclusion in the ears of our local, regional, and national public servants. Through engagement, prayer, and action we will be poised to call for the change we wish to see.
Ecclesiastes teaches us that there is a time for everything.
As such, I answered the call to be immersed in a season of learning, and I have taken this time to absorb as much information as I can from a variety of sources.
As I enter my last year at Pacific School of Religion, I sense my time of learning coming to a close with questions of what my future will hold. In this time of uncertainty, I thank God for the ministry of the United Methodist Seminar Program for creating space for people to actively learn and engage with others on issues of social justice from a faith perspective.
This opportunity has provided clarity as I transition from a season of learning into a season of action.
Jon Atchison is a second year M.A. Social Transformation student at Pacific School of Religion in Berkeley, California. He is from the Holston Conference.
The ten day Faith and Public Policy Washington D.C. Immersion class from the Pacific School of Religion was co-hosted by the United Methodist Seminar Program of the General Board of Church and Society and the United Church of Christ Justice and Witness Ministries in Washington D.C. Professor, the Rev. Odette Lockwood-Stewart led the immersion class with Leonard McMahon as the Teaching Assistant.