faith in action
Gratitude for an Extraordinary Journey
Reflections of the past eight years.
---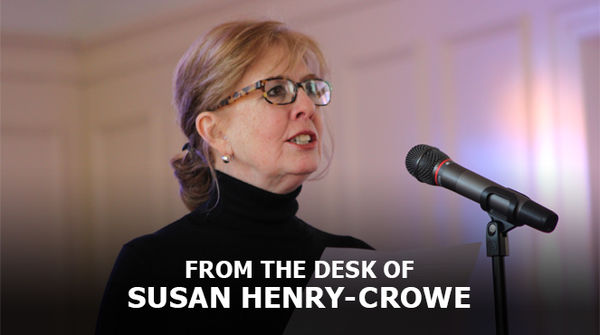 There is so much for which I am grateful. As I begin the last month of serving as the General Secretary of GBCS, I am reflecting on a few of the highlights of the past eight years. For many of the people and moments I do not mention, be assured of your significance and the significance of those moments not mentioned in this article. Throughout my tenure, I have witnessed wonderful, inspiring and passionate advocates for justice among GBCS Board members, staff, ecumenical colleagues, General Secretaries, and myriad UM friends round the world. For their dedication and commitment my heart is full of gratitude.
From Oklahoma Missionary Conference to Appalachia, the Democratic Republic of Congo to Germany, and Israel, Palestine, Charleston and El Paso it's been a time of listening, walking, learning and advocating for justice, hope and peace. In these tumultuous years, it has been a gift. With your gifts, prayers, presence, service and encouraging faith witness, this has been an extraordinary journey together.
The Impact of GBCS Advocating and Educating
Educating and providing opportunities for learning to understand and appreciate the complexities of the world, while aiding deeper relationships and connections is the remarkable work of GBCS. Pre-Covid and during Covid, webinars on racism, climate justice and peace-building touched the hearts and minds of thousands of United Methodists.
Oklahoma
Early in my term, I chose a few trips that were not tied to meetings, but what I felt important for a new General Secretary. A visit with Josephine Deere and David Wilson to the Oklahoma Missionary Conference, where I received enormous hospitality and care, was the first. Discovering ways to walk in solidarity with the Native American community is an act of long delayed solidarity. This month we celebrate the election of Bishop David Wilson, the first Native American Bishop in the United States.
Appalachia
After Oklahoma Missionary Conference, a group of Church and Society staff and Board members journeyed through Appalachia visiting people and communities in Kentucky, Virginia, Tennessee and West Virginia. The courage and strength of people who were surrounded by joy and sorrow, wealth and poverty, drug addiction and centers of healing continue to inspire me.
Standing Rock
On a cold September weekend, John Hill and I went to Standing Rock to be a presence and witness with those living on sovereign native lands that were greedily earmarked for a gas pipeline project. The witness of many faith communities and those in solidarity were able to stop the pipeline. For the bravery and witness of native peoples and their allies, I continue to be grateful. Presence and witness are still important to impact those wanting to compromise vulnerable communities.
South Carolina
In 2015, the horrific shooting at Mother Emmanuel in Charleston was a moment that invited both a faith presence and voices of justice speaking against hatred and violence. It was a honor to represent the UMC in this tragic moment.
Washington, DC
Prayers at the United Methodist Building with Muslim and Jewish colleagues and friends, Dr. Sayyid Syeed and Rabbi Jonah Pesner after the Pulse Nightclub shooting in Orlando, Florida, are tender memories as we prayed together in our own traditions.
California and Texas
A visit to the Collins Forest land in Northern California provided insight and understanding into the value and future for forest lands.
Witnessing on the Mexican Border in San Diego and El Paso, when children were separated from their parents, we helped to mobilize effective action.
Illinois
I will long remember a visit with Bob and Marilyn MacClean, two amazing and dedicated United Methodists, as Levi Bautista and I visited their family in Illinois and saw hope-filled community work in Mattoon, Illinois. Riding a large farm tractor was a highlight of 2022.
Democratic Republic of Congo
The hospitality of Bishop Lunge in the Democratic Republic of Congo provided insight and commitment to the struggles of the peoples of the region that are often beleaguered with international and self-serving interests. The faith witness within the government, the joy and laughter, singing and preaching with United Methodists around the world inspire and challenge us all to deepen the journey.
Germany
A GBCS Board meeting in Germany gave us more insight into the struggles of history, migration, church life and historic political divisions helping us all understand that United Methodists are a global family.
Philippines
Being in the Philippines in the midst of a hurricane where generosity, laughter, and joy poured forth from the Philippine people and friends at Central Church in Manila was a gift. Years later, as I served on a team of distinguished colleagues from ecumenical groups listening to Human Rights violations in the Philippines was heart-wrenching and forever touching.
There is so much more but on Thanksgiving Day I am profoundly grateful for our United Methodist family, our commitment to peace with justice and hope for the world.