faith in action
EYA Experiences: Tomomi Shiotani
Tomomi Shiotani is interning at Church World Service as part of Church and Society's Ethnic Young Adult internship program. She reflects on her second week in Washington D.C from earlier this summer.
---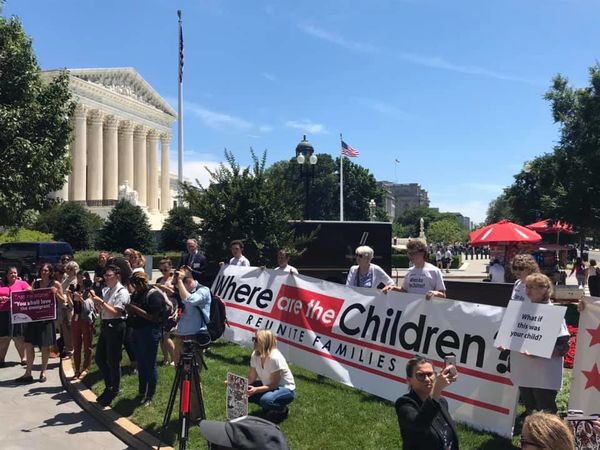 Washington D.C. is a heart of liberation. Every day, there are many events intended to honor a specific community or uplift awareness on certain matters. As a cohort, we EYA interns have been making the most of these opportunities as much as possible. We went to the Pride parade, the Pride Capitol Concert, jazz festivals, and museums in addition to our adventurous Friday seminars and Sunday worship. I love Friday seminars because they let me wrestle with the questions I feel uncomfortable asking but know to be important. I have also enjoyed discovering new sceneries, cafes, and stores when I have time to walk around. Being active in D.C. energizes me.
Yesterday, June 20, was World Refugee Day, a day set aside to honor and commemorate the sacrifice, struggles, and resilience of refugees around the world. It also celebrates the contributions they make in their new communities. On this day, it is also important for us to show the government that we, the people, seriously care about the vulnerable, regardless of race, ethnicity, religion and for us to urge the government to wake up and take action with its power. I have been involved in an effort to bring this day to people's attention more than ever this year. CWS held a press conference at the Capitol with speakers including Sen. Brian Schatz, Rep. Ted Lieu, Rep. Joe Neguse, faith leaders and refugee leaders. All of the speeches were powerful. They spoke deep into my heart, and reminded me of the beauty and strength of the American legacy founded by immigrants.
My days as an intern at CWS have been going by very quickly. It is still difficult to grasp that I am working with such talented and knowledgeable colleagues. I was pretty nervous and felt overwhelmed by the skillful people around me during my first few days at work. In order to seize learning opportunities and chances, I have tried hard to take initiative by volunteering for any events or work. Every single second of this experience is a gift given by God to cherish. Last week, I had my first experience ever in marching and also attended a press conference pertaining to the closure of the detention center in Homestead, Fla. I was on a conference call with other faith-based refugee resettlement organizations that assisted in organizing these events and I asked my supervisors if I could attend even though CWS was not an endorser. Both of my supervisors encouraged me to attend for my personal experience and to witness and feel the strength of civic engagement addressed by people of faith. We marched to the Department of Health and Human Services to deliver more than 100,000 petitions. These interpersonal experiences in fighting against unjust policies further motivate me in the office work.
I am genuinely enjoying gaining knowledge in immigration and refugee policy. I am honored to work in this field, especially because I have many friends who are immigrants or refugees, not only in the U.S., but all around the world. The current humanitarian crisis created by this administration is only benefitting the people with power and harming the many who are being ignored.
By working together with a variety of faith-based organizations, I have been amazed by the strong impact of people of faith, regardless of differences in denominations, on policy and its work for integral human development. We come together in an effort to support a basic humanitarian cause and this type of unity is what is needed in government. In the past week, I met with staff members of Sen. Ted Cruz and Sen. Cory Gardner. We asked for their bosses to vote for or against certain legislation, in addition to co-sponsoring bills and resolutions which significantly impact the vulnerable communities we support. In the midst of this political mess, there is still hope, because I have acknowledged from our genuine discussion that we are all humans who care about those in suffering. It has made me realize that this is what "serving people" is. For example, when we ask officials to vote for the No Ban Act, that action could alter the official's thinking and persuade them to change their stance. If Congress passes this bill, my friends from the countries affected by the Muslim ban, who are legally studying in the U.S. on their visas, would be able to go home to see their families during the summer.
This is a small start of my journey to pass down the opportunities and privileges I've earned to the next generation. I am never forgetful of God and his people who have raised me up.
"Woe to those who make unjust laws, to those who issue oppressive decrees, to deprive the poor of their rights and withhold justice from the oppressed of my people." – Isaiah 10:1-2
Editor's note: This reflection first appeared on the Ethnic Young Adult program's blog. It has been edited slightly for publication here.