faith in action
Domestic Violence Awareness Month Around the World: Samara, Russia
Rev. Natalya Prokhorova speaks about domestic violence prevention in her church in Samara, Russia.
---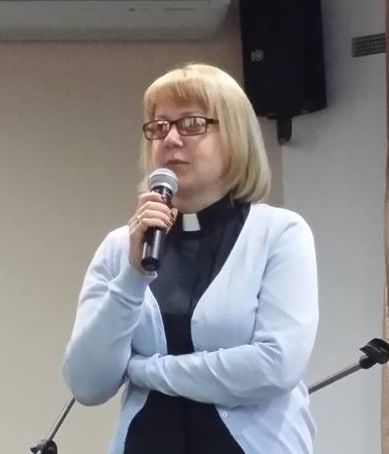 In observance of Domestic Violence Awareness Month, Rev. Neal Christie, the Assistant General Secretary for Education and Leadership Formation, interviewed advocates against domestic and gender-based violence from around the world.
This is the fifth in a series of articles this month highlighting the work United Methodists across the globe are doing to end domestic violence.
Russia: Rev. Natalya Prokhorova
Rev. Natalya Prokhorova is the pastor of the United Methodist Church of Eurasia in Samara, Russia.
What motivates you to work to end domestic violence through the church?
It is not customary to talk about the problem of domestic violence in Russia, as it is a shame. There is even a proverb - an excuse for the husband's abuse of his wife: "Beats means love." But domestic violence escalates due to the impunity of the aggressor. Apart from the Church, nobody raises this question. We are called by God to protect the defenseless who the wives and children of the rapist are.
How does your community solve domestic violence?
We conduct educational seminars for couples (both Church and non-believers who live in our city) on various issues of family relationships, including the prevention of domestic violence and the correct way to resolve conflict situations. Premarital counseling is carried out.
In premarital counseling, we talk about the right relationships in marriage, about mutual respect and inadmissibility of any violence, both physical and moral.
We teach young people who marry that a man and a woman is an image of God and no one should suppress another, use it or manipulate it. We teach them constructively, calmly and lovingly to resolve conflicts in the family. We want faithful families to become a model and example for families in which violence flourishes. Even so, we can stop this shameful phenomenon in our society.
Our community in Samara collaborates with the volunteer organization "You Are Not Alone", which has made it possible for the city authorities to provide premises where women and children can escape from domestic violence and be there all the time until they can provide for themselves and their children. We specifically collect donations for the purchase of food, diapers, detergents and baby food in this center, which exists entirely on voluntary donations.
Our Church plans to conduct counseling work in this center to help women who have experienced violence.
What measures are provided by your legislation in the fight against domestic violence or what is the state policy on this issue?
Domestic violence is a serious problem in Russia today and is associated with the use of alcohol or drugs by men. Most often, women and children become victims of aggression. There is no reaction to calls from the aggressor's wife, because the police do not want to interfere in family affairs until there is a fatal outcome. A woman is left without help and hope.
What do you think, why do we need training on domestic violence? What impact can they have on society?
The question is very relevant, but society is not yet actively involved in this problem, since often violence occurs behind closed doors of the family. Sometimes people just don't know how to behave in a situation when they commit violence against you and strangers don't understand how they can interfere legally and how to help the victims of violence. Trainings could provide the necessary information, put this problem in society as significant and priority.
In your opinion, what laws should be adopted to strengthen the protection of women and children in cases of violence?
In my opinion, it is necessary to tighten the law against people who commit domestic violence so that women, old people and children are protected and have the opportunity to receive help from the police immediately on their appeal. There should be special centers in the cities that the state will support and protect, so that a woman with children can take refuge in them and receive qualified psychological, medical, and legal assistance during this difficult period for them, when they were forced to leave their home because of violence.