faith in action
Domestic Violence Awareness Month Around the World: Moscow, Russia
Rev. Pavel Serdyukov of Perovskaya UMC in Moscow, Russia discusses his calling to domestic violence prevention.
---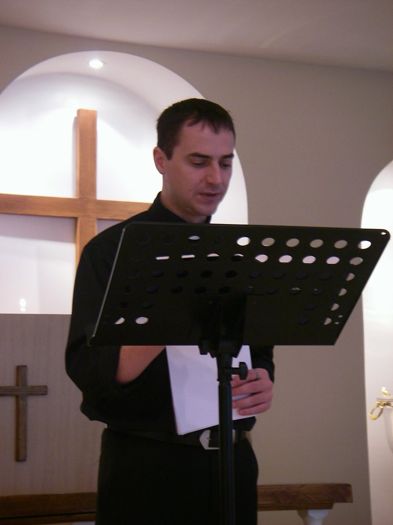 In observance of Domestic Violence Awareness Month, Rev. Neal Christie, the Assistant General Secretary for Education and Leadership Formation, interviewed advocates against domestic and gender-based violence from around the world.
This is the sixth in a series of articles this month highlighting the work United Methodists across the globe are doing to end domestic violence.
Russia: Rev. Pavel Serdyukov, Perovskaya UMC, Moscow, Russia
What motivates you to work to end domestic violence through church service?
The problem of violence in the family or in childhood has been personally experienced by me and my wife. The consequences of domestic violence are catastrophic, affecting lives, and leading to the next round of violence from those who themselves were victims.
It is impossible to pass by such grief, and it is also sad to see that in our country no state institution is involved in this problem. In the family, you cannot get protection from the state practically in any way, except by leaving the family.
The Church, as a society of healed people, can actively change the situation with domestic violence and break the chain of violence, save those who are now exposed, take care of those who survived the violence.
This is a topic that all people should think about, and the church first of all.
How can your community respond to domestic violence?
Our community can provide advisory and supportive measures that heal those who have experienced violence. Through counseling, support groups, God's grace, care.
There is a call in the community to be active in this area to the parishioners, to find and help those who are experiencing or survived the violence, also to prevent it.
One example is the story of a girl who was abused by her stepfather. The church helped her escape from her captivity, hide, alert law enforcement authorities, stop her stepfather's aggression, go through a period of healing and rehabilitation, and supported her in the initial stages in finding a job and arranging life.
Another example is when the church began to actively participate in the life of a mother with four children, and the drinking ex-husband stopped beating them, taking away the last things, showing various kinds of aggression, realizing that this family is not alone now and they have friends.
What do you think, why do we need training on domestic violence? What impact can they have on society?
Another example is how, through the church's interaction with children, contact with the mother turned out, which subjected the children to psychological and physical abuse almost every day. After two years, there has been progress in the behavior of the mother, who has ceased to show physical violence, and less mental.
What measures are provided by your legislation in the fight against domestic violence, or what is the state policy on this issue?
There are no measures. Laws on domestic crimes have been repealed. It takes a lot of time to go to court, and almost to no avail, even if there is evidence of beatings.
The state's policy regarding child violence is only taking children from the family to the orphanage, where violence continues, and is even worse.
In my opinion, no laws will help; they simply will not be implemented in our country as is happening today.
People need to take initiative to educate on family culture and family values and values of relationships.