faith in action
Climate: 2019 in review
2019 was a year when we witnessed an ever-growing disconnect between what the climate science is telling us, the devastating realities of extreme weather, the growing movement of youth and people of faith demanding action, and the unconscionable lack of leadership by U.S. and global leaders.
---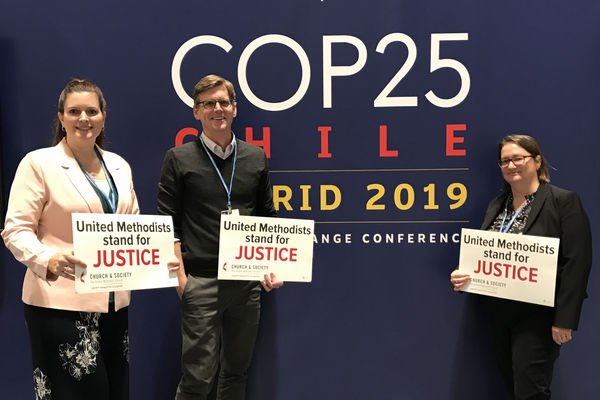 We celebrate passage of legislation in the U.S. House of Representatives to reaffirm the United States' commitment to the goals of the Paris Agreement and significant progress on important efforts — including the RECLAIM Act — to support a just transition and address the challenge of communities struggling as we move to a cleaner energy future.
These initiatives lie in stark contrast to the actions of the administration, which, through regulations, threatens to reverse years of progress in addressing emissions from the energy and transportation sectors. And, as we witnessed in the recently concluded United Nations climate negotiations in Madrid, Spain, the intransigence of the U.S. and a few other major emitters is splintering the global consensus just when increased commitment and action is needed most.
And yet, against this backdrop of political dysfunction and delay, frontline communities, youth and people of faith are organizing and advocating like never before.
We see United Methodists from across global connection joining acts of mercy and justice to transform the way we relate to God's creation. Through preaching, teaching, public witness and advocacy, United Methodists are building a movement to match the urgency of the climate crisis. By closing the gap between our own actions and the vision laid out in our Social Principles and Book of Resolutions, may we inspire, encourage, and demand decision makers — from boardrooms of companies to the halls of governments — to close the widening gap between current policies and what is needed to ensure a just, equitable, and resilient future for God's people and God's planet.