faith in action
Church and Society's 2019-2020 Interns
We are excited to introduce our Wesley Theological Seminary interns! This class of theological interns started with us this fall and will continue through the spring of 2020.
---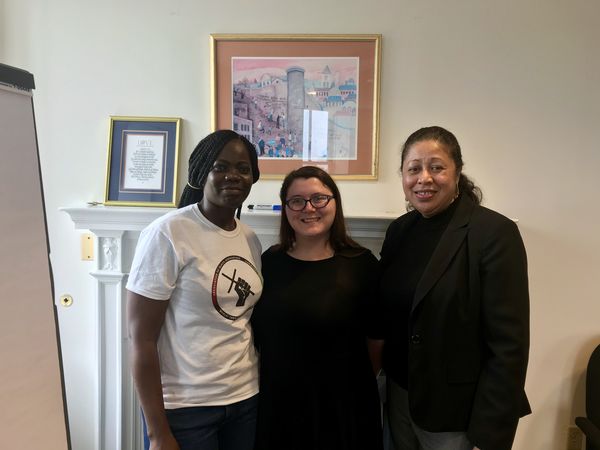 Church and Society continues to be an education site for ministry formation. Interns engage in theological reflection and discernment as they practice public witness and civic engagement. Interns experience firsthand how The United Methodist Church carries out the Social Principles and Book of Resolutions through education, advocacy and connecting the worldwide church.
Name: Mele K. Taumoepeau 'Aho
Home church: First Tongan United Methodist Church in Seattle which is in the Pacific Northwest Annual Conference.
My goal for the fall is to focus on navigating the advocacy process and learn to understand how the United Methodist mission "As disciples of Christ, we are called to love our enemies, seek justice, and serve as reconcilers of conflict," connects among agencies from a global to national, and local churches in the areas of economic justice, health and wholeness. My plan for the spring semester is to utilize the knowledge that I gain to put faith in action, perhaps by designing and developing a curriculum for youth and/or making a faithful finance case as a model for the local church community.
My experience in social justice is rooted in my involvement as a leader to empower our community of faith and community at large in connecting them with advocacy initiatives with well established agencies in Seattle including: Asian Pacific Islander Education Think Tank, Northwest Association of Pacific American, International Community Health Services, Washington Commission on Asian Pacific American Affairs, as well as Asian Counseling Referral Service.
My vision for this internship is to be able to connect the process of advocacy at the national level in relation to United Methodist agencies in order to educate and support the social principals that impact the local faith community. Understanding the policy change both in historical view to see where the gaps are in order to shape the current policy of our time is important to know.
Name: Pastor Esther
Clergy with the Nigeria of the Southern Nigeria Annual Conference in the Nigeria Episcopal Area, West Africa Central Conference.
Luke 10:2 "the harvest is plentiful, but the laborers are few" speaks to my call to ministry and my call to care for vulnerable women and children. Many women and children face insecurity, vulnerability, inequality, harassment, and employment discrimination. Too often they are not given the capacity to lead. I am passionate about correcting these wrongs in society. As a development officer with the Nigerian government and as a pastor, I have worked with women and youths to mobilize and educate them in areas of empowerment, purpose, and in recognizing their self-worth, I see myself asking for justice for these individuals in peaceful living and encouraging their faith life as Christians to fulfill the purpose of our existence which is to love God and others by doing God's will.
The quest I see in the work of the Church and Society is spelled out in the Social Principles. I read and participated in the listening session of the Social Principles revision process some years ago in Nigeria, and I became curious to know more about the work of Church and Society regarding the formulation and impact of the Social Principles for the Church and the world at large. In learning the Social Principles activities, I am positive that my future ministry will be impactful because of this learning opportunity which is correlated with the purpose of my call to ministry to educate and pursue justice in response to our love for God and humanity.
Name: Angela Lovegrove
From: The Michigan Annual Conference
I'm finally in my final year of seminary. I'm excited, but there is still a lot to do between now and graduation; classes, work here at Church and Society and commissioning. As I finally started getting into the swing of things for the semester, I looked back on where I come from. Just over four years ago, as I was working at my final internship for my Plastics Engineering Technology program, I had a sense of unease. After about a half the summer, I realize that my soul wasn't prospering in an engineering environment. It was then that I started looking into other avenues which eventually lead to Wesley Theological Seminary.
Switching from an engineering degree was an interesting change that has gotten many raised eyebrows, but the more I learn, both in class and here at Church and Society, the surer I become that I made the correct decision in switching. I really enjoyed my time internship here last year and I look forward to this year. I'm excited to learn more things and work with a wider variety of people.
Many people have asked me why I'm here at Church and Society if I'm on the elder ordination track and there are many parts to why. One part is that I will likely be working in churches for the rest of my life and I don't think waiting a little bit longer to start that will hurt. Another reason is that, in my experience, a lot of people aren't familiar with the general boards and agencies, myself included, even though I started attending United Methodist churches in high school. Though my internship at Church and Society may not be the most conventional placement for someone on the elder track, I'm grateful for the opportunities that I've had to learn about and participate in the wonderful work that everyone at Church and Society does and I look forward to doing more this year!