faith in action
Church and Society Intern Offers Justice and Salvation Sermon
A final Blog from Theological Intern Ed White in the form of a sermon on justice and salvation.
---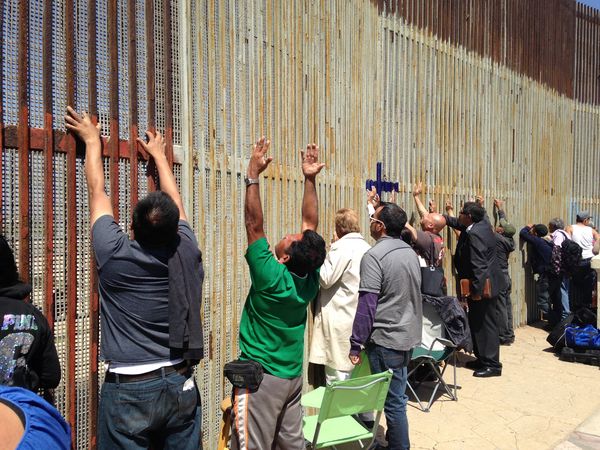 JUSTICE and SALVATION
Jesus said to him, "Today salvation has come to this household" Luke 19:9 CEB
Justice, as we should all come to understand, is a reality with which the Lord is deeply concerned. In today's world, humanity is divided on its definition and execution. Scripture, however, is clear on the subject. My family in Christ, today we address firstly, what is not considered justice; secondly, what the example of Jesus Christ teaches us; and thirdly, how perfect justice can be achieved.
1. Can we truly define what justice is? This is a difficult task of which many before me have taken up. In addressing what justice is, it might be helpful to first specify what it is not.
1a. Some would focus on retribution or some version of revenge and accept that as justice. This is the definition of justice most commonly accepted in society today. Our "Justice Systems" focus on punitive action after social breaches have occurred. Whether the perpetrator, or person/ party responsible for harm, pays a fine, engages in mandatory service work, or is incarcerated, these forms of justice seek only to punish those who have made mistakes. Fines, brief periods of service, and incarcerations serve to create more divisions in our society and in some cases remove people from society altogether.
1b. Others might say that justice is the absence of oppression. They might say that it can be achieved when the widow, poor, or orphan are no longer oppressed and can live life to the fullest. In this definition, women are given full autonomy of their own lives, immigrants are given protection of the law, and the earth is no longer destroyed for the financial gain of the few. Perhaps resources are distributed equally and adequately. Certainly, we are approaching a proper understanding of justice, but this one is still incomplete.
2. The Lord has revealed to us what we should understand justice to be. It is a similar message throughout scripture if we pay careful attention to the lessons therein. It is best seen in the example of our Lord, Jesus Christ.
2a. Jesus' life, ministry, death, and resurrection provide an adequate explanation for justice. In Jesus' life he continuously went out of his way to include those who were being excluded from society. He ate with the sinners, prostitutes, tax collectors, Samaritans, and the generally imperfect. So much so, in fact, that he is called a "a glutton and a drunkard," and overall, a "friend of sinners" (Luke 7:34). The Pharisees critique him for communing with tax collectors (Matthew 9:11). According to the Gospel of Luke, one of Jesus' twelve disciples was previously a tax collector (5:27). The reality is that Jesus did not shy away from reaching out to these individuals. Jesus truly sought community with those who were lost or excluded.
2b. In his ministry, he delivers many parables that demonstrate the need to radically seek out those who are separated, lost, or in need. The parables of the lost coin (Luke 15:8-10), the lost sheep (Luke 15:3-7), the banquet (Luke 14:15-23), the prodigal son (Luke 15:11-31), and the good Samaritan (Luke 10:25-37) point us in the right direction. Through these parables, we learn of the nature of the kingdom and God's character. In them we see the Lord's earnest desire to be with us and for us to be with God.
2c. Through Jesus' death and resurrection, God finalizes the plan to be in right relationship with all of creation. Because of the death and resurrection of Christ, there will come a day when each one of us witnesses the new heaven and new earth descend from the sky. We will hear a voice from the heavens proclaiming: "Look! God's dwelling place is now among the people, and he will dwell with them. They will be his people, and God himself will be with them and be their God" (Revelation 21:3). Therefore, Christ's beloved family, as we strive to live out the greatest commandments [to love the Lord our God with all of our hearts, strength, soul, and minds, and to love our neighbors as ourselves], let us recognize that Jesus' desire is to live with and among ALL of us, in right and proper relationships, - rooted primarily in love.
3. There is no doubt that Jesus seeks powerful relationships with his church. By following Jesus' example, we are to seek out meaningful relationships with one another and with God. But what kind of relationships can we realistically expect in our world? Make no mistake, we should expect perfect relationships.
3a. God's power frees those who dwell within him, and in turn, those who become God's children. The first epistle of John teaches us that in and through the Father's love we are made children of God (1 John 3:1). This adoption into the Lord's family overcomes sin's power in our lives so that we may be free of it. We are then freed to know right from wrong, free of the power of sin, and free to love one another. The adoption into God's family as Children of God changes our circumstances entirely. Through this new relationship, any Christian who now dwells in the Lord resides in God's light. Through the promise of scripture, we know that "God is light and in him there is no darkness at all. If we say that we have fellowship with him while we are walking in darkness, we lie and do not do what is true; but if we walk in the light as he himself is in the light, we have fellowship with one another, and the blood of Jesus his Son cleanses us from all sin" (1 John 1:5-7).
3b. God's love makes us perfect by the freedom we are given from sin in the manner described within scripture. We reside within the Lord's love, and we are fulfilled and completed by the Lord's love. In this regard, we are made perfect. We are constantly striving towards and being moved towards Christian Perfection as the power of God's sanctifying grace continuously works in us. There is a nuanced understanding we must achieve through the language of perfection. In this case, we do not mean free from ignorance, nor free from mistakes (Sermon 40. I.4). Rather, we are perfect as we are made holy. We are perfect in and through God's perfecting love.
3c. With this understanding of God's perfecting love and the work of sanctifying grace, the nature of our relationships with one another should mirror these promises of scripture. Then, when our brothers and sisters approach us saying that we have in some manner wronged them, through the Lord's perfecting love, we can listen carefully, accept criticism humbly, and respond in ways that seek to restore relationships. Because our relationships cannot and will not be completely free of mistakes or ignorance, we must then operate within them filled with the power of the Lord's sanctifying grace and perfecting love. As we reside in light and only light, moving forward, we will strive for perfecting love manifesting itself in each one of our relationships.
4. If our relationships are truly rooted in love, then none of us will be able to listen to the injustice being suffered by the foreigners, widows, poor, and orphans and not respond in ways that seek to restore their lives to right relationships with the community, with us, and with God.
5. The Gospel of Luke shares the story of Jesus meeting Zacchaeus. In this one encounter, we see justice represented in and through Jesus' ministry. As Jesus passes through Jericho, he sees Zacchaeus up in a tree and asks him to hurry down and be his host for the day (19:1-5). Zacchaeus, of course, was delighted and did as he was commanded. However, those who witnessed the exchange grumbled and said, "He has gone to be the guest of one who is a sinner" (19:7). They said this because Zacchaeus was a tax collector and was despised for it. This popular opinion did not deter Jesus. Jesus included Zacchaeus. Jesus sought a right relationship with Zacchaeus.
6. Zacchaeus, a sinner as he was, strove to do as the Lord willed and he tells Jesus, "Look, half of my possessions, Lord, I will give to the poor; and if I have defrauded anyone of anything, I will pay back four times as much" (19:8). Zacchaeus' actions here mirror the message of John the Baptist earlier in the story (Luke 3:11-14). This is not a coincidence. It is a lesson. It is the Lord leading us to justice. When Jesus hears of what Zacchaeus has done and is doing, he says to him: "Today salvation has come to this house" (19:9). What is this salvation?
7. Was Zacchaeus saved by his works? No, of course not. We all know that salvation is by faith and faith alone. Yet, something happened in the story that brought salvation to Zacchaeus' home. What was it? Salvation in this sense, was the presence of Jesus. Salvation is the presence of Jesus and a true and proper relationship with the Lord. How do we know that Zacchaeus had a proper relationship with the Lord? Well, "And this is his commandment, that we should believe in the name of his Son Jesus Christ and love one another, just as he has commanded us" (1 John 3:23). Zacchaeus' actions proved that he sought to restore relationships within the community, and he sought a real relationship with Jesus Christ.
8. Justice, then, is the pursuit of proper relationships with one another and with Jesus Christ. By living in communion with Christ and each other, salvation can come to our houses and communities just as it did Zacchaeus'. God's perfecting love and infinite grace free us from the bonds of sins and broken relationships. Through God's perfecting love, there is no limit to the justice that we can and will see.
9. Zacchaeus sought justice and communion with his neighbors and the Lord. Through God's love and grace, we are empowered to "go and do likewise."
Ed White focused his work on immigration justice at Church and Society. He plans to continue his studies at Candler School of Theology, Emory University in Atlanta, GA.