faith in action
Bautista addresses World Congress on Religious Freedom, receives Award of Honor
The Rev. Dr. Liberato Bautista of Church and Society addressed a plenary session of the eight World Congress for Religious Freedom, moderated a breakout session, and was one of 10 recipients of this year's Award of Honor.
---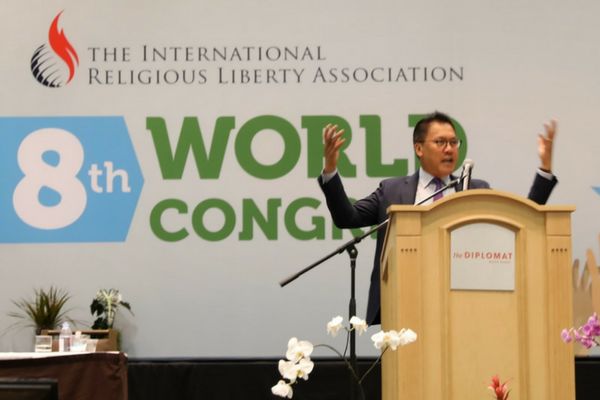 Religious freedom activists and leaders from around the world gathered in Hollywood, Florida, for the eighth World Congress for Religious Freedom, hosted by the International Religious Liberty Association from Aug. 22-24.
The congress was a venue for sharing experiences, ideas and proposals aimed at achieving worldwide peace and religious freedom. The Rev. Dr. Liberato Bautista of Church and Society addressed a plenary session of the congress, moderated a breakout session, and was one of 10 recipients of this year's Award of Honor.
Event organizers reported this was its most internationally diverse congress yet, with approximately 550 attendees and speakers from 65 different countries. The theme was "Religious Freedom and the Hope for Peaceful Co-existence."
During opening remarks, Dr. Ganoune Diop, secretary-general of the IRLA, explained that theme and the congress' purpose. "There is an intrinsic interrelatedness, interdependency, and indivisibility when it comes to human rights and to fundamental freedoms," he said.
"The thread that weaves together all freedoms is the principle of dignity, which presupposes the right to think and to believe differently. Embracing this dignity of difference, the right of any person to believe differently, is part of what makes us human. This dignity is not just a value to be ranked among other values, but a principle which undergirds all moral imperatives."
Religious freedom and sustainable peace
Bautista's plenary address concentrated on the subtheme of religious freedom and lasting peace. His presentation examined the role the U.N. and faith-based organizations can play in enabling global religious freedom and peacekeeping.
The congress continued with a general briefing on the state of religious freedom around the world, and presenters spotlighted different regions with more specific context, from Russia and China to Myanmar and Bangladesh.
Panelists shared evidence of progress and reasons for hope, even in a landscape that appears bleak and wrought with bigotry-fueled conflict. Ahmed Shaheed, the special rapporteur on freedom of religion at the U.N., touched on one in particular:
"Humanity is bound by one common belief. A Golden Rule is frequently voiced across many faiths and philosophies. It is the rule that defines one's relationship to the Other: treat others as you would like to be treated. The values of coexistence, compassion, empathy and solidarity run like a common thread across many nonviolent convictions. Today, we need positive narratives to reclaim the core values of FoRB [freedom of religion or belief] to counter pessimistic headlines that lead to religious stereotyping."
Breakout session on migrants, refugees and uprooted peoples
Bautista moderated a breakout session that focused on migrants and refugees, including the current U.N. efforts to draft a global compact on migrants and refugees to address unprecedented displacement and massive movement of peoples.
His presentation, "Relating to Migrants and Refugees: The Global Compact and Other Responses," highlighted the victim-focused and human rights-based approach necessary to address forced migration. The presentation also echoed Diop's assertions that dignity and religious freedom are a fundamental human right.
"Forced migration is a human tragedy affecting real human beings with real emotions and human relationships with friends, families and communities," Bautista said.
"Our solidarity and advocacies must focus on the actual, material, concrete, sensuous human bodies of migrants, refugees and all uprooted peoples, including asylum seekers, and how their human bodies respond to the violations of their dignity and the exploitation of their labor and services as they negotiate the workings of capital and the market."
Bautista particularly pointed out the importance of migrants' human agency holding primacy over all other facets of their identities, and the importance of sharing life experiences.
"The stories and narratives of migrants, refugees and all uprooted peoples, are primary sources in finding ways to address their condition of displacement, dispersal and dislocation. The more they are given platforms to tell their stories, the less chance that their dignity is transgressed and their rights are ignored," he said.
IRLA honors 10 awardees for lifelong contributions to peace and freedom
The IRLA also honored 10 individuals for their lifetime contributions to peace and freedom at a special ceremony during the final session of the congress.
Bautista was one of those recognized.
Other honorees included: Robert Seiple, the U.S.'s first ambassador-at-large for international religious freedom; Jabulile Buthelezi, a South African author and distinguished social activist focused on the decolonization of African mindsets relating to culture and the social position of women; and Dr. W. Cole Durham, Jr., a renowned Brigham Young University scholar and founding director of the International Center for Law and Religion Studies. Other awardees hailed from France, Spain and many parts of the world.
Durham and other presenters echoed a major theme on the link between empathy and shared personal narratives, found in Bautista's recent publication, Turning strangers into friends: Hospitality, mercy, justice, a workbook on the framework documents of Churches Witnessing With Migrants.
"We need to think sensitively of what happens to people during transition, how should their religious traditions be accommodated, their internal process of practicing religious beliefs," Durham said.
"Religious groups can make a difference because they have the motivation, the altruism to do something about 'strangers,' using creative prayerful efforts that will find ways to be much more helpful."
Explore more