faith in action
Baltimore Washington Conference Young Adults work to achieve Food Justice in Prince George's County
"Serving God is about serving God's people, so the farmers market allows us to take our spiritual practices and to put them to work in our community," says one of the organizers.
---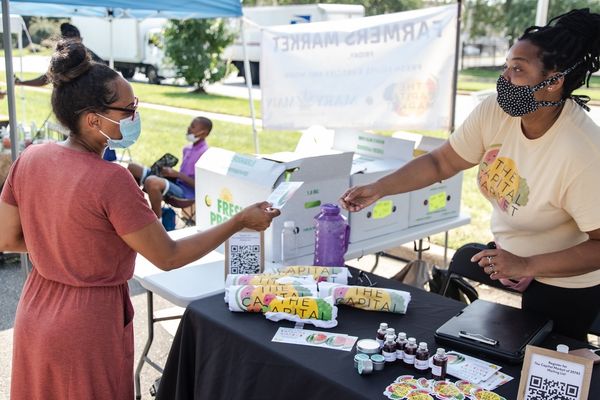 The coronavirus pandemic, subsequent business closures, and racial reckoning in the United States highlighted stark disparities that African Americans face in regards to food and economic inequalities. Nearly half of African American businesses shuttered during the coronavirus pandemic and four out ten African Americans experience food insecurity, nearly doubling since the start of the pandemic. However, these injustices are not new.
Historically, African American owned and operated businesses and Black owned farms face significant barriers. From 1900 until 2010, Black families lost nearly 13 million acres in farmland, equating to an approximate 18 billion in loss wealth. Moreover, seven in eight African Americans live in census tracts or communities where there is no grocery store, yet an abundance of fast food stores. These challenges are the result of decades-long policies permitting residential segregation and community disinvestment which continually collide to threaten the health, safety, and welfare of people who have been most marginalized in society.
As is the case in Capitol Heights, a bustling predominately African American and Latino community in Prince George's County, Maryland, which has seen more than its share of health and economic crisis — before and during the pandemic. In 2016, the only full-service food retail outlet that supported residents in Capitol Heights and surrounding communities for nearly 10 miles closed. The grocery store's closure transitioned the neighborhood into a healthy food priority area (food desert), as it was a neighborhood with an abundance of fast food restaurants, high rates of chronic illnesses, and insufficient access to healthy food options for residents.
Frustrated by the lack of healthy food in their community, residents decided to form their own farmers' market in 2018 to help bring fresh produce and to support black farmers. The Capital Market of 20743 is organized by residents of Prince George's County in partnership with Gethsemane United Methodist Church, and Mary & Main.
Tarin Shaw, an initial organizer with the market, sees the Capital Market of 20743 as "…a starting point to restore good health to the community." Noting that by, "Increasing access to fresh fruits and vegetables is helping to fight against the chronic diseases that plague Black communities. Local vendors are able to build an organic following, the dollar stays in the community longer, and the local economy benefits."
The Capital Market of 20743, is a family affair and is organized by Ashley Drakeford, Brittney Drakeford, Kyle Reeder, and Shaw. The Drakefords and Reeder grew up in Gethsemane United Methodist Church and see their community work as a testament to their spiritual development at Gethsemane.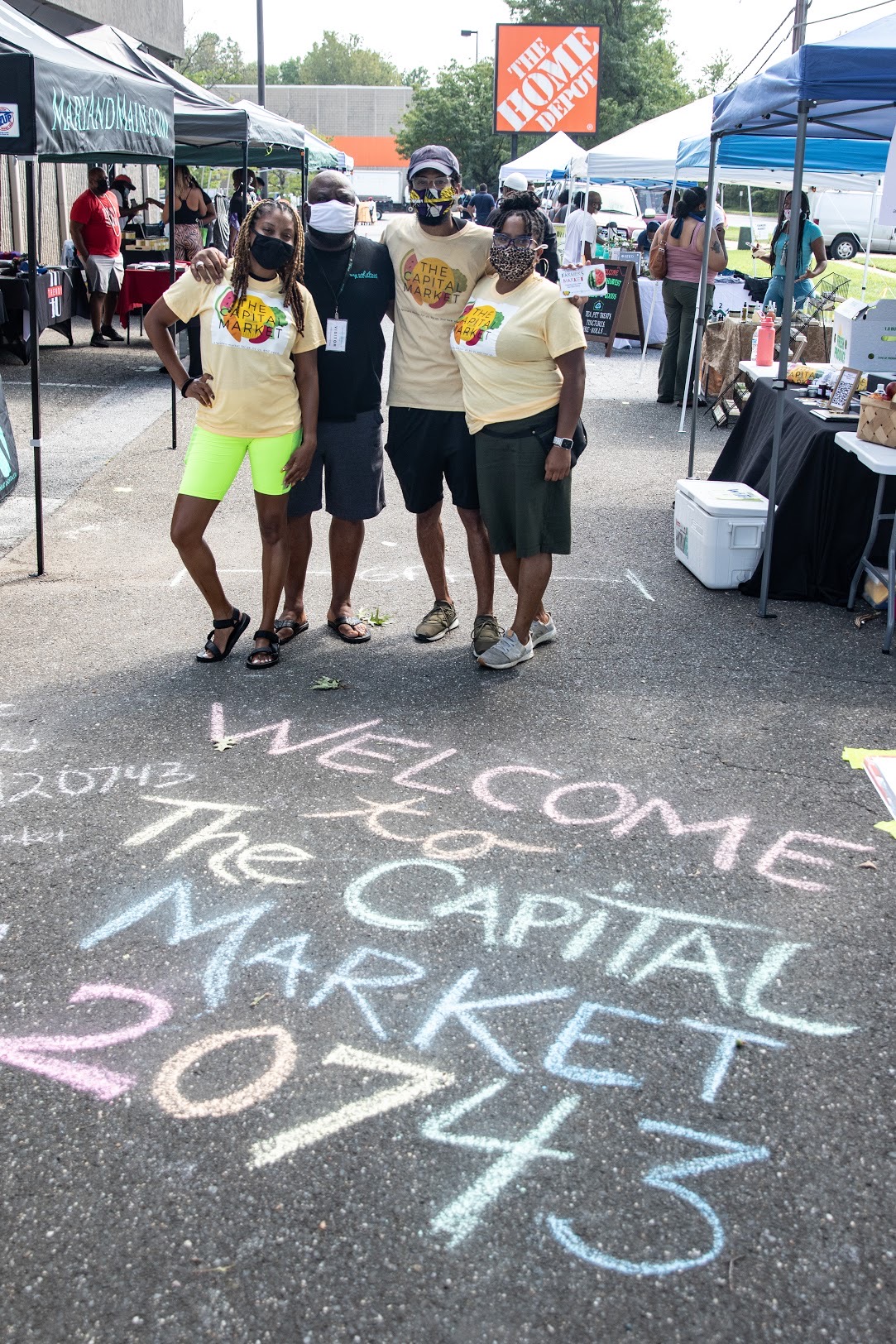 "At Gethsemane we learned that serving God is about serving God's people, so the farmers market allows us to take our spiritual practices and to put them to work in our community," said Ashley Drakeford. "This example of faith in action allows us to love on people, in a way that people now days would not expect most Christians to do."
Today, The Capital Market of 20743 is a bustling farmers' market that supports 25 African American-owned and -operated businesses and community organizations including four farms, and served more than 3000 patrons in the 2020 market season.
On any given Friday at the market, you can find Caribbean and West African staple crops like jama jama, callalloo, okra, hot peppers, bitter leaf, and huckleberries from Tawallah Farms and the Queen of Greens; southern staples like watermelon, peaches, sweet potatoes, collards, eggplant, apples, and tomatoes from Mount Pleasant Acre Farms and The HAT Shop; and home good items such as candles, preservative free sauces, jewelry, soaps, baked goods, floral arrangements, and original artwork from businesses like SuLit Candles, Dwell Tea Company, Neek & Nan's, and Seed to Harvest.
In addition to providing healthy foods, the market also serves as an important community space during the time of Covid and mandatory physical distancing. In 2020, The Capital Market hosted voter registration drives, an HBCU recognition day, and community collaborative art projects. Through a collaboration with Shabach Ministries, a mission arm of First Baptist Church of Glenarden, and St. Paul Senior Center the Capital Market purchased more than a half a ton of produce from African American farmers and distributed it to seniors facing food insecurity.
Despite the challenges of living in a resource-deprived neighborhood, the community-led initiative of a farmers market is an empowering solution that allows the market team to meet the needs of existing residents and other marginalized groups.
"I'm not a victim of living in a food desert, I'm a victor," says Reeder. "Partnering to organize the market helps us connect people and resources in an innovative way and provide solutions that address upstream challenges to health and economic inequities. We are developing resilient strategies to overcome structural discrimination."
The City of Capitol Heights formally recognized the team's work for increasing health and wellness in the municipality and Kaiser Permanente honored their work as a best practice in the Washington, D.C. metro region. The project has more recently been supported as an initiative of the Robert Wood Johnson Foundation's Culture of Health Leaders program.
You can visit the pop-up farmers market and community space every Friday from June to November. In 2021, the team hopes to expand the market offerings by including new produce, additional artisan vendors, and expanding their produce buy-back program. The group hopes to expand their efforts by providing more pop-up markets in communities. To learn more about The Capital Market of 20743 or to donate visit thecapitalmarketof20743.com.